Updated: June 10, 2021
Idle Barber Shop Tycoon Review - A Business Management Game

Get it Free
Idle Barber Shop Tycoon is an idle game developed by Codigames, whose Idle Supermarket Tycoon is a smash hit with over 10 million installs. As is suggested in its name, Idle Barber Shop Tycoon provides you with an opportunity to make your barber shop to become one of the largest, and all you have to do is tap and wait. It is simple, isn't it?
If you've ever dreamed about owning your barber shops and design haircuts or beard styles for your customers, you should consider playing the game. If you don't want to get addictive to a game but instead check it when you're free, this idle game is definitely for you!
INDEX
A dramatic idle game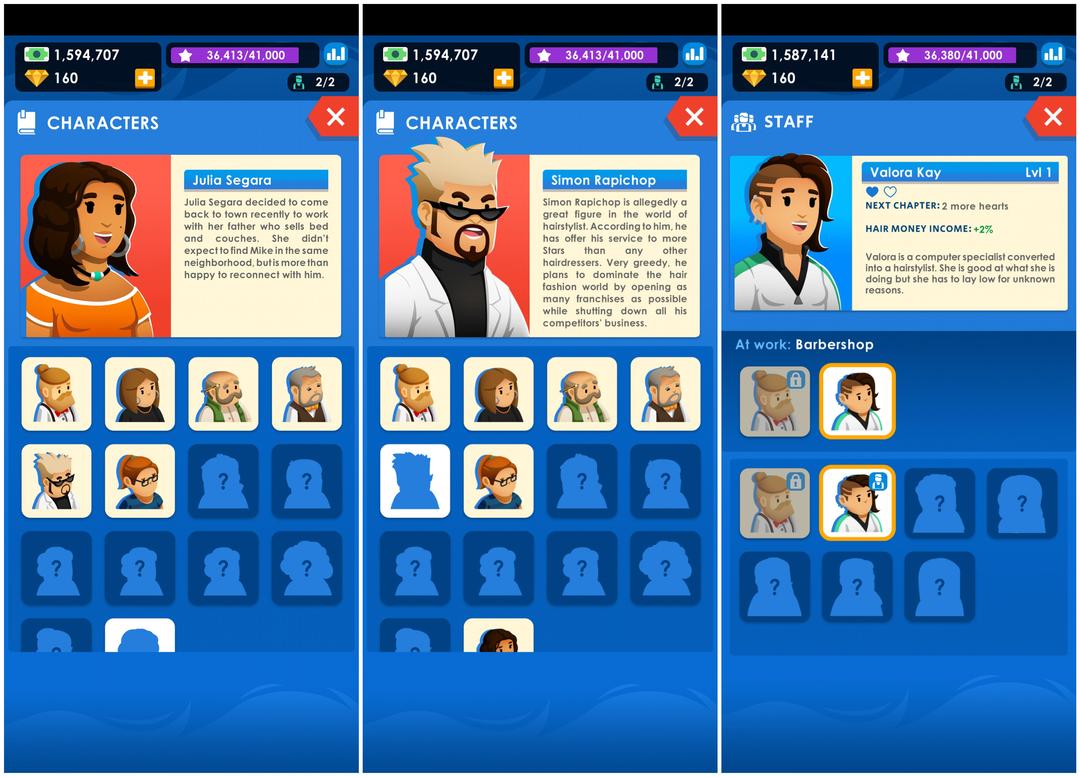 As one gamer commented, the game is full of "drama". You inherit a barber shop from your grandfather. Your long lost love in adolescence comes back to you. Your competitor wants to either buy your salon or drive you out the neighborhood. Your employee happens to be a programming geek... The story makes gamers feel like they are not just playing an idle game, but also watching a TV show!
Wait for revenues to build up
Despite the dramatic story, the game is simple to play. It doesn't ask much of you: just tapping on your screen occasionally and waiting for revenues and reputation to build up. When reputation reaches a certain level, the story goes on, which means it's time to expand your business.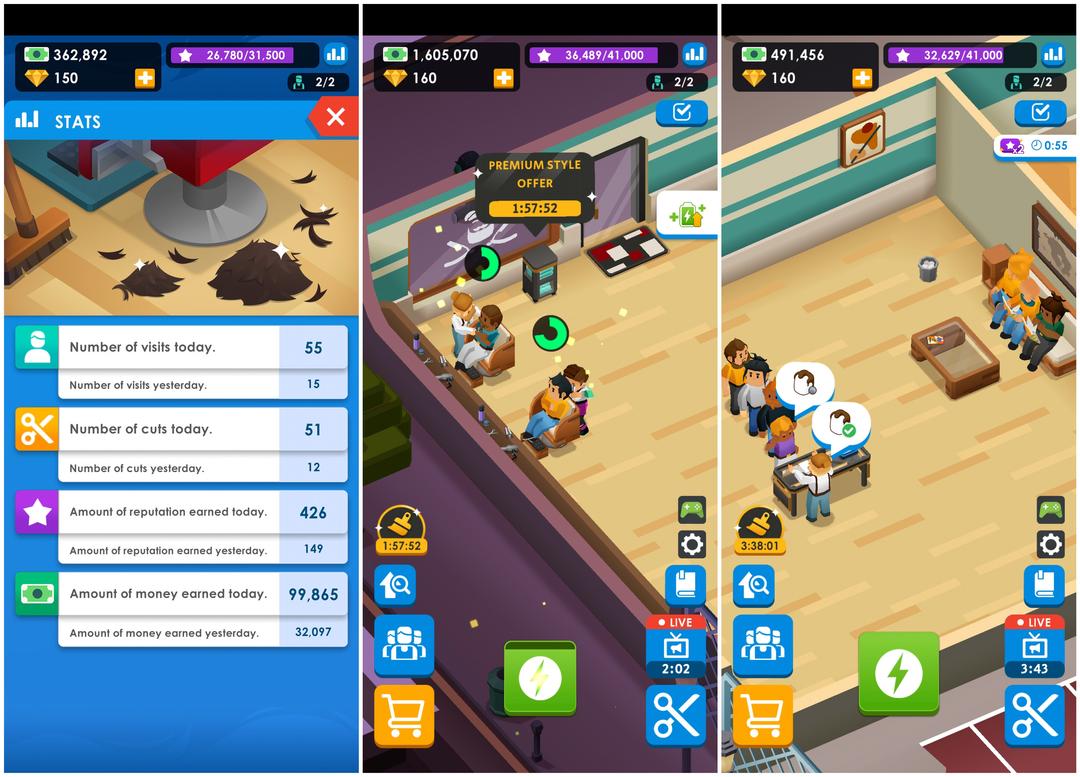 The amount of income and reputation you harvest is determined mainly by how many customers your hair salon attends to in a day, which are shown in the STATS panel. To speed up cuts, you can tap the green Energy button, so that your employees can be more responsive to the demand of next clients. Don't keep them waiting too long!
Customize your barber shop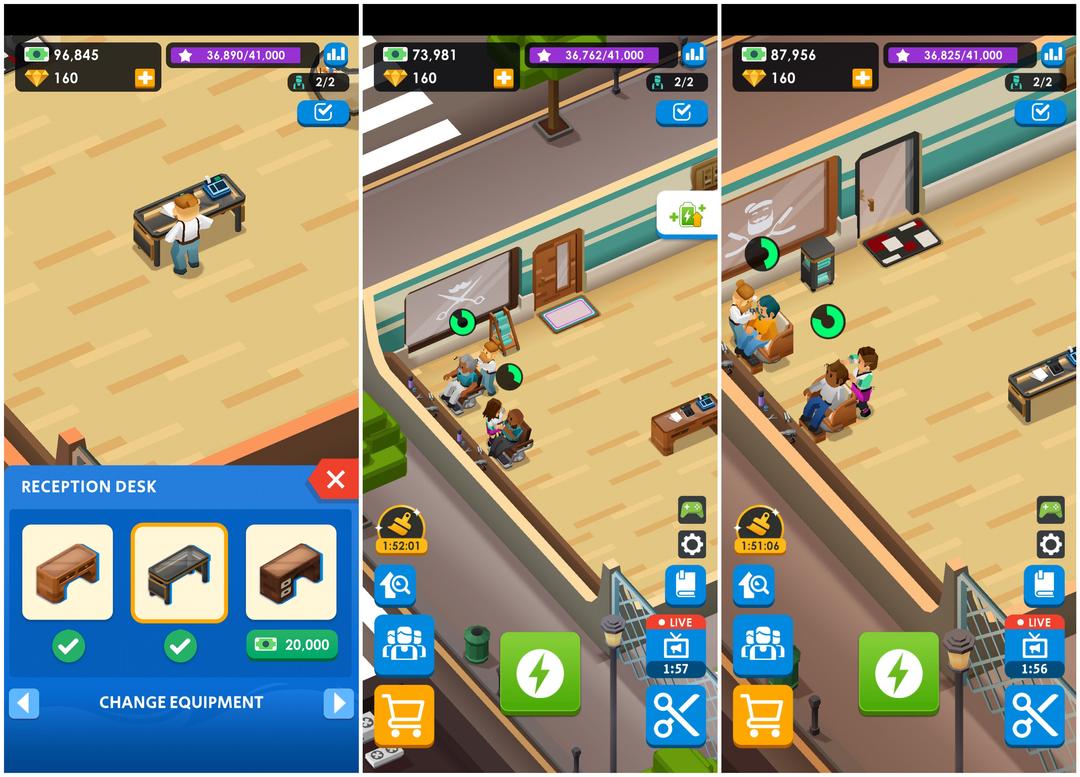 Every time you unlock a new chapter, you can add a new piece of furniture to make your salon less emptier. New furniture comes in three different styles. Just choose the one you want and suit the style of your salon. If you feel like redecorating your shop, just changing the style of any piece of furniture by pressing and holding it. This doesn't cost much, but can make your salon looks totally different.
Upgrade furniture to increase income
If you want to increase the income and reputation of hair and beard cuts or shorten the time needed, you must upgrade furniture such as hair and beard cutting chairs, hot towel stands, the reception desk and more. Note, the higher level your furniture is, the more money is needed to upgrade it to the next level.
Unlock new haircuts and beard styles
What's the most important for a hair salon? Haircuts and beard styles! They and great barbers are the lifeline of a salon. The game offers stylish hairstyles and beard styles to unlock, though this costs you a lot of virtual money. If you cannot satisfy your client demand for a certain style because you just don't have enough money, he would be very disappointed.
Advertise your salon on TV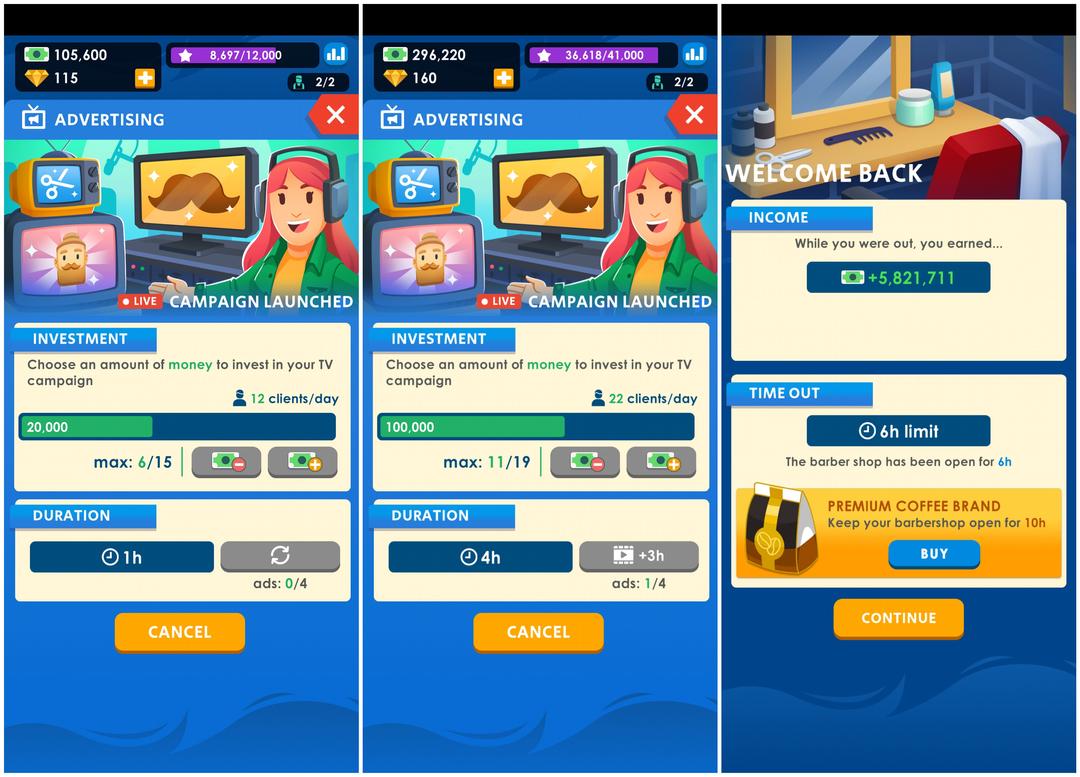 Though it's said "The cream always rises to the top," this doesn't mean customers will flock to your shop without any promotion. You need to advertise your products when you start from scratch. Every hour, you can launch an hour-long campaign on TV to attract customers. The more money you invest, the more customers will come. And you can watch an ad to prolong it to four hours. Remember to check the game after the campaign is over and see staggering revenues the salon has generated!
Conclusion
In conclusion, Idle Barber Shop Tycoon is simple and relaxing. It is at slow-paced and you don't have to hurry to level up. Just check it occasionally to see how well the shop has performed. So the game is suitable for those who want to distract themselves only for a while. You can watch more ads in the game to multiple your reputation or income if you want to finish it faster. One small bug I found playing the game is that my clients went to the door and left when they should have gone to the reception desk, though it is not a big deal.
If you love the game, don't hesitate to download it and see whether your hair salon can perform as well as mine!
Pros
A relaxing, slow-paced game.
Offers real-life stylish hairstyles and beard styles.
Ads help to multiple the income and reputation.
Cons
It takes a long time to go to next chapters.