Updated: April 2, 2021
Crash Bandicoot: On the Run! Review
Get it Free
Crash Bandicoot: On the Run is a running game created by King, a well-known company that specializes in developing mobile games. This company has more than 200 fun games, such as Candy Crush Saga and Farm Heroes Super Saga. As a new title released on March 24, 2021, Crash Bandicoot: On the Run features addictive gameplay, cartoony art style, and has gained massive downloads and a high star rating on Google Play. Now let's take a closer look at this running game..
Crash Bandicoot: On the Run, similar to Temple Run or Subway Surfers, is a running game where players can control Crash Bandicoot and his sister Coco Bandicoot running through various locations and battling against villains and bosses. Run, jump, and slide to avoid obstacles! The game also allows players to spin their characters to smash crates that contain essential materials inside. Explore wild and exotic islands, collect items along the way, and defeat dangerous enemies to earn rewards and prizes.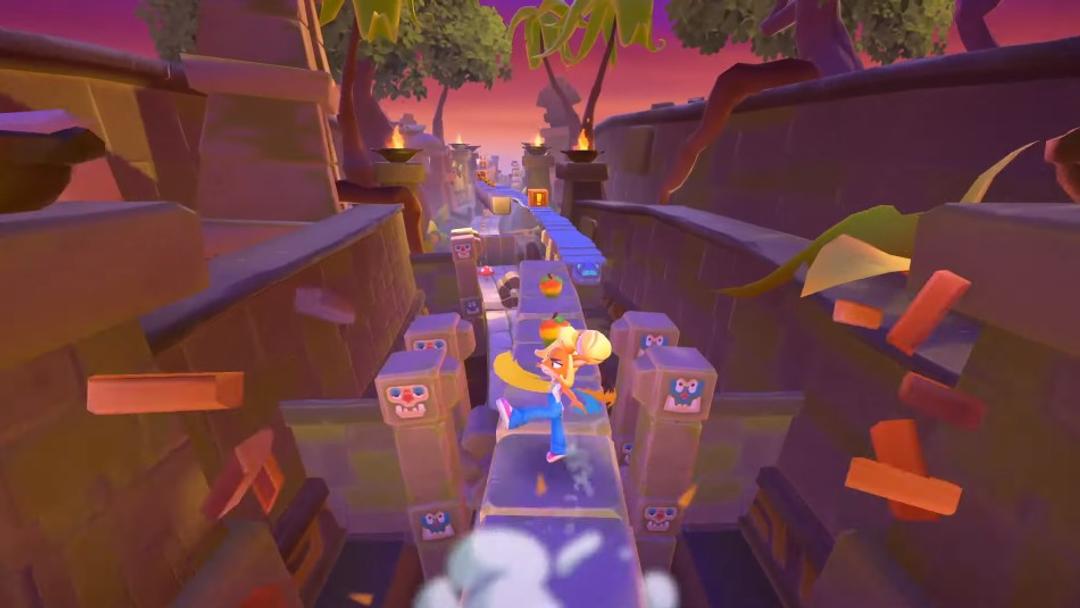 Players can't get into battles unless they are equipped with the required serums, bombs, and other weapons, which are used for fighting against enemies after a short boss fight. All of these weapons can be made at the lab using a certain number of specific materials. In order to gain sufficient materials, players need to smash crates to collect resources along the way, or join a Collection Run, even purchase these items with rubies and real money. Every time you defeat bosses, you will be rewarded with Power Gems, and you can use Power Gems to unlock new lands and repair/upgrade labs.
After entering the battle, players have a chance to pick their favorite character: Crash Bandicoot or Coco Bandicoot. There is a Classic Skin (the default one) for each character, and players are also allowed to use rubies and real money to unlock new and cool skins for their runner. The most fascinating feature of Crash Bandicoot: On the Run is always the running fun! The game drops you into mysterious islands and there are dangerous enemies, crates, and a variety of obstacles on the road ahead of you. Spin your character to smash crates, and collect as many items as possible along the way, and be careful not to get killed by obstacles before facing the minions and bosses.
The boss fight is pretty short, and all you need to do is to throw the weapons to destroy them, and then return to the base with the rewards earned by winning the game. Crash and Coco have to defeat gangs of villains consisting of four henchmen and one boss in each level. Each enemy requires players to defeat them with specific weapons. Nitro Pink Elephant, for example, can be defeated with 2 bottles of serums. After winning the battle and complete missions, players will be rewarded with Power Gems, materials, and rubies.
It's free to download the game on Google Play but contains in-game purchases. Materials used for making weapons can be obtained by running and playing the Collection Run. However, players who want new skins may need to purchase rubies with real money to obtain these items. The prices for these in-game items range from $1.99 to $129.99, each purchase you make can speed up the gaming progress and enhance your gaming experience.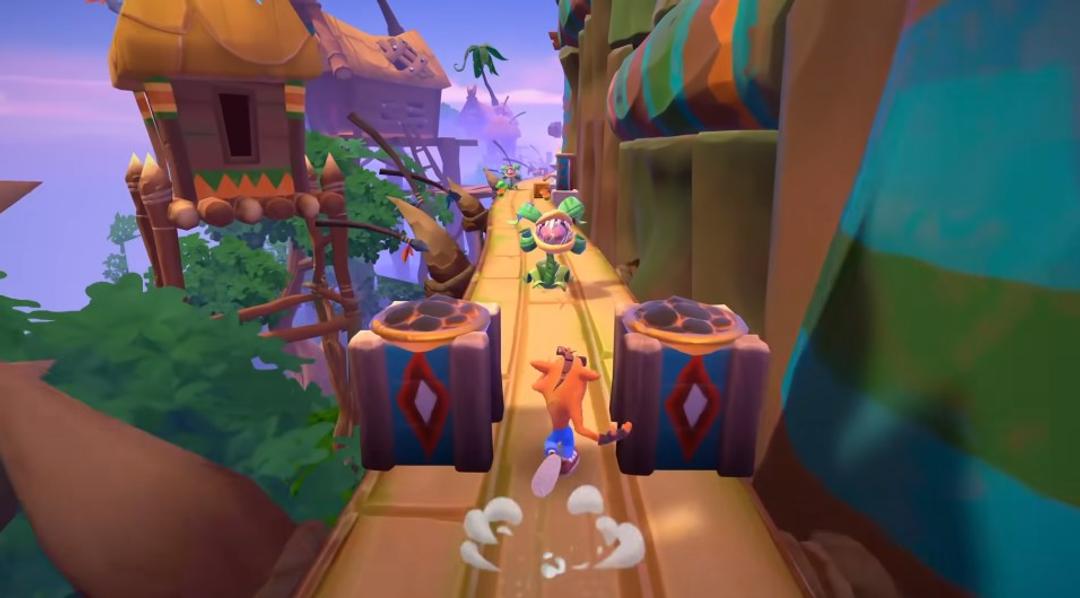 Overall, Crash Bandicoot: On the Run is a decent running game for both kids and adults to play in their free time. Although the game was just released a few months ago, I didn't encounter any crashes and bugs during my playing. By playing the game, gamers can enjoy both running and battle fun!
Pros:
Run, Jump and slide to avoid obstacles on Wumpa Island.
Explore the hidden island to get more rewards.
Battle your favorite Crash characters and customize Crash for extra XP.
Craft serums and buildings to expand Coco's base.