Updated: May 28, 2021
Boom Karts Review - A New Multiplayer Kart Racing Game

Boom Karts
Challenge the world in realtime online karting races, play against your friends!
Get it Free
Boom Karts is a new real-time multiplayer PvP kart racing game published by Fingersoft in collaboration with Zaibatsu Interactive. The UI and controls are easy to grasp for beginners, but you need to control your kart in right direction and avoid obstacles in your way to win the first place. Download this fast-paced kart racing game on APKFab to race against your online friends and show off your excellent racing skills now!
Use powerups to attack other opponents and clear your way
This game is all about speed and controls. Players tap left and right arrows to steer, and the builtin drift boost mechanic also helps to fasten speed. During races there will appear many lightning charges for extra speed, as well as multiple types of powerups to let you attack the opponents and overtake them. At the meantime you need to be careful about other players' powerup attacks and the obstacles in the way. Only by driving with the tight controls and good use of powerups will you be the champion of each race.
Upgrade and customize your driver and vehicle
Boom Karts offers a bunch of customization options either in character designs and the vehicles. You can choose different helmets, clothes and appearance for your driver as you like. Some clothing options are locked so you need to either win them in the races or buy them through in-game store.
As you progress through more races, you will win rewards including coins and new components for your vehicles. Once you collect enough components, you can unlock and upgrade them in the garage to make your vehicle run faster. Unlocking new components requires certain amount of coins. So make sure you have enough coins to allow yourself get higher-level equipment.
Attend multiple game modes to race with your friends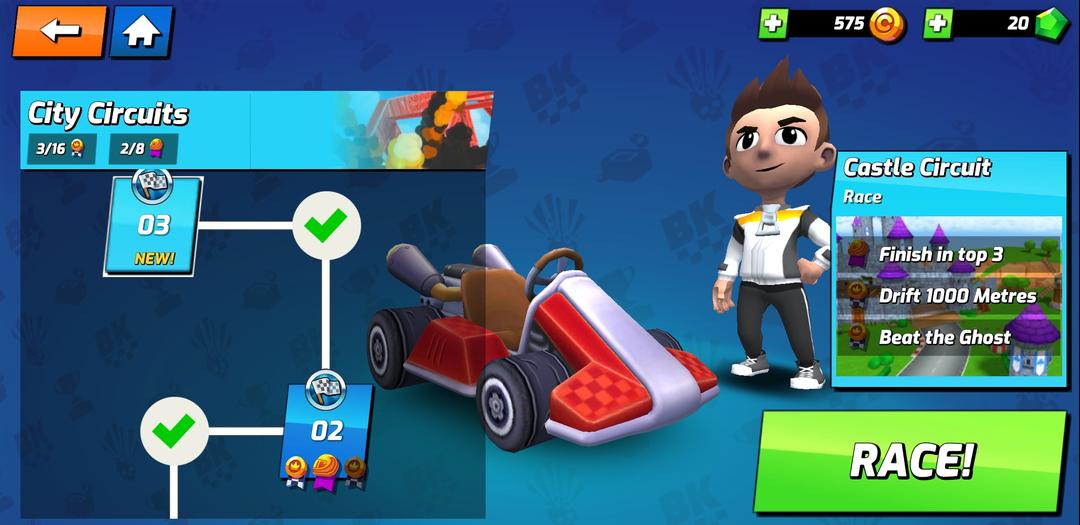 Aside from the main game modes, Boom Karts also offers players with other race modes for better entertainment. For example, in the Adventure Mode you will unlock new maps and race through different locations like City Speedway, the Moai Mountain, the Castle Circuit, etc. Each race in this mode has different missions for you to complete. The more tasks you complete, the better prizes you will get.
In the custom rooms, you can create your own room with your favorite race tracks and other customizable settings and invite your friends to join together, or you can attend other available rooms opened by other online players as well.
In-game purchase
Other than winning coins, gems, outfits and equipment through races and free chests, players can only buy extra resources in the in-game store. If you are willing to spend a small fortune to make your driver look cooler and enhance the vehicle, then spending money in these packs will definitely make you outstanding on the tracks and help you winning more races.
Conclusion
As a new online multiplayer PvP kart racing game, Boom Karts doesn't give me any surprise as it has no new features added compared with other traditional kart games. The graphic is not attractive either. But the intense real-time races still let me feel extremely high while chasing with other drivers. But as a new game, it has some glitch issues and still needs a lot of improvements. If you like endless racing and throwing powerups on the tracks, this one is worth a try.
Pros:
Fast-paced real time races
Customizable character and vehicles
Cons:
Doesn't add anything new as a kart game