Your name in the candle - the latest version
Su Your name in the candle - the latest version
The application lets you type your lover's name and name in wax in beautiful pictures, great photos, attractive images and other beautiful images.
The application can also write your name on the photo and decoration of your name or write your name on the heart and the name of your lover - by applying the writing of your name and the name of your beloved with wax. It is the first Arab application to write pictures by decorating your name and your lover's name with wax.
And you can write your name and the name of your lover wax in a picture easily without the need to use image editing programs.
Write your name on the photo and decorate your name or write your name on the heart by applying the name of your name and the name of your beloved wax and enjoy the image of a wonderful and romantic heart. The first Arab application of its kind in writing on pictures and decoration of your name on them.
You can also write names on photos and upload to your phone as you can enlarge the image and put it as wallpaper in your Android device.
* Application features:
- Write names on pictures inside the heart
- You can choose a photo from among many great romantic pictures
- Draw your beloved name or embellish its name by typing or drawing on your smartphone's screen with ease
- Works without the Internet
- Adjust the text size using the gesture finger.
- Rotate the name to different dimensions.
- Application size is too small
- easy to use
- Easy to adjust text size
- Ability to share photos with your friends and sweetheart through social networks
- Write the name of your lover or your mistress on the heart or draw her name and save the image inside the gallery
- The application supports all devices
- Writing pictures on the best Arabic and foreign fonts
- Set the background image of the phone
* How does the application work?
After you open the application you will see the writing box type in the name of your lover or the name of your girlfriend or the phrase you want to write
Then select the font below or the color you want, then click OK on the top right of the screen
You will then be able to choose what you want to add to write
You can choose the backgrounds available in the application or use a custom background you choose from your mobile gallery.
We hope that our application will be in the level and will be updated in the coming days, God willing .. We also welcome your inquiries and suggestions to improve the application, and to encourage us to give more effort instead evaluate the application and put 5 stars. .
Caratteristiche Your name in the candle - the latest version
Versioni Precedenti
Altro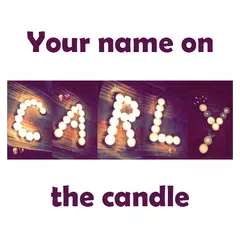 Your name in the candle - the latest version
1.4
APK
Android 4.0.3+
160-640dpi
Maggiori Informazioni
Data Aggiornamento:
2019-08-10
Aggiornamento Necessario: