Squirrel Care
Su Squirrel Care
Squirrel Care is a cute free pet care girls game where you can look after your own red squirrel. This is a fun game for kids that will teach them how to look after the cutest squirrel pets.
It's your first day at the woodland animal studio and your job is to take care of these cute baby squirrels so they will stay healthy and clean. Choose a pet squirrel and care for them by washing their fur, feeding them and curing them when they are sick. Make friends with these squirrels by cleaning their forest habitat, preparing a fun treat for them to enjoy and helping them to bury their acorns.
Silly Squirrels!
Squirrels love to climb trees and play in the forest, but now they're dirty and need a wash! Give them a good clean and make sure they are nice and dry before brushing away any stray hairs.
Tasty Treats!
Squirrels eat all kinds of different seeds and love acorns. Feed them some tasty acorns and make sure to dig a hole and bury the rest for when they are hungry. Prepare them a tasty treat with nuts and seeds to keep them happy.
Oh No! The Forest is a Mess!
Someone has been dumping trash in the forest. That's no good! Help clean up the squirrel's home inside the woods by dragging any rubbish items into the trash can.
Squirrel Dress Up!
Dress up your stylish squirrel in cute accessories! Pick out a fancy forest-themed hat and belt, and keep them warm with a fuzzy woolly scarf.
Game Features:
>Play with squirrels in the forest.
>Adopt your own pet squirrel.
>Treat them to a pet spa salon and clean their fur.
>Prepare a tasty treat.
>Help them bury their acorns.
>Help clean up the forest.
>Feed them when they are hungry.
>Cure them when they are sick.
>Dress them in cute accessories.
>Keep them happy and healthy!
What You Get With Squirrel Care:
>Four unique squirrels.
>10 stages to care for your own squirrel.
>12 cute accessories to give your pet.
>4 challenging awards to earn.
>Squirrel Care is completely FREE with NO In-App Purchases.
>Enjoy and care for your squirrel!
Caratteristiche Squirrel Care
Versioni Precedenti
Altro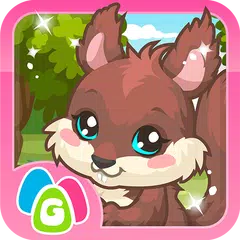 Requires Android: Android 2.3.2+
Architecture: armeabi-v7a
Screen DPI: 120-640dpi
SHA1: 52abefbcd9a8db8f84cf673a132ad4c70a4c9624
Size: 15.46 MB
Maggiori Informazioni
Data Aggiornamento:
2016-02-04
Aggiornamento Necessario:
Requisiti:
Android 2.3.2+