Lamb Care
Su Lamb Care
Lamb Care is a cute free pet care girls game where you can look after your own baby lamb. This is a fun game for kids that will teach them how to look after the cutest lamb pets.
It's your first day at the farm and your job is to take care of these cute baby lambs so they will stay healthy and clean. Choose a pet lamb and care for them by washing and shearing their wool, feeding them and curing them when they are sick. Make friends with these lambs by playing with them in the farm.
Fluffy Wool!
When a lamb's fur gets too long, it needs to be sheared and turned into wool. Help keep their fur clean by shearing their wool and giving them a bath. Wash their fur and dry it off.
Lovely Lambs!
Keep these adorable baby lambs happy by feeding them fresh grass. Play with them by ringing a bell to encourage them to jump over a fence. Just don't fall asleep watching them jump!
Keep them Healthy!
Keep your lambs happy and healthy by stroking their soft fur and curing them if they get sick.
Lamb Dress Up!
Dress up your lucky lamb in cute accessories! They love to wear summer hats to keep out the heat and look great in a snazzy collar. And no lamb should go without a gorgeous pair of earrings!
Game Features:
>Play with cute lambs at the farm.
>Adopt your own pet lamb.
>Treat them to a pet spa salon and clean their fur.
>Shear their wool.
>Play with them.
>Feed them when they are hungry.
>Cure them when they are sick.
>Dress them in cute accessories.
>Keep them happy and healthy!
What You Get With Lamb Care:
>Four unique lambs.
>10 stages to care for your own lamb.
>12 cute accessories to give your pet.
>4 challenging awards to earn.
>Lamb Care is completely FREE with NO In-App Purchases.
>Enjoy and care for your lamb!
Send Us Your Feedback!
We really value your feedback as it helps us to improve our games and make them even more fun for everyone. If you have a moment, please rate and review our app. We would love to hear your comments and suggestions.
Need Help? Talk to Us!
You can contact us any time to share your comments or questions. If you need support or have a problem with any of our games then please get in touch with us at
[email protected]
Caratteristiche Lamb Care
Versioni Precedenti
Altro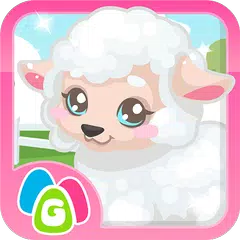 Requires Android: Android 2.3.2+
Architecture: armeabi-v7a
Screen DPI: 120-640dpi
SHA1: b3945e70a77588ed34455b390b80a27123489d04
Size: 15.49 MB
Maggiori Informazioni
Data Aggiornamento:
2016-05-13
Aggiornamento Necessario:
Requisiti:
Android 2.3.2+