更新於: 2020年09月25日
Guardian Tales Review – A Retro-Styled Action Adventure RPG Worth Playing
免費獲取
After launching Guardian Tales in Canada and limited European markets only, Kakao Games finally made this new action adventure RPG available for global markets in July, 2020. This game is kind of like Legend of Zelda which you fight in combats as well as solve puzzles to complete levels, but still it has its own style. Now let's take a deep dive into Guardian Tales and discover all the wonders and adventures hidden in this game.
What is Guardian Tales about?
In Guardian Tales you play as a knight who was dropped into Kanterbury, a world in turmoil from the Invaders' attack, and your objective is to save this place by exploring through different levels and dungeons. In this adventure you will face a lot of challenges, including solving puzzles, finding treasures and battling against enemies to complete the quest.
Features
One of the most fascinating features in Guardian Tales is its attractive retro art style. Moreover, this game features incredible hand-drawn art for the character portraits. These hard-work art designs allow players to see their character sprites not only in pixilated versions but also in HD very clearly when look close.
Great Storyline & Fun Dialogue
Interesting and entertaining storyline is another key feature which draws in a lot of players. The interactions between all the characters are quite entertaining and filled with many references and dark humor. Sometimes you have an option to choose which dialog you would speak out to the other characters, and different choices may affect how the story goes and your karma, so be careful what to say every time. The sun indicates good karma while the moon is opposite.
Simple Controls and Gameplay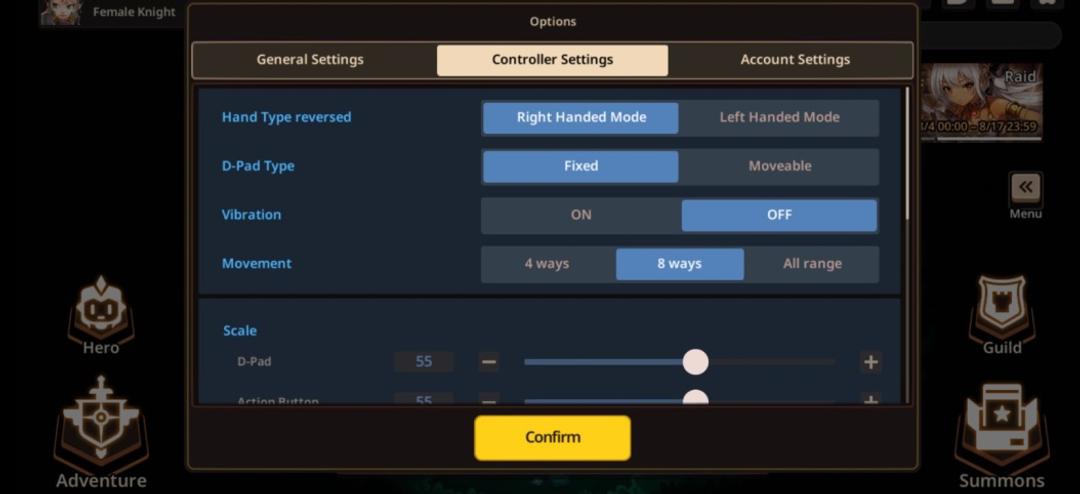 Guardian Tales features the typical control system where the directional pad is on the left side of the screen and the movement and action buttons are on the right side. And the control settings can be customized as you like. These controls are very easy to use and quite responsive to make sure the gameplay and combat runs smoothly.
After finishing World 1, the main menu will change completely into a town building simulator where you can build and customize your town as you like. The currency used in the town is the pinky hearts, which you can use to build more buildings and expand your town. This mini-game is optional to play but a nice choice for players who love this kind of simulation game.
Smooth Combat and Fun Puzzles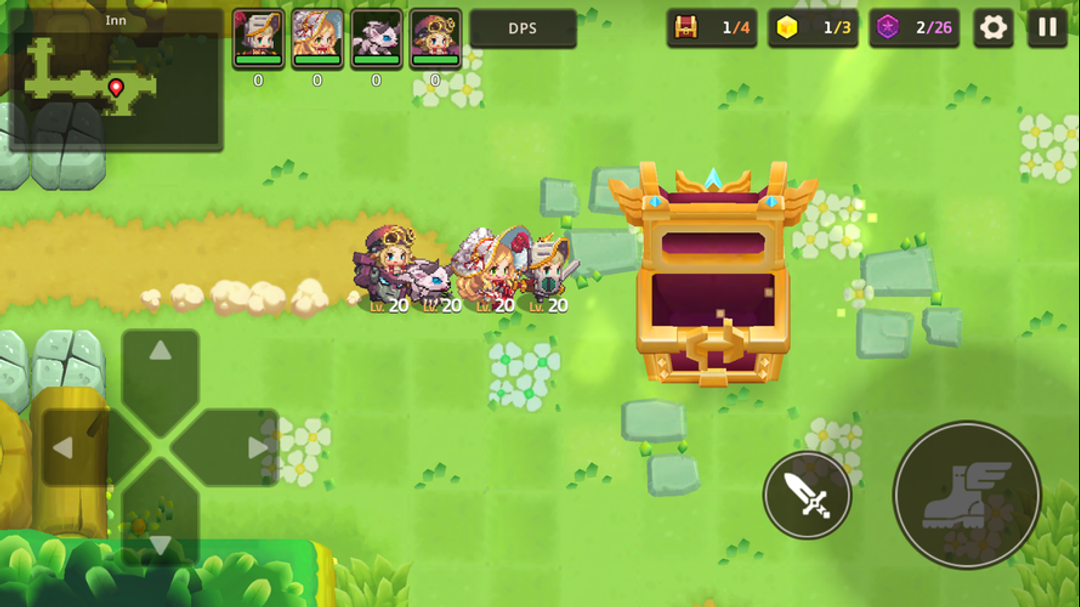 Players will encounter numerous of combats and puzzles in this game. Unlike other games in which battle is just a button smash or auto-fighting, in Guardian Tales you need to use your brain and try different strategies for different play styles to win the combat and boss fight. And the puzzles are not that easily to find and solve either. Sometimes the path is blocked by the obstacles and you need to try different ways to remove them. For example, you can press a switch, lift boulders or use bomb to clear up the obstacles. There is no hint about how to use the items you find from the chests, so you must use your brain to figure it out. After you go through different levels, you will unlock more tools to help you get into secret areas in the map. If you find the hidden content in Guardian Tales, good luck for you as you may get a chance to the secret levels and get extra rewards if you complete them.
Collect Various Characters and Weapons
In Guardian Tales each character has its own unique personality and skills. And there are also various types of weapons to choose from. The combat you play will be different depending on which character you choose and the different weapons you equipped. For example, after you choose a bow, you can shoot down enemies in a safe distance and cause large damage if you charge up powerful shots. Meanwhile, you can unlock a bunch of new characters and level up your weapons and characters to help you win the combat in different play styles.
This is a social media app within Guardian Tales where you can see posts of the NPCs you meet in the game that follows you. These NPCs would post funny posts and updates of the store details for you to catch up.
The real-time PVP match requires you to play at a specific time and only lasts for 1 hour. Only the first five matches count into distribution of the rewards, and each winning gives you 20 points while losing 10 points if you fail.
Conclusion
Unlike other casual mobile games that you can play whenever you want to get a break, Guardian Tales requires concentration and strategy to build your town, find hidden paths, solve puzzles and even battle against enemies. Overall this RPG is well designed in every single detail including decent story, amusing dialog, great graphics and smooth gameplay, not to mention it is free-to-play, so it is definitely worth playing!
Pros:
Retro-styled graphics and hand-drawn art
Great storyline and amusing dialogs
Various characters and weapons to collect and upgrade
Interesting puzzles and hidden contents
Cons:
The battle system may be a bit too simplistic
PVP requires playing at a specific time
Might get stuck when you reach the endgame
文章中包含的應用
守望傳說
前往經典冒險的連結
9.3 43K+ 評論