更新於: 2020年11月09日
Dragonscapes Adventure Review

免費獲取
Dragonscapes Adventure is a casual building simulation game featuring dragons and building your island. You will start on an isolated island with your friend Mia, and your goal is to collect different kinds of dragons while building the home for you and Mia on the adventure towards several islands. The gameplay of Dragonscapes Adventure is quite simple to be a nice time waster.
目錄
Explore the Huge Map
As soon as you start the Dragonscapes Adventure, you are on one island with a friend Mia who will explain to you about every step to craft different stuff and build various kinds of shops and structure.
You can cut down the grass and trees to gain the wood material. To cut each plant, you will cost certain amount of the Energy, and every 90 seconds you will gain 1 Energy for free. More land will be unveiled when you cut down the grass or trees near the border, and once you unlock all the places on the island, you can continue to explore the next one. As you proceed to the next chapter one by one, more islands will be open for you.
Grow Crops & Make Products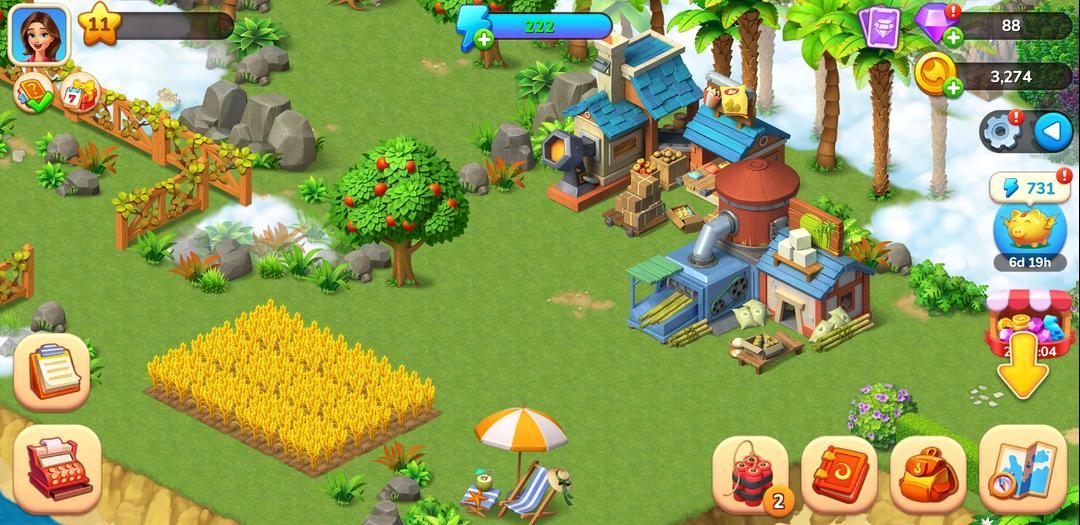 There are many crops that you can grow on the farm such as wheat, corn, sugarcane and many more. With these crops you will be able to make bread, chips and other useful products in different factories and shops to upgrade your level.
All the food and materials you get will be stored in your Storage and sorted in different sections to help you find them easier. It is better for you to store as many crops and products as possible so that you can fill the orders to earn more coins and experience points (XP) to upgrade.
You will be able to unlock more buildings as you level up in Dragonscapes Adventure. Each building will require three kinds of items to be able to build on the island. If you are lack of each item, you can use the gems to get it directly. The more buildings you set up, the more products you can make.
Collect Cute Dragons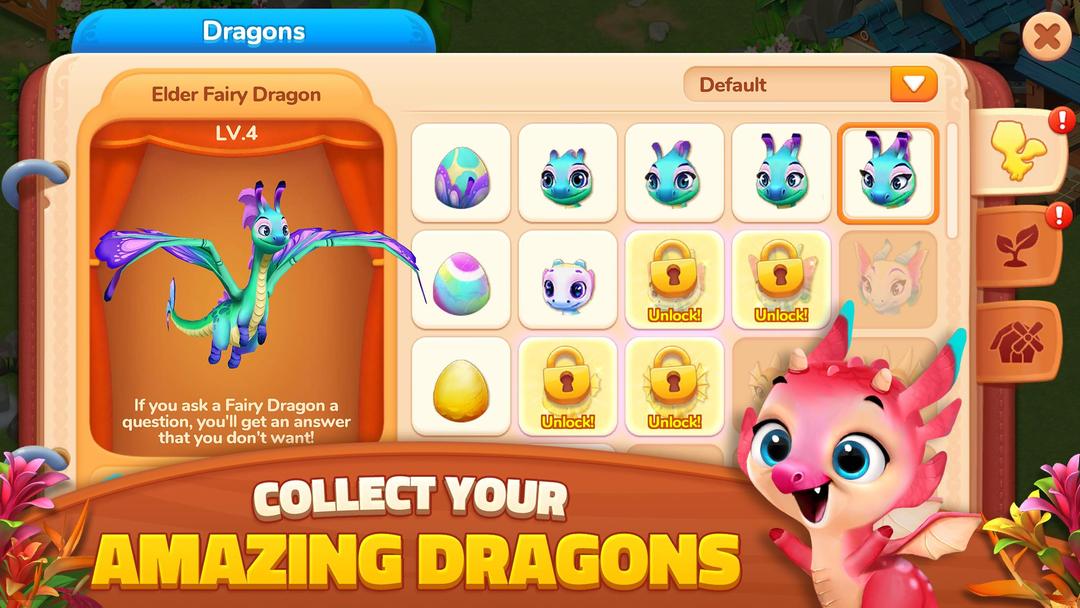 There are many cute dragons in the Dragonscapes Adventure waiting for you to discover and collect. You can use the Dragon Stamina to upgrade your dragons with higher dragon power. The Dragon Stamina can be gained by waiting for your dragon to finish sleeping, buying or merging new dragons.
As you keep progressing in the game, you will collect more dragons, plants and buildings to make your collection book richer.
Daily Reward & Achievements
Log in 7 days in the Dragonscapes Adventure offers you coins, energy and other items as reward. When you complete the tasks in the Achievement board you can unlock various kinds of rewards to help you level up. If you are running out of the energy, coins or gems, you can buy them in the store with real money as well.
Conclusion
As a casual game, Dragonscapes Adventure features simple gameplay yet still provides lots of fun during farming and building in the game. The graphics is very clean and colorful, and the background music is very relaxing, which brings players a pleasant game experience. But the energy takes too long to fill up if you don't want to pay for it. And the production time are longer than I expected, so this game really requires time and patience to get through each chapter slowly.
Pros:
Clean and colorful graphics
Plenty of tasks to keep you busy and fun
Easy gameplay as a time waster
Cons:
Energy and production time takes too long to fill up and complete
文章中包含的應用
夢幻龍樂園
以自己的方式展開冒險吧!
9.4 20K+ 評論