Updated: January 6, 2021
X-Hero Idle Avengers Review – IDLE RPG with Comic Book Art Design

Get it Free
X-Hero Idle Avengers is a newly released idle gacha RPG which features unique comic-book art design and lots of generous reward systems. You can summon powerful heroes of different fractions and form the strongest team to win the battles through story missions as well as online players around the world.
Unique graphics and art design
The interface and menu settings in X-Hero Idle Avengers are very similar to other RPG on mobile such as AKF Arena, so It's quite obvious that the developers don't put too much efforts on the innovation. However, the comic book design of superhero figures during battles is very impressive. You will find familiar characters including Einstein, Cupid and many more in the hero albums.
Summon and upgrade heroes to higher levels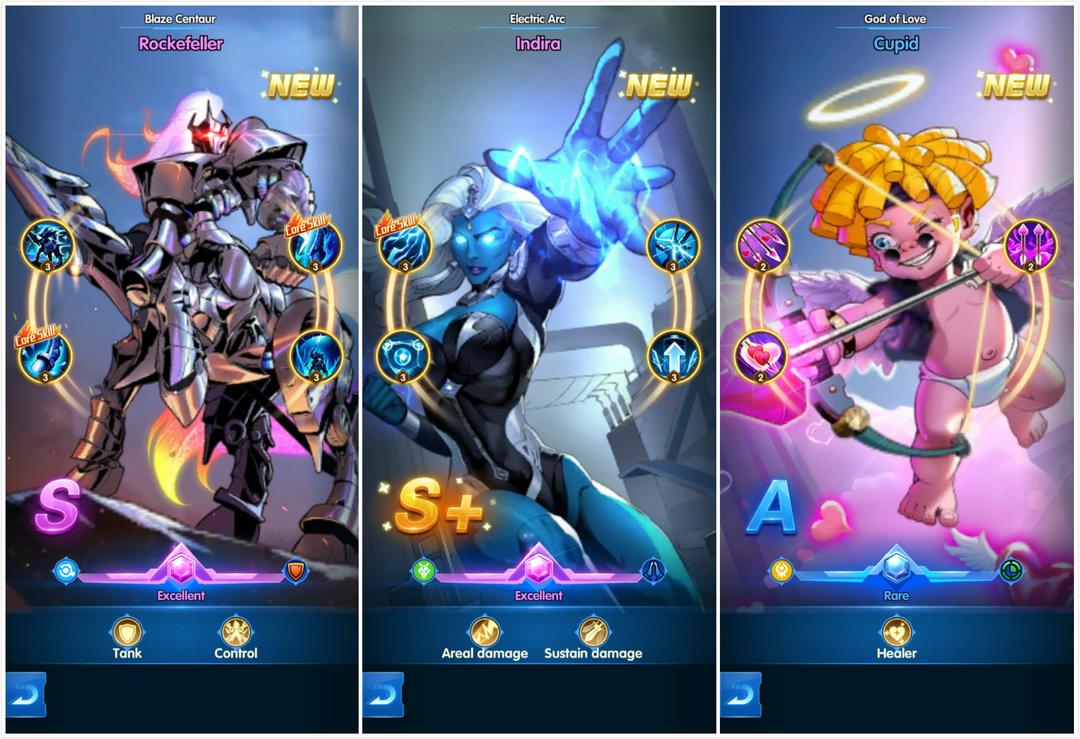 You have high rates to get rare heroes and even S level heroes in hero gacha. Despite spending pull tickets in the gacha, you also have chances to summon new heroes in various special events which grant players with generous rewards including heroes, equipment, coins and other useful items.
In X-Hero Idle Avengers you can not only upgrade your heroes to higher levels and enhance their equipment to increase their stats, but also use duplicate cards of the same character to awaken your heroes in the Lab of Awakening. The heroes' quality will be upgraded from rare to rare+, excellent and epic after each awakening.
Build your strongest team to win battles in different game modes
The battles in X-Hero Idle Avengers are very simple as they are all automated without manual controls. The only thing you need to do is to deposit your heroes and form the best team according to the heroes' power and their fraction in enemies' team. You can always build a new formation before each battle starts, and it is vital that you consider each hero's faction bonuses. Using multiple characters of the same faction will increase their stats, and take good use of mutual restraint between different factions will help you defeat the enemies more efficiently.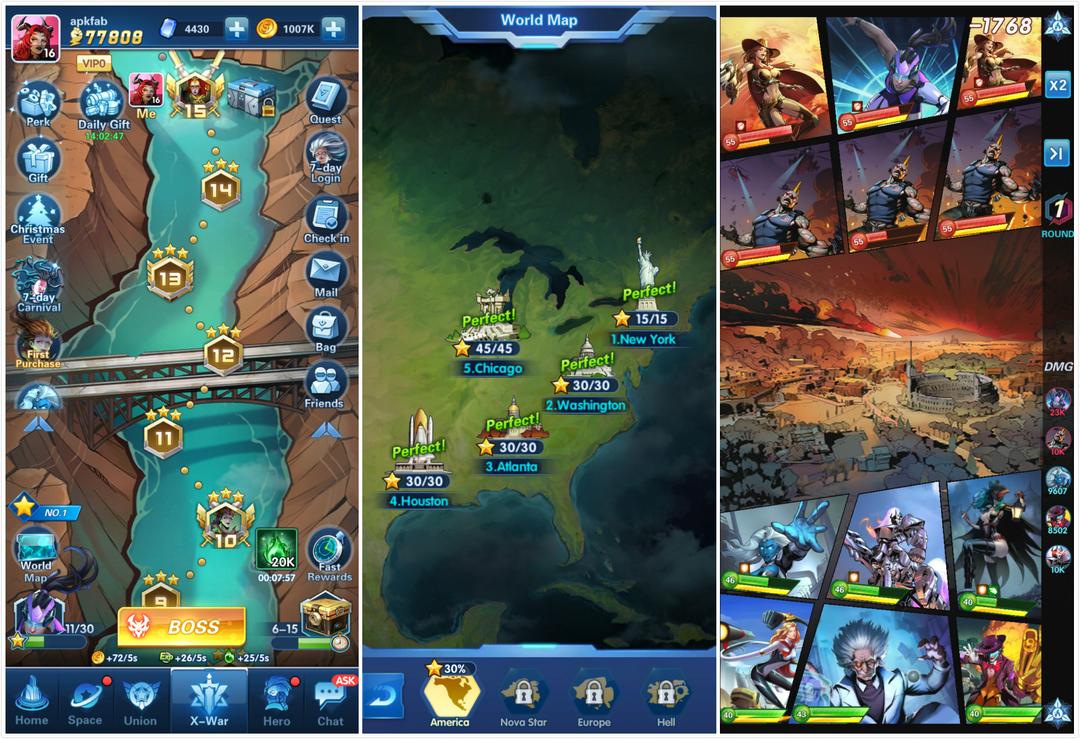 The main battle mode is to complete each stage of story missions in the world map. Complete each stage with 3 stars will grant you more unique prizes. So you should try to send out your best heroes to make sure no death in your team at each round so you can get all prizes.
Besides story missions, X-Hero Idle Avengers has plenty of things to keep you busy in exploring the hidden treasures in Space Discovery, hunting Galaxy Wanted in the space and even battling against online real-time players all over the world in the global arena.
Get rewards from a bunch of events and quests
There is no need to pay money in the store for equipment and other resources as X-Hero Idle Avengers is very generous in offering rewards through countless events. You can get coins, gear, heroes and all sorts of rewards from quests, daily login events, holiday events and watching free ads. Even if you are stuck in some levels, you can just wait and get more rewards to process. If you don't want p2w game, this is the one for you.
Conclusion
Overall, the gameplay in X-Hero Idle Avengers is like other idle mobile games in general. What attracts me is its comic book feel during the battle and generous prize system. Heroes are easy to obtain in gacha and events but hard to awaken to epic level as lack of resources. There are so many different game modes to keep you entertained with numerous missions as well as real players around the world. But if you prefer more manual controls to improve battle skills, this one is not for you.
Pros:
Unique comic book art design
Generous rewards in multiple events
High rates to get powerful heroes
Cons:
Similar to other idle games
Idle gameplay is too simple for skilled players