Updated: May 28, 2021
Unholy Adventure Review

Unholy Neighbourhood
Point and click adventure, puzzle mystery game - narrative game with story mode
Get it Free
Unholy Adventure is a story point and click game developed by Dali Games, whose hit game Lucid Dream Adventure has a million downloads and a high rating. Similar to Cube Escape series, Unholy Adventure is a perfect fusion of puzzle, adventure and horror. Instead of following instructions and waiting for stories to unfold, players need to put their thinking cap on to explore the game.
The story starts when the man (you) finds that his wife, Betty, who has acted weird lately, doesn't return home on time in a stormy day. After failing to reach her, he decides to collect information in their apartment, a street, a RTV store and so on and bring her home safely. Then it's your turn to get hints from puzzles, notes and dialogues with strangers to find his wife before it's too late.
Game mechanisms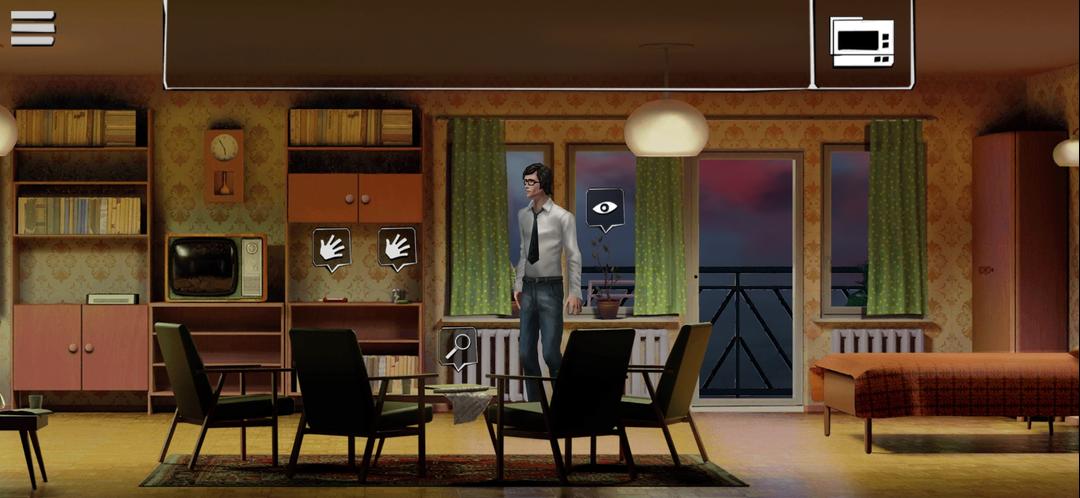 Before acting as Sherlock Holmes, the developer introduces how to play the game. Basically, you tap an item with a palm icon to get it, an item with an eye icon to see what the man says about it, which are often hints for next steps, and an item with a magnifying glass icon to display it. Tap an item you got to use it for more information. After rounding up all the information in one scene, you can go to the next through a door.
One thing to be careful with is that not all items are on display. Some may be locked in a box, some may be hidden under a withering flower, others may not appear until you connect two items. Pay attention to items you have and what the man talks to himself to find clues.
Puzzles
Puzzles in Unholy Adventure are diverse. There's nothing like match-3 or cutting a rope or sneaking through security guards, which follow a similar pattern in all levels. Every puzzle in the game is one-of-a-kind, and it's unable for you to know the solution by just looking at it. You may snatch your head and fail many times before you figure out how to crack it, like the saying goes, "Failure is the mother of success."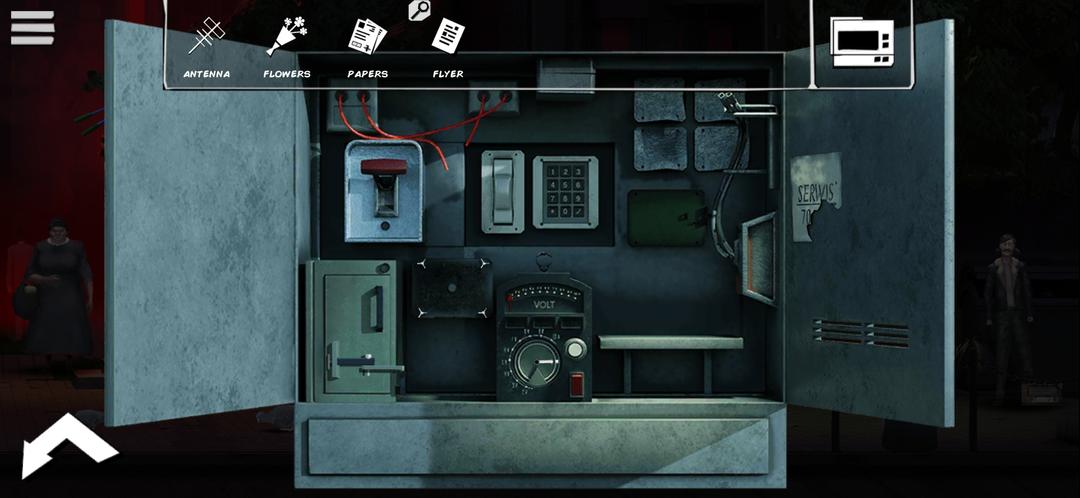 Two puzzles have stayed in my memory. One is to install a radio by fixing at least six problems. The other is to navigate a maze, in which you have to choose the right door from three similar doors on four scenes. If you take one step wrong, you have to start over (I was stuck in the maze for hours before I got out, though I still don't know how I made it.)
Hints
If you are stuck in the game, you can either use an item on all possible people on things, or get hints from the Pager -- hints from the kind developer. But I believe exploring all possibilities makes the game fun and engaging, so don't enlist the Pager unless you have no other choice.
The end of the world?
There are not many people to talk to. Everyone on the street or in a shop is strange. A woman is looking for her husband, who went missing some 30 years ago but in her mind it happened yesterday. An owner and customers of a RTV store are haunted by abnormal TV signals and wouldn't react to anything. And the sky is clouded by weird red mist. Everything seems to suggest it's the end of the world, and the man may be a world saver... It still needs further investigation to know what is happening.
Conclusion
Overall, Unholy Adventure is worth your attention. It tests your brain and let you experience an apocalyptic world full of confusion and silence. It offers an enthralling story that makes you want to figure out what is going on. It is simple to play, with a few clicks and you can finish it. But you won't get bored as every challenge is new.
However, disadvantages of the game are clear. It only says parts of the story, and the remaining is in another unreleased game. It's unknown whether the developer will charge you money or not in the next game.
Pros
An enthralling story
Challenging puzzles
Cons
Not a full story
The next game may be a paid one