Updated: March 3, 2021
The Burgle Cats Review
Get it Free
The Burgle Cats is a strategy game developed by PONOS Corporation. PONOS Corporation is headquartered in Japan and one of the most well-known games developed and published by the video game company is the tower defense game - The Battle Cats. The latest cute game released by PONOS, The Burgle Cats, has similar looks and styles to the original but features different but addicting gameplay. Now let's take a closer look at this strategy game with cute cat elements.
What's The Burgle Cats?
The Burgle Cats is a cute and addicting strategy game where you need to employ a group of cat burglars to steal treasures from different manors filled with traps and guard doge. In this game, burgle cats break into mansions belonging to other players, and your job is to help these cats move around the house searching for gold coins and precious treasures without getting killed or captured. If 3 cats get captured or the willpower is drained, the game is over! Then you can either restart the game or go home to prepare for the next round.
There are two types of battles: Burgle Battle and Ticket Heist. The main goal of the first type is searching for treasures and competing for Burgle Points while the other one is earning rare and common tickets for hunting more burgle cats. Each cat you hunt from the Village of Thieves has a unique skill. Archie, for example, has the ability to reveal the direction of a nearby Vault, and Cat Trolley can put Guard Doges to sleep. Players can use these skills wisely during their navigation in the mansions to get treasures quickly and safely.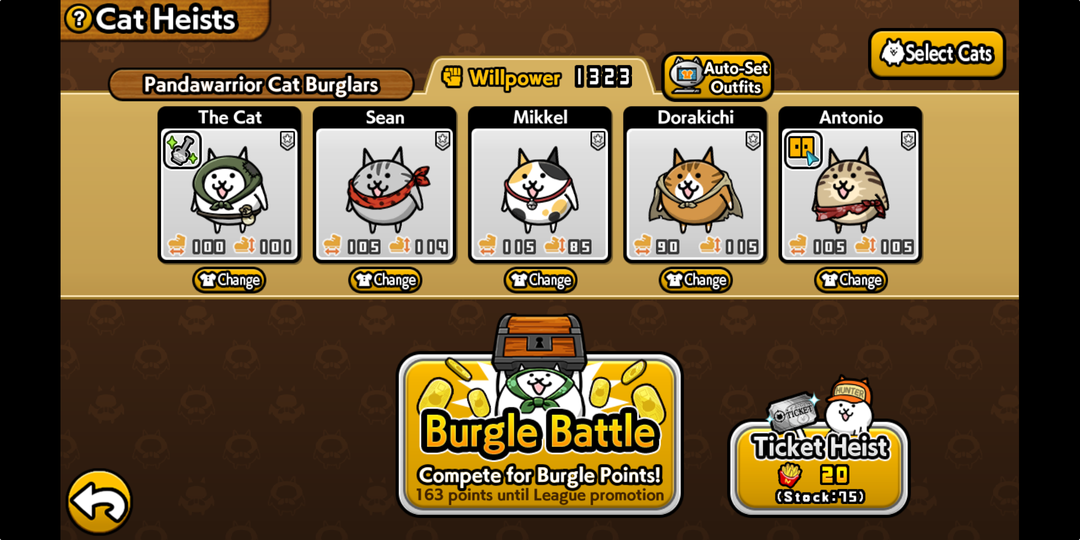 Before entering the Burgle Battle, players have to form a burglar crew of up to 5 cats, and also need to make sure all burglar cats are decorated with clothes and accessories obtained from the game. Clothes and accessories are crucial items not only for decoration purposes, but to increase the willpower and agility of the cats. So don't forget to use gold coins to upgrade these items regularly to make your burglar team become stronger.
The most fascinating feature about this game is that you can randomly land on a manor owned by another player in each round, and navigate your way through a maze filled with dangerous traps and Guard Doges, and finally find the Treasure Chest hidden behind the door without being caught or running out of the willpower. As you progress, there are more traps around the house that will cause damage to the willpower and increase the possibility of getting caught, making it a more tricky game.
In addition to being a burglar, The Burgle Cats also allows players to design the security system for their own mansions. Traps like Poison Shroom, Spike Switch, Banana Peel, and more can be placed in any area of your house to deal damage to intruders and protect your land and treasures. However, there is a trap limit, which means you can only select a certain number of these traps earned from battles to confuse intruders. Each trap has its own unique purpose. Some can create noise to wake up the Guard Doges while others can drain the willpower. Place these obstacles and traps wisely and try to deal max damage to intruders.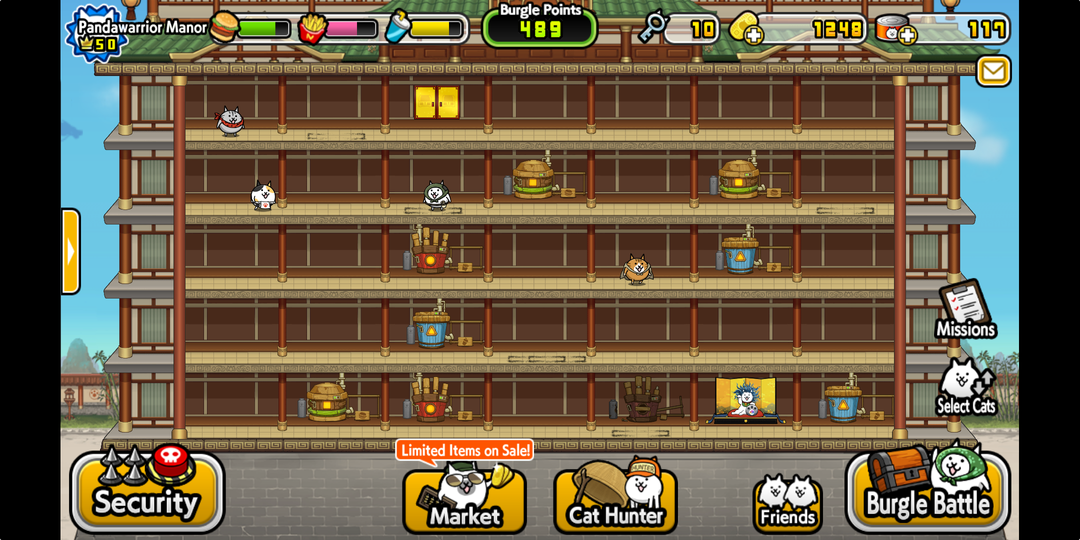 There are also a dozen of fast food factories in your own mansion which can create delicious fast food to feed your burgle cats. You don't want your cat to steal treasure with an empty belly, right? You can also invite your friends to join you in the burgle adventure! The controls are simple, all you need to do is swiping the screen to guide the cat, and the graphics are fantastic!

Conclusion
It's free to download the game on both Google Play and App Store but contains video ads and in-game purchases. Fortunately, these purchases and ads are all optional, and the game offers players generous rewards from all kinds of traps, gold coins, keys, to various clothes to make the game progress. Overall, The Burgle Cats is a decent strategy game for both kids and adults to play. It's so adorable and fun and is definitely worth a try.
Pros:
Burgle your way to victory with cute cats!
Various missions and generous rewards
Free to play