Updated: September 15, 2020
Subway Surfers Review – An Epic Endless Running Game You will Never Get Board Playing

Subway Surfers
Help Jake, Tricky & Fresh escape from the grumpy Inspector and his dog!
Get it Free
Subway Surfers was released in 2012 and has made an incredible record of passing one billion downloads on Google Play Store in March 2018 and two billion downloads in May 2018, which was the most downloaded mobile game all over the world at that time. This game features a cartoony graphics which never gets old-fashioned ever in nowadays. Now let's have a good grasp of this one of the best endless running game.
INDEX
What is Subway Surfers About?
You play as a teenager who gets caught on the train, and your goal is to run away as far as possible to not being caught again by the inspector. Your character cannot walk but only run through the entire game. And all you can do is to make the character turn left or right, jump and roll to collect all kinds of coins and power-ups to help you run faster and to avoid tons of obstacles in your way. The road never ends as it keeps updating new levels and "World Tour" themes frequently.
Graphics & Controls
Subway Surfers features HD optimized cartoony graphics with vivid colors and smooth gameplay. It has simple controls to easily make your character jump, roll and turn left or right whiling running. The cute design and simple controls make Subway Surfers a nice choice among all ages during the spare time to play with.
Characters
You can choose from a variety of characters in Subway Surfers including Jake, Jia, Tasha, Nick and many more (some limited characters needs to be paid).
Power-ups & Boosters
There are several power-ups and boosters that you can choose to help you run faster and score higher points. Most of the power-ups can be attained by the coins you earned in the game, but there are also some premium power-ups and boosters that you can only get by paying real money for. Here are some of the main boosts and power-ups that are most frequently used in the game.
It can draw in coins from all lanes near you for a limited time. While using this power-up, you don't need to change lanes to collect coins so you can focus on running ahead avoiding the obstacles.
You can jump much higher than normal with Super Sneakers, even be able to jump over the trains without hitting on them.
Using this power-up allows you to use the spray cans as a jetpack. You can fly through the tracks and avoid all obstacles while still getting points.
This doubles the scores you collect so you can get higher score more easily. You can also upgrade this power-up to make it last longer from the in-game store.
This one is expensive comparing to other power-ups, but it can increase the multiplier by 5, 6 or 7 for a single run. So you must try it if you are planning to break your score records.
Word Hunt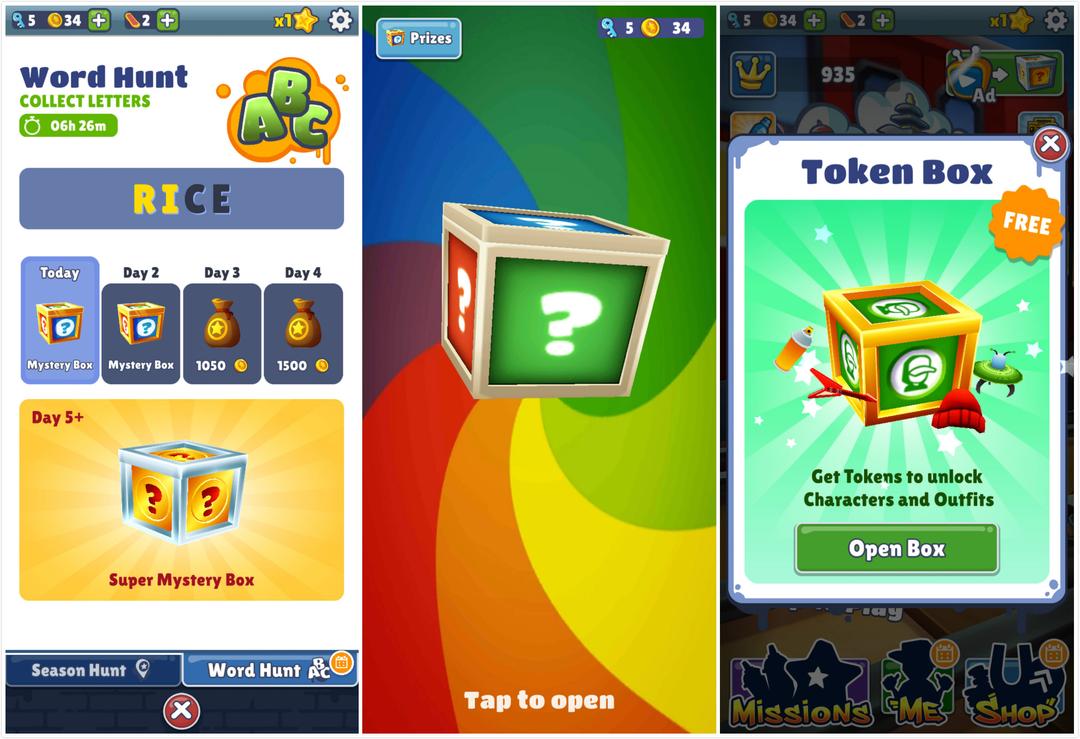 Besides that, you can unlock characters and outfits from Token Box, as well as getting coins or extra rewards from the Mystery Box which you can get after you complete the Word Hunt missions every day. To join Word Hunt, you need to collect certain letters showing up on the lanes while you keep running away from the inspector. After you collect all the required letters each day, you will be allowed to open one Mystery Box, and have a chance to get the Super Mystery Box if you continue to complete word collecting tasks for five days.
Conclusion
Subway Surfers is no doubt one of the most downloaded mobile games over the globe. Its simple controls and smooth game experience has satisfied players from all ages. Moreover, Subway Surfers is still constantly updated with World Tour themes and other events so players will keep getting interests and fun with the game. If you like endless running game, you must give it a try.
Pros:
HD optimized cartoony graphics
Simple controls for all ages
Multiple characters to choose from
Interesting power-ups and boosters for higher scores
Constant updates
Cons:
Limited characters and premium power-ups need real money to pay for
May be too easy for some players and get bored