Updated: January 7, 2021
Stella Arcana-Eternal Star (CBT) is a Beautiful Anime MMORPG by LRGame Inc.
Stella Arcana-Eternal Star (CBT) is an anime MMORPG featuring beautiful art design, multiple PvP and PvE game modes and a beautiful seed island for you to plant crops and produce food to get more rewards. As an open-world story-driven adventure mobile game, Stella Arcana presents you with a fascinating storyline with interesting dialogs between different characters. Now let's dive into this beautiful wonderland and take adventure with your mercenaries.
Beautiful graphics and massive character customization
Stella Arcana features colorful and cute anime designs. And it has a snapshot function for players to take screenshots of beautiful scenes and intense battles freely. As the game starts, you have multiple selections to choose your character among several roles. And you can customize your character with large amount of choices on the costumes and appearance. Then you will start your journey on the massive world map by completing quests one by one to get rewards and upgrade your level.
Complete quests while exploring the massive world map
To complete the quests, you need to talk to the NPCs in the game, find useful items and resources, and fight against the enemies. Stella Arcana has a teleport feature to send you to any teleport spot on the map quickly so you can complete several quests without walking for too long. The controls are easy to use but sometimes it gets stuck somehow on my phone. You can also use the auto-path and auto-battle feature to free your hand, but I recommend you play the game on your own if you are not too busy as it gives you more satisfaction. You will also learn life skills including fishing, gathering and collecting so that you can get fish and other resources around the world.
Collect Mercenaries and Sprites to be your companion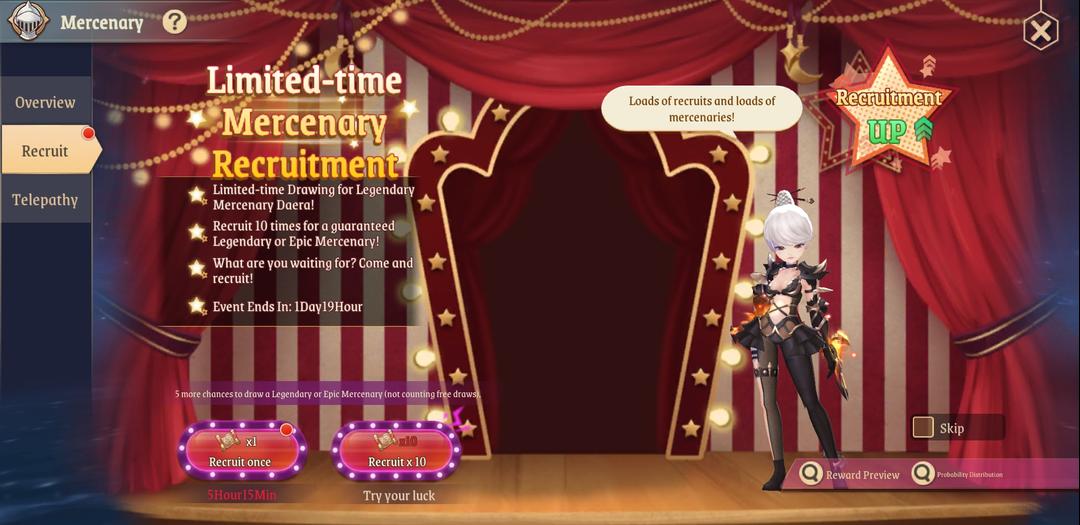 Stella Arcana has a gacha system where you can recruit new Mercenaries. You can bond them with several Mercenaries to increase their stats, and create different teams with various Mercenaries to fight different kinds of bosses or enemies when you cannot find real players.

Each Mercenary has their own role, bonds and skills. As you complete quests to earn rewards including coins and necessary items, you are able to equip your Mercenaries and upgrade their ranks to improve their skills.
You can collect Sprites in Stella Arcana and make them accompany you through the journey. Sprites are various kinds of monsters with different abilities to help you fight in the battle, which is kind of like Pokemon.
Multiple thrilling PvP and PvE game modes
Besides completing the main quests, there are so many PvP and PvE battle modes you can play in Stella Arcana. You can join a Guild or create your own to fight with friends around the world, or build a 5v5 team with your own Mercenaries in the 5v5 arena, or take adventure to fight through dungeons.
You can either play solo or in the team with other players across the globe. As in the team battles, you can win the game as long as any of your team member lives to the last and kills the boss. So if you team up with players or the Mercenaries that are stronger than you, you have a chance to win the game even if you are dead.
Decorate your house and farm on Seed Island
If you are tired of thrilling battles, there is a housing system on Seed Island where you can decorate your house with various kinds of furniture, as well as a farming system where you can grow crops and feed the animals to get milk, eggs and other useful resources to prosper your land.
Conclusion
All in all, Stella Arcana is an open-world RPG with story-driven adventures that keeps you entertained for a while and is easy to grasp for beginners. The animations and art design are very adorable, and the controls are easy to operate. But it's getting tough when you get to higher levels and slow down your progression unless you pay in the game.
Pros:
Unique storyline and fun dialogs
Great animations and easy controls
Multiple PvP and PvE game modes
Endless character customization
Cons:
Get stuck on the controls occasionally
Hard to proceed to higher levels unless paying money