Updated: May 14, 2021
SLAM DUNK Review First Impressions

Get it Free
Slam Dunk is a multiplayer basketball game based on the anime/manga of the same title. The manga series is first written and illustrated by Takehiko Inoue and then was adapted into an anime series, which gained huge popularity across Asia in the 1990s. Whether you are a hard-core fan of Slam Dunk who still regrets not being able to see the National Tournament in its anime series or just an enthusiastic sports lover, this game is definitely for you.
What's Slam Dunk Game?
Slam Dunk game, developed by DeNA Hong Kong Limited, is a real-time multiplayer basketball simulation game where gamers can recruit their favorite original anime characters, enjoy the classic episodes of the anime series, and of course, form a competitive basketball team with real players to defeat rivals. The game revives the legend story about a basketball team from Shohoku high school whose main members include Takenori Akagi, Kaede Rukawa, Hanamichi Sakuragi, Hisashi Mitsui, Ryota Miyagi, competing against other basketball teams to pursue their National Champion dream.
What to expect from Slam Dunk Game?
Your favorite Slam Dunk characters
What's your favorite Slam Dunk character? Basketball genius Sakuragi? 3-pointer Mitsui? Slam Dunk has got all these characters covered. In the game, you can choose your favorite characters to play against your opponents. Use in-game currency to buy new competitive players, train and level them up, and unlock various abilities to make them stronger.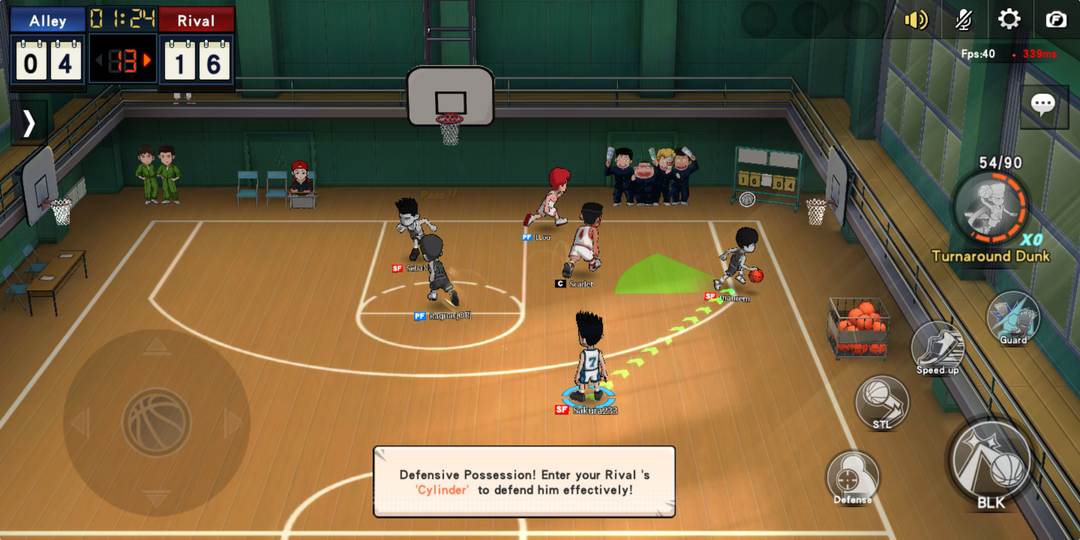 Slam Dunk is not a simple "tap-tap-shot" basketball game but features addicting gameplay that allows gamers to battle with real players and perform all the basic and advanced basketball moves and tricks as you were in the real basketball court. Make a great pass, get past an aggressive defender, and drive the ball to the basket. Slam Dunk also contains familiar skills from anime series like "Hua Hua Defense","Akagi Dunk" and "Lightning Fast", which provides gamers with both challenges and entertainment.
Enjoy the classic story while playing
By playing Story Mode, you have a chance to enjoy the exact original anime stories and scenes. The story is kind of interactive, you can complete the required tasks and play mini basketball games to drive the plot forward. However, there is only one chapter and other chapters are either locked or unavailable right now.
Real-time multiplayer battle
The most fascinating part is the multiplayer battle gameplay. Slam Dunk offers a variety of basketball battle options like Half-Court 3v3, 1v1 Solo matches, 2v2 Duos, Full-Court 3v3, and Full Court 5v5. After installing the game on your mobile device, you can participate in a 3V3 half-court match and compete with other players online. Slam Dunk also allows you to create your own basketball club and form basketball teams with your friends.
Slam Dunk features a user-friendly tutorial. For newbies, you can start with the basic training and also the advanced section to learn some basic controls and rules. There is a large collection of basketball moves in the game, including Drive, STL, BLK, and more. Every time you complete training, you will be earned with generous rewards.
Concludes
It's free to download Slam Dunk on Google Play now. The game contains in-game purchases and you can use real money or complete tasks to gain vouchers, diamonds, and other rewards to make your player stronger. If you are a sports fan and love playing basketball games, then this game is for you.
Pros:
Real-time basketball battles
Original Slam Dunk characters
Classic anime storylines
Great graphics and addicting gameplay
Apps in this article
SLAM DUNK
TEAM-UP OF 3 , 5-MINUTE TO WIN
8.6 13K+ Reviews