Updated: January 18, 2021
Shadow Master Review – Show Your Skills and Become the Legend Archer!
Get it Free
Shadow Master is a casual shooting game for Android. In the game you will be a cool archer and your goal is to clear all stages through the world map. It's time to pick up your bow and arrow and show your shooting skills in Shadow Master!
INDEX
Graphics and Controls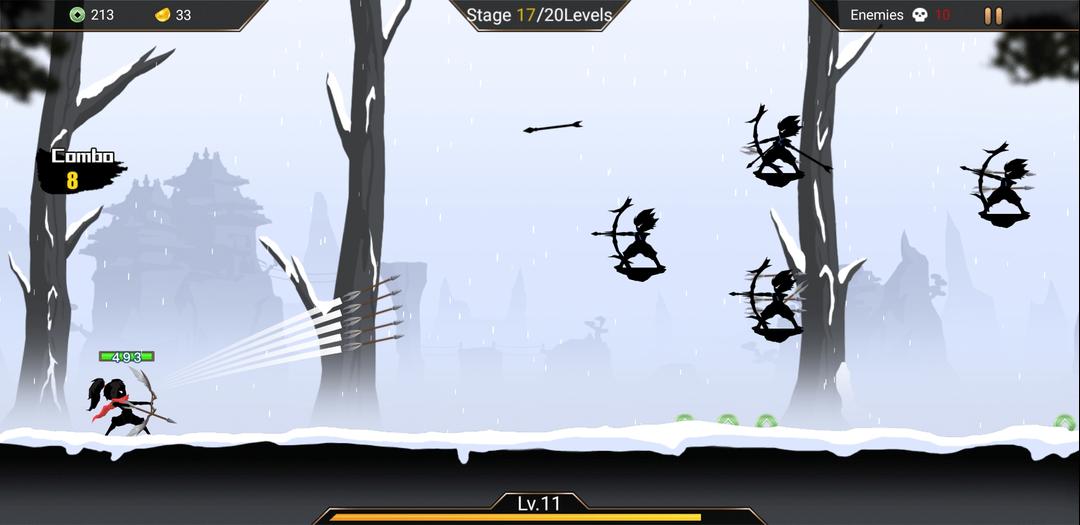 Shadow Master adopts quite simple and clean art design. When you clear each stage through different chapters, you will go through different environment and encounter various kinds of enemies from humans to strange creatures.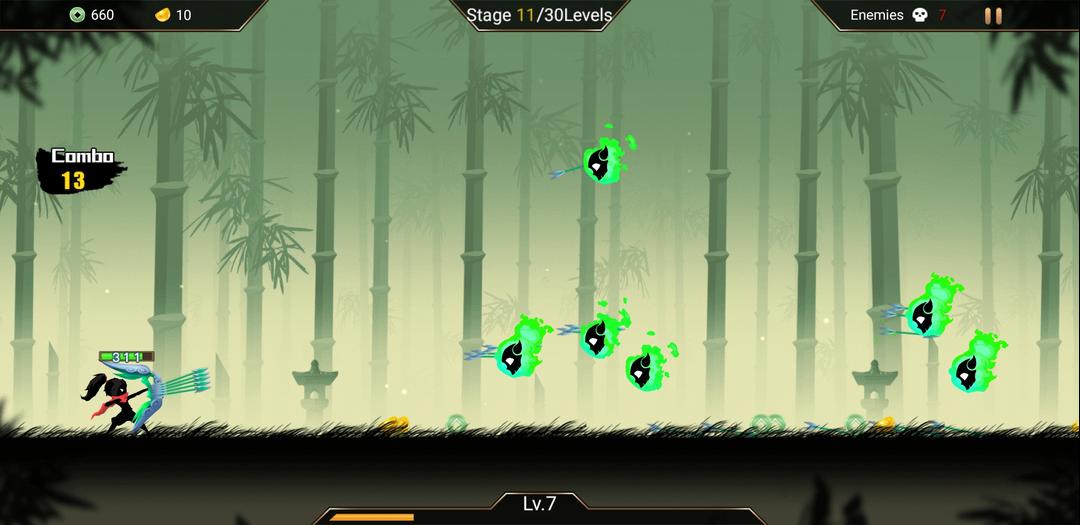 The operations are quite easy to handle. Swipe left and right to control the force of your arrows, and drag up and down to control the directions. The more precisely you shoot, the more quickly the enemies die. So practice as much as possible until you never missed arrow headshots!
Complete all stages in the world map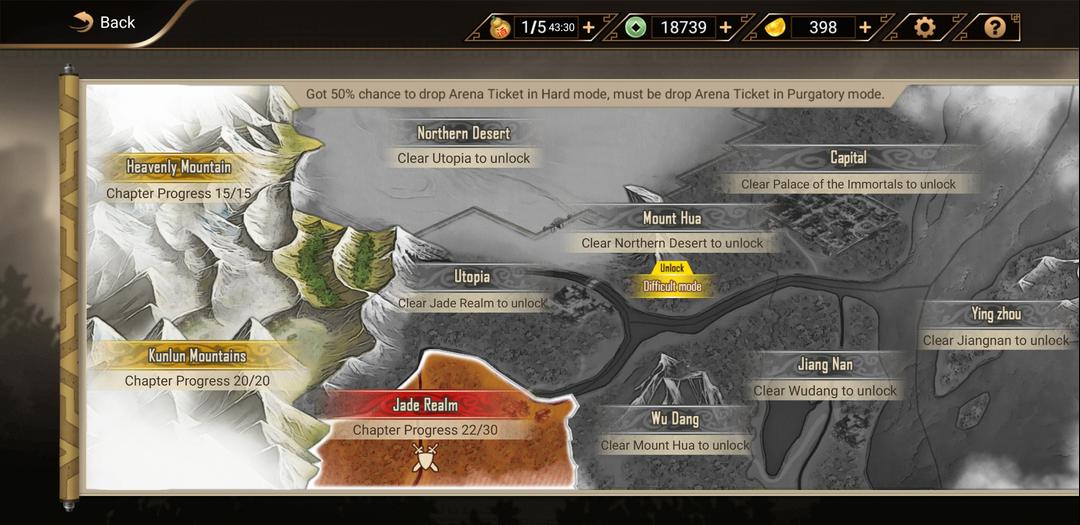 You can see many mountains as locked chapters in the world map, and each chapter contains several stages for you to complete. When you clear all stages in one chapter, the next one will be unlocked. You need to clear all stages at one time, otherwise you have to start all over again once you die halfway.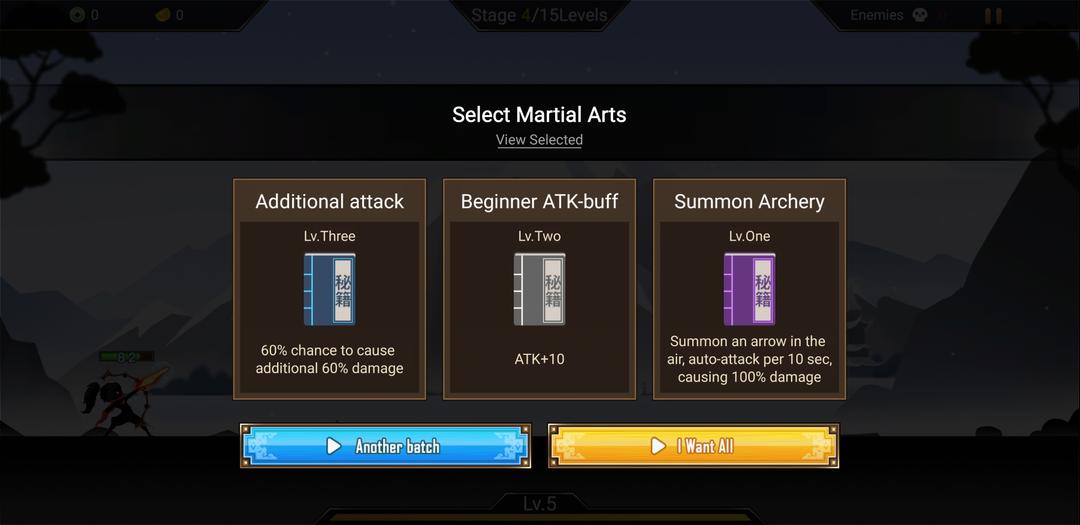 Before every stage starts, you can select a new martial art among three different choices to enhance your ATK, DEF or HP level as you need. The higher level the skill belongs, the more powerful it is. So it is better that you choose the skill of the highest level to get the most strength. When your HP is full, you can choose the skill that increases your ATK level, but when your blood drops, you should pick up the one that recovers your HP the most in case you died through next stage.
Besides different martial arts for you to choose, you can also select your route among battle, encounter and merchant for more possibilities.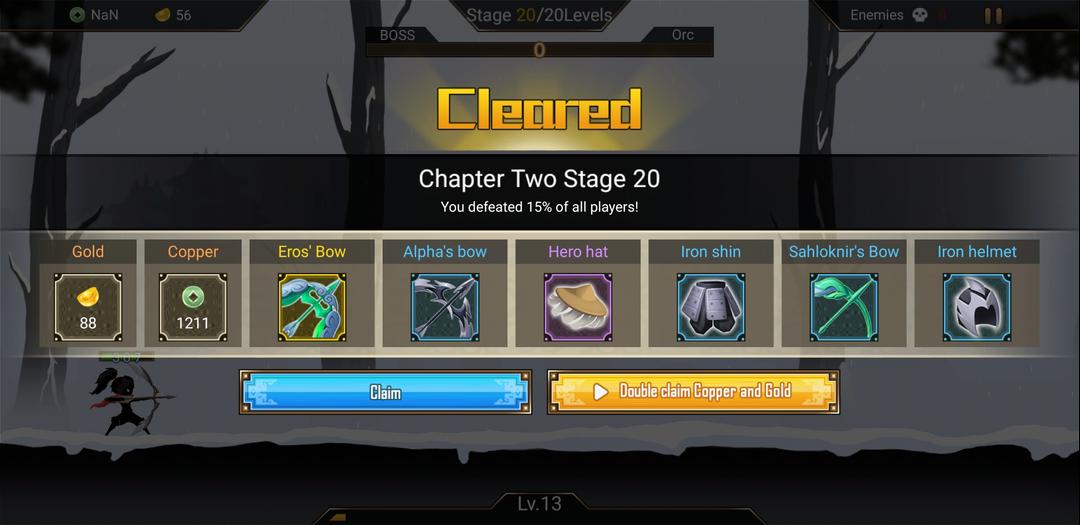 After you finally clear all stages, you will get massive rewards including equipment and in-game currency gold and copper. These items can be used to improve your character's stats and help you to defeat the enemies in the next chapter.
Power up your character with gear and martial arts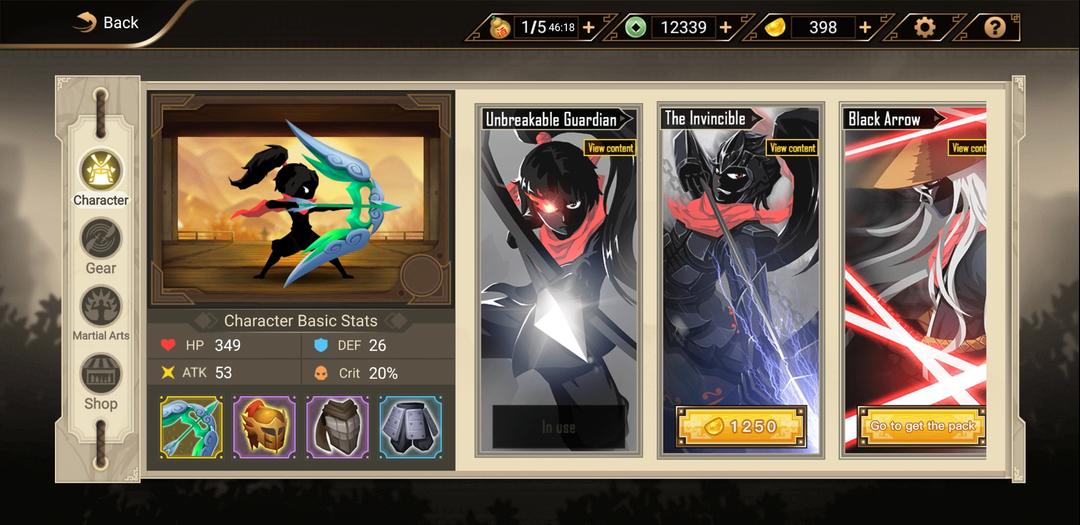 On the character info page, you can see the basic stats of your character and the equipped items on it. You can also change the outfit on the right if you like.
You can get new equipment through clearing stages or completing quests. You can check the details of each gear and put on the one that improves your ability the most. For those with lower powers, you can sell them to get coppers instead.
Martial arts that you've learned will appear in the above list. Only 10 martial arts slots are available, so you can unlearn the martial arts you don't need for exchange to the more powerful ones. These martial arts can either enhance your attack power or increase the chance of gold drop when you kill an enemy.
You can get extra rewards through check-in event or daily quests and achievements. The enemies are tougher to defeat in the further stages, so you must practice your skills and enhance gear and martial arts to make yourself stronger thorough the battles.
Conclusion
Shadow Master is a fun shooting game without comprehensive operations so everyone can enjoy it. But it requires players' patience and persistence once they start clearing the chapter as it is one-time challenge only. The game offers extra rewards through watching free ads, but it becomes invalid after I watched ads for like three times and stops me from doing so for more prizes, which is quite frustrating. Overall, it is a casual game that you can play to kill time as it doesn't take too much skills.
Pros:
Clean graphics and simple controls to kill your time
Cons:
Ads reward system is broken