Updated: January 15, 2021
Ronin: The Last Samurai Review

Get it Free
Ronin: The Last Samurai is a fighting game developed by Dreamotion Inc. The game, portrayed in an ink-and-wash painting style, is inspired by the pre-modern Japanese samurai and features brisk battle moves, great-quality graphics, and also a variety of fascinating abilities and fighting skills to use. Ronin: The Last Samurai was just released earlier this year and has received a number of downloads and decent reviews on Google Play. Now let's take a closer look at this action game.
Gameplay
After downloading the game on your mobile devices, your task is simple: Join the battle, control your samurai, and kill all the enemies to win the game. Currently, the game only offers 1 hero but allows players to use in-game currency to upgrade their character and equip the hero with different weapons and accessories earned from battles.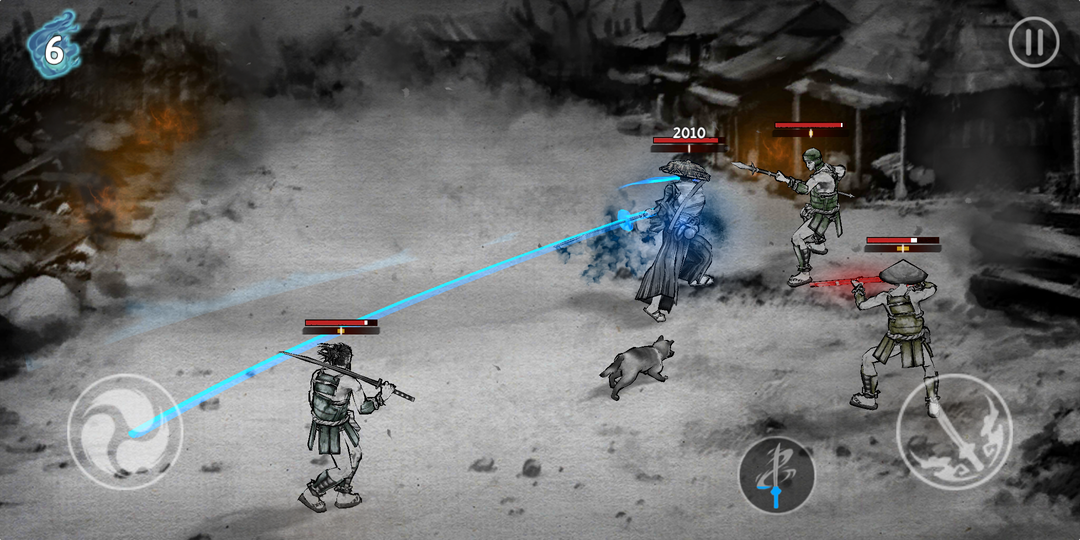 In the fighting arena, there are two or more enemies with swords, guns, and other different weapons each round, and your job is to defeat them and become the most powerful samurai of all time. Since the game difficulty increases gradually as you level up - the enemies with guns can shoot you from far away; and when the enemies perform a heavy attack, you can still take the damage; you will face more challenging boss enemies along your way to victory - you need to use in-game currency to upgrade your samurai, and train him to become stronger.
As you progress, you have the opportunities to choose from many different abilities to boost your samurai's performance before starting a battle, like Vitality Enhancement, Wind Walk, Final Breath, Unleashed Potential, and more. Vitality Enhancement, for example, is my favorite ability which can help increase HP by 30%, especially when you've lost too much energy fighting with tough enemies and are on the brink of failing the game. Choose the ability that suits you most according to your fighting status. If you have enough HP, Attack Ability with huge dealt damage can be the best choice; Wind Walk can be a great option to help you kill enemies who can perform ranged attacks quickly; If you have lost too much energy, you'd better select the Vitality Enhancement or ability that can resurrect your samurai.
Upgrade the samurai
In order to advance to a higher level, you need to upgrade your samurai and make him become stronger. Coins, gems, weapons, and other equipment can be obtained after completing your tasks, so you can use these items to level up your character. Each item has its own unique ability. For example, Crescent Moon Blade can unleash a surge of life-stealing blades for 4 sec, and Wave Necklace can increase the character's dodge speed. Make sure to use coins and required materials to upgrade these items and help your samurai perform better on the battlefield.
Graphics and controls
Ronin: The Last Samurai features an ink-and-wash painting style and high-quality graphics. There are a Block Button, an Attack Button, and a special ability button on the lower half of the screen and these controls are easy to use. One of my favorite moves is that I can use the Attack Button to perform Counter Flash, the move that allows me to destroy enemies by pressing the Attack Button right before the attack lands, and it's really cool. Although Special Ability can deal massive damage to enemies, players have to wait a long time before they can use this skill again.
Conclusion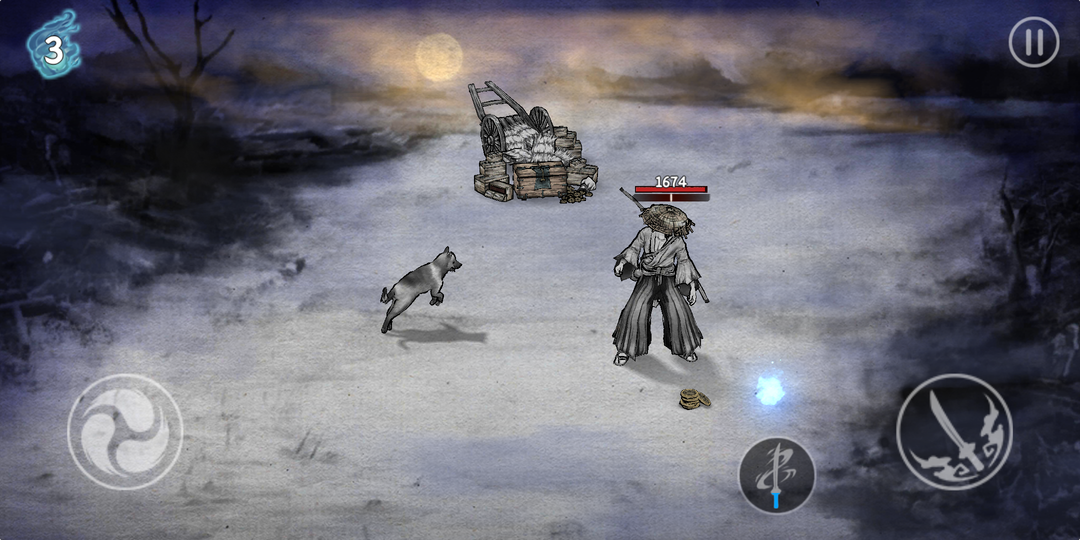 It's free to download the game from both Google Play and App Store but contains in-game items that can be purchased. Overall, Ronin: The Last Samurai is an addicting fighting game without any slashing and blood-soaked scenes, and it also includes pet friends as fighting companions in its gameplay and is a great option for people aged 15+.
Pros:
Play as the last samurai and enjoy an exciting fighting experience
A variety of weapons and appearances
Great graphics and pet companions during battles