Updated: April 29, 2021
Rolling Knight First Impressions and Overall Gameplay
Rolling Knight
Roll with Don, build a village, summon the gods to defeat Demons in match-3 RPG.
Get it Free
Rolling Knight, developed by 37 DARKBREAK CO.,LIMITED, is a completely new take on RPG games, combining thrilling match-3 puzzle combat, and building a mighty base. Thanks to its addictive gameplay and amazing graphics, The game has received a decent star rating and more than 50K+ installs on Google Play. Now let's take a closer look at this game.
What's Rolling Knight?
Rolling Knight is a Match-3 RPG battle game full of strategy and puzzles. In the game, players can assemble champions from various amazing characters, equip their team with upgradable weapons, build a mighty base to train recruits, and match colors to fight against monsters, bosses, and PVP opponents. Rolling Knight is set in a cartoonish environment with monsters, magic weapons, and powerful characters that you can fight together as a team. It's really a lot of fun with the puzzles, and it has increasing difficulty levels that are kind of challenging to pass.
INDEX
Level up your team of champions
Players can use Silver Heroic Relic or gems to collect powerful champions. To summon champions with higher values (attack, defense, health points, and special abilities), players are required to use a number of gems that can be obtained by purchasing with real money or winning battles. Each champion has different abilities. Don Quixote, for example, is equipped with a Lance of Chivalry that can deal huge damage to the target, and a Stone Skin to increase his defense level. Both characters and weapons are upgradable, so don't forget to collect essential items like food, XP, and other materials to make your champions stronger, and complete the required stages to level up your weapons. Before entering combats, you have to create the best possible team of five champions to beat enemies and opponents.
Match-3 Battles
The most fascinating part of the game is the match-3 combats. Match colors to send your troops and make amazing combos to battle against enemies. In addition to common attacks, there are five different elemental advantages available, and you can match the gems with the same elements of the champions to charge her skills. Once their skill bars are full, you can tap the hero icons and use their special abilities to do massive damages to the targets. If you run out of Health Points (are at 0 HP or below) of your team, you lose the game.
Different game modes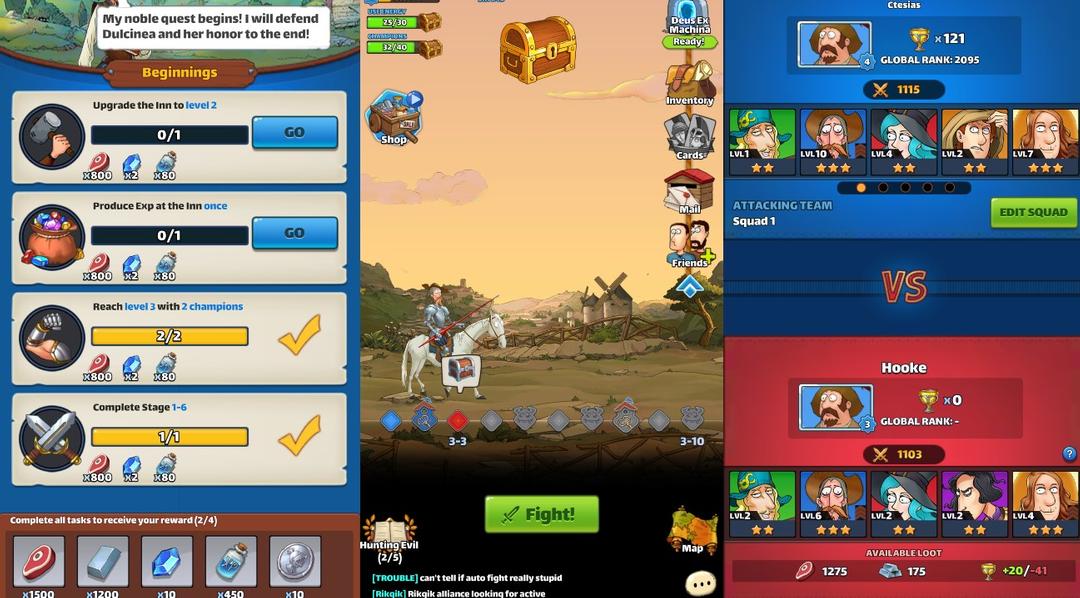 Rolling Knight has three game modes: Story Mode, Alliance Mode, and Raids Mode. In the Story Mode, you have to explore different lands and face a variety of monsters and bosses, and your goal is to complete all the required tasks to receive rewards. In the Raids Mode, you match randomly against an opponent. As you progress, you will find it dramatically difficult to defeat the opponents as they have higher values, which means it's time to upgrade your champions and weapons. The Alliance Mode allows players to work together during battles and can't be accessed until you reach a certain stage.
Build your base
To win, players need to build a strong base to train their recruits into heroes and create essential materials to help them become stronger. In the base, players can construct and upgrade buildings for different purposes. Inn, for example, allows recruits to be trained into champions and allows them to gain XP. Players also can build farms to collect food, construct BlackSmith to forge new weapons, upgrade the Alchemist's lodge to unlock new battle items, and more.
In-game purchases and rewards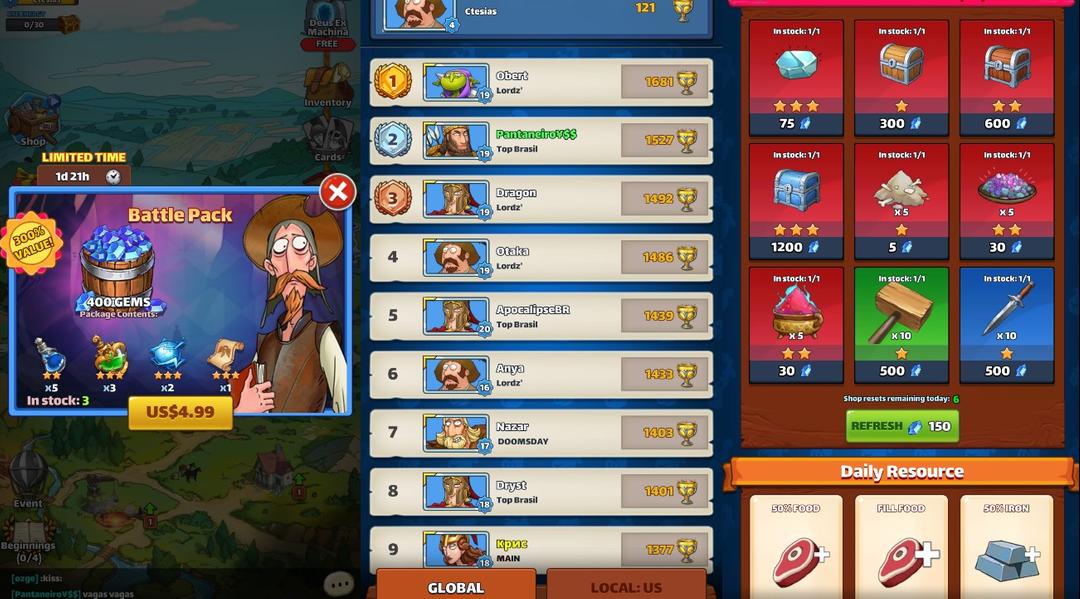 It's free to download the game on Google Play but contains in-game purchases and video ads. The cost of these transactions can range from $0.99 to $99.99 (possibly even more). Rolling Knight is not a pay-to-win game. However, by purchasing these gems, players have a chance to summon new characters, speed up the gaming progress, and rank higher on the Leaderboard. The game also offers generous rewards, which can be received through winning games and completing tasks.
Conclusion
If you are into match-3 RPG battle games, Rolling Knight is a great option for you. In the game, you can collect rewards, construct new buildings, match colors to battle against enemies, and team up with friends and other players, making it a decent game for both kids and adults to play in their free time.
Pros:
Match colors to attack and make amazing combos
Build a base and collect resources to survive
Fight against players from around the world
Upgradable characters and weapons
Addictive gameplay and fascinating graphics