Updated: March 4, 2021
Queen Rock Tour - The Official Rhythm Game First Impression

Get it Free
If you are a fan of Queen band, you should definitely give Queen Rock Tour - The Official Rhythm Game a shot as it contains many of Queen's greatest songs and special memories through their lives, plus it is free to play. Now let's try this rhythm game out and see how many scores you can get by completing Queen's hottest songs.
INDEX
Play iconic Queen's songs while touring through 10 historic venues
This time Universal Music Group and Gameloft work together to bring out Queen Rock Tour music game for Android and iOS. This rhythm-based game features 20 hit songs including "Bohemian Rhapsody", "We Will Rock You", "Radio Ga Ga", "Keep Yourself Alive" and more. And each song has different difficulty levels for players to challenge.
Apart from playing Queen's iconic songs, you will get a chance to go through many historic venues across different cities including London, Tokyo, Houston, Buenos Aires and Rio de Janeiro.
Getting enough Perfect to activate extra scores
In Queen Rock Tour there appear four colors of notes on the screen each representing a Queen's band member. Through the performance you will experience the vocals, drums, bass, piano and guitar by tapping, holding and swiping notes.
The Rock Meter at the center of the screen fills when player hit a note, and getting Perfect hit will fill the gauge faster. Once the Rock Meter is full, a band member will perform his Special Move and player can collect a triple Applause score for collected notes. However, if player misses a note, the sound effect will reflects the mistake as of going off-tune.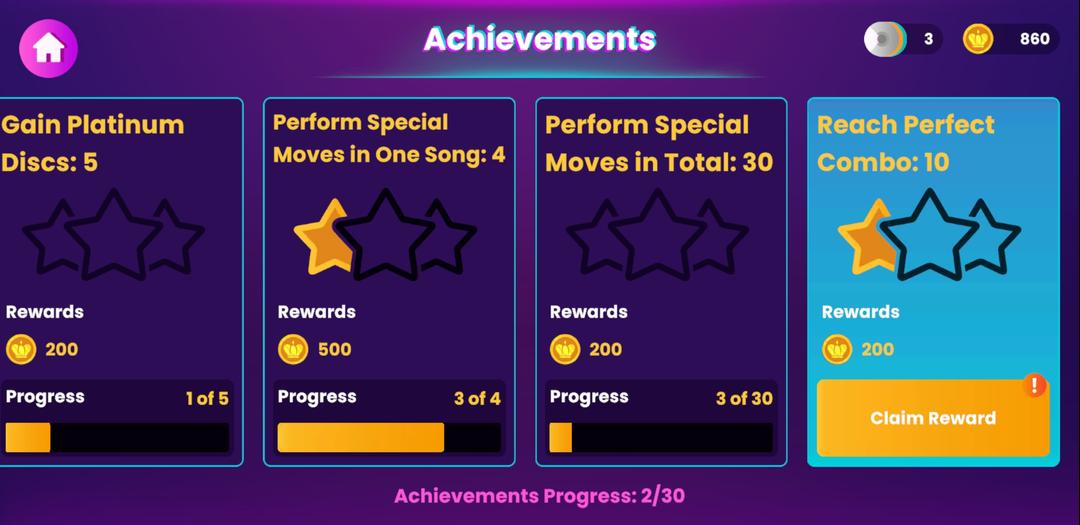 After you complete a song, you will get either of Silver, Gold and Platinum Discs based on the Applause score you gained during performance. And if you complete the quests in Achievements, you will also be able to claim more coins as rewards.
Customize Queen's members with cartoonish outfits
You can customize the Queen's band members' outfits from more than 40 cute cartoonish costumes onto Freddie Mercury, Brian May, Roger Taylor, and John Deacon. Moreover, their typical instrument set can also be customized as well.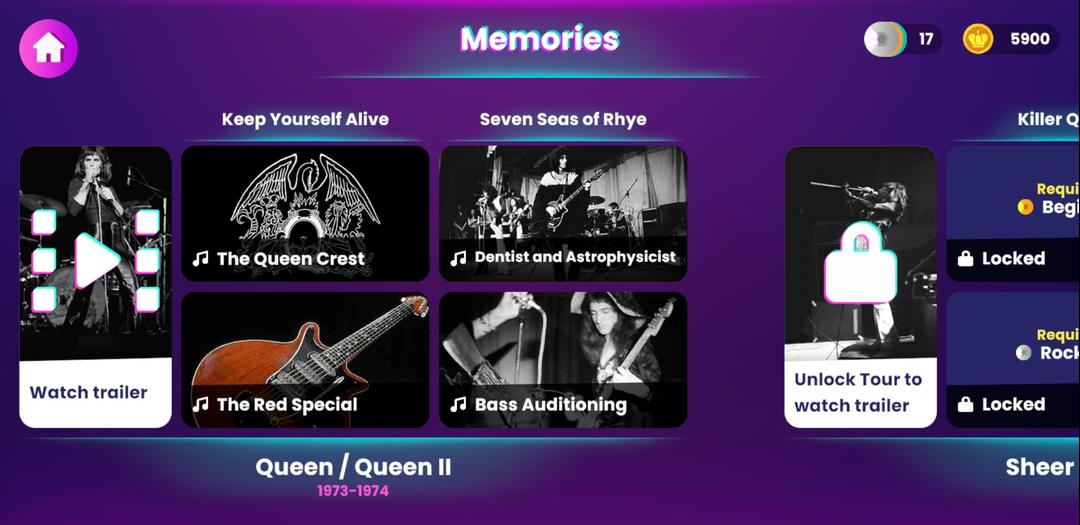 Other than playing songs in this game, Queen Rock Tour also shows us well-designed videos and images of Queen through different period of their lives. You can view the trailers of each time period to recall Queen's glorious days. Each period presents Queen's albums with a short written backstory. These memories correspond to the songs players get to play in the Tour mode, and more memories can be unlocked after players completing songs in the Tour mode.
In-game Purchase
However, most of the game's songs and customizable costumes are locked behind a paywall. Players can only be able to play first two songs in the first tour for free. And the remaining songs and tours can be unlocked at about $3.20. Therefore, Queen Rock Tour is really made for the true fans of Queen who are willing to pay for all the locked content within the game to support Queen and the game developers.
Conclusion
There is no doubt that Universal Music Group and Gameloft put a lot of research and effort to present players the best-edited Queen's tour and memories and let players experience Queen's most iconic performance in their journey. But there are not too many songs in this game, and most of the game content is locked behind the paywall. Therefore, if you don't mind paying extra money for experiencing more of Queen's songs, you can pay money to unlock the content to support them. Otherwise, it doesn't worth playing as the free content is too limited.
Pros:
Well-edited Queen's videos and images
Experience iconic Queen's songs and historic venues
Cons:
Most content is locked behind the paywall