Updated: May 28, 2021
Princess Tale Review

Princess Tale
Careful, It's time for the cuties to take action! idle princesses starts now!
Get it Free
Princess Tale, developed by Gamepub, is an idle fantasy RPG with beautiful graphics, auto-battle mechanics, and lots of lovely anime princesses, and now it is free to download and play on mobile devices. If you love the gameplay of APF Arena, then the game is probably worth a try.
INDEX
What's Princess Tale?
Princess Tale is an idle RPG game where you can recruit amazing anime princess heroes and build a strong team to fight against monsters and other kinds of enemies. There are more than 40 princesses that can be obtained in the game by using stars or completing chapters. Each princess has her own unique abilities and skills which can be upgraded by using gold coins and equipment. Furthermore, Princess Tale also added some surprising sections like Sky Maze, Mini-games, Underground Dungeon, and more. You will play the game for hours without getting bored.
Team Formation and Auto Battle
Once you enter battle, you have a team of five characters helping you fight against enemies. It has a super simple system: Preparation--> Team Formation --> Battle Start. If you take down all the enemies, you win the game, then you can win rewards like coins, exp, and more.
As an idle game, the game has an auto mode and 2 times speed feature. Attacks and skills are all performed automatically, so it's quite crucial for players to build a stronger team full of princesses with stronger abilities and skills, and place their characters in the right spot. Like many other RPG, Princess Tale has elemental weaknesses and strengths, so you'd better find the balance in your team before joining a battle. If you fail the game, remember to check the elemental affinities and team formation. Players can still receive battle rewards even when they aren't playing this idle game.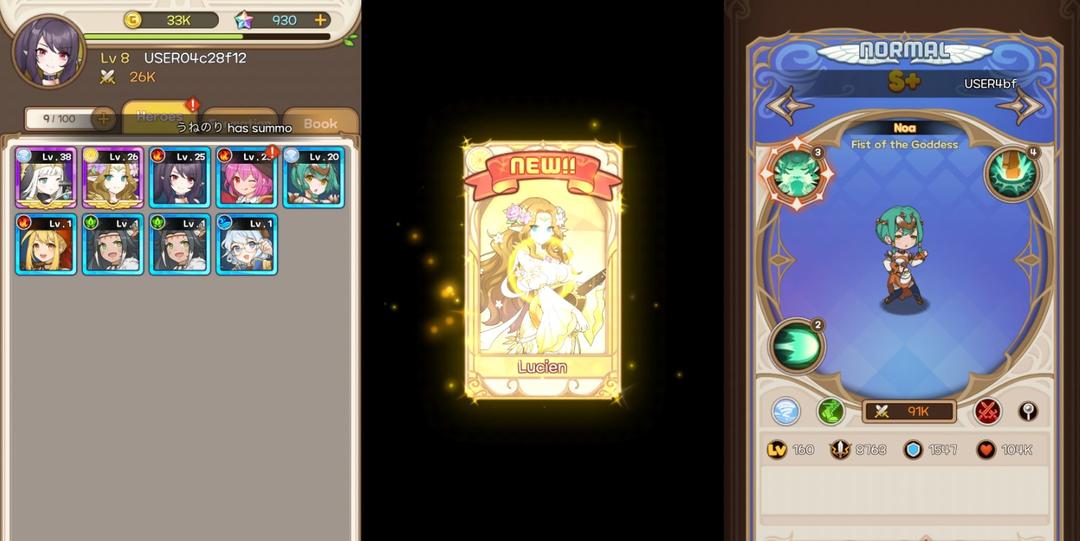 Summon and Upgrade Cute Princesses
New princess heroes can be obtained using stars. Since they are all low-level characters, players need to use Hero EXP, gold coins and other items to level up them. Once a character reaches a certain level, new skills will be unlocked. These upgradable new skills and equipment received from joining games will make your characters stronger. Each princess has her unique skills. Lucien (Mean Angel), for example, can strike an enemy in front 3 times in a row with a guitar. Each strike deals physical damage equal to 110% of ATK. There is a story behind each princess, and players can receive star rewards by opening it.
Various Game Modes
In addition to thrilling battles and upgrading heroes, there are other amazing game modes that you can play, such as Sky Maze, Underground dungeon, Mini-game, Tower of Cromynong, and more. Sky Maze, for example, allows you to throw the dice and jump on a sky maze according to the dice number. You can claim rewards along the way, but most of the time, you need to battle against enemies to move forward.
Conclusion
It's free to download the game from Google Play and App Store but contains optional in-game purchases. Fortunately, Princess Tale offers tons of rewards like gold coins, stars, EXP after you complete missions, win battles, and more, so players can use these rewards to summon and upgrade characters. For gamers who love RPG or have a passion for APF- Arena-style games, this game is worth a try.
Pro:
Beautiful illustrations and cute princesses
Addicting auto-battles and various game modes
Simple controls and tons of rewards