Updated: June 8, 2021
Nano Legends Review - Another Tower Rush Strategy Game
Get it Free
Nano Legends is a fast-paced 3D tower rush game developed by Nimble Neuron. This game has already been released on iOS platform and now it can be downloaded on Android phones as well. In the game you need to lead your troops and Champion to attack the enemies' tower to win the battle, and also make sure your tower not been taken down by the enemies, or you will lose. Nano Legends have both PvE and PvP modes for players to choose as they like.
INDEX
What's Nano Legends about?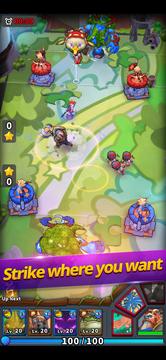 Nano Legends takes place in an antique shop where a young boy met with two tiny beings called Champions, "soul-like beings born from the rarest antiques" brought to life by a witch. And you, as a Giga, will take the ability to collect and send troops and Champions into the battlefield, using miracles to take down enemies' tower to win the fight.
The game uses simple one-tap system to let you send out your troops and release miracles onto the battleground. And you can easily pick up the champions and throw them wherever you want to avoid enemies' attack or protect your tower.
Collect and upgrade your Troopers and Champions
Your team is formed up with troopers, miracles and the most powerful character Champions. After you win the battle you may be rewarded with new character or miracle cards, and you can also go to shop to buy new cards directly. So don't forget to check the Team Settings and upgrade the characters you owned to strengthen your team. Upgrading characters requires enough amount of character shards and the gold.
The key to win the battles is the Champion. There are a bunch of Champions to be collected, each with their own unique skillsets and playstyles. You can switch the Champion in your team according to their abilities. During the match, if you click on Pick up tab, a large hand will show up on the screen to pick up your Champion and drop it anywhere you want it to go, which is an impressive design that I haven't seen in other games before.
Destroy enemies' towers to win the PvE or PvP battles
Each round of the battle lasts 3 minutes, and the troops need time to generate, therefore players must make sure they pick up right characters and miracles to get ahead of enemies' troops to win the fast-paced match.
Besides the PvE game mode in Adventure, Nano Legends also provide PvP mode in Duel for players who like to play with real people. No matter you win or lose the match in Duel, you will still gain EXP, but you will get more if you are the winner. And beating your opponents will help you level up and gain extra rewards in the leaderboard.
Conclusion
All in all, Nano Legends has almost the same mechanics as other tower defense brawler game, but the graphic design and the special skill effect is quite impressive. And the simple one-tap control allows players to play this game with only one hand. Other than that, there is nothing new add to the formula. If you like card-based brawler mobile games, you can have it a try.
Pros:
Nice graphic design
Simple one-tap controls
PvP and PvE modes
Cons:
Doesn't have any new features