Updated: July 20, 2021
My Talking Angela 2 Review
Get it Free
Have you been a fan of Talking Tom & Friends since one of the first pet apps, My Talking Tom, released 11 years ago? Or did you hear about these titles long ago but only decide to play one of them yourself recently? Either way, My Talking Angela 2 is worth your attention.
It is a perfect combination of virtual pet, dress-up, cooking, music and arcade games. With just one app, you can experience multiple fun. And there are more you can explore yourself. Let's walk it through and I'm sure you'll love it.
INDEX
Are you a good babysitter
I would rather call My Talking Angela 2 a parenting simulator than a pet game.
Like human infants, Angela doesn't speak, but her acts, sounds and even furs say everything. You need to take care of her like a parent does. Take her to the bathroom when she needs to use the toilet, to bath, to brush her teeth or take medicine. Fortunately, babysitting Angela is not as difficult. With a just a few taps, you can turn a dirty Angela into the familiar charming white cat. And your stress would go away as you brush away brown spots on her teeth.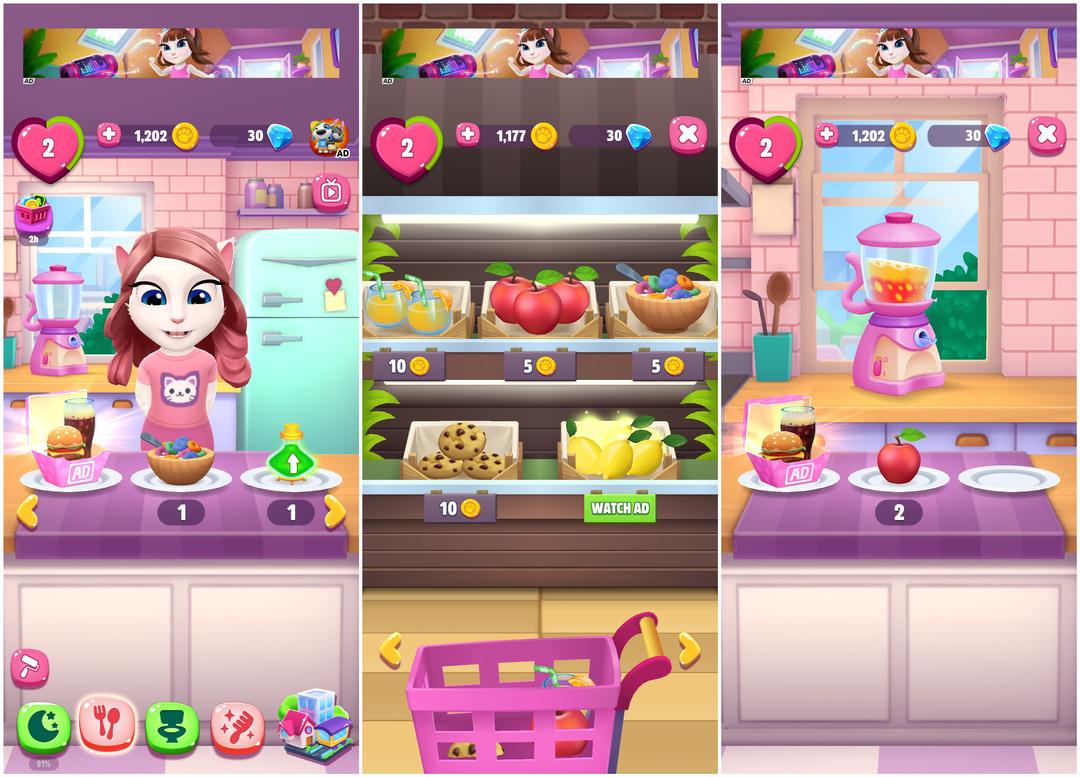 After you brush her teeth, it's time for breakfast. Feed Angela salad, apples, doughnuts or store-bought juice. If you want to make the meal healthier, buy foods in a store and make juice with a juicer. Your tasty meals will make Angela's day. But remember to brush her teeth after the meal is over.
A new day, a new outfit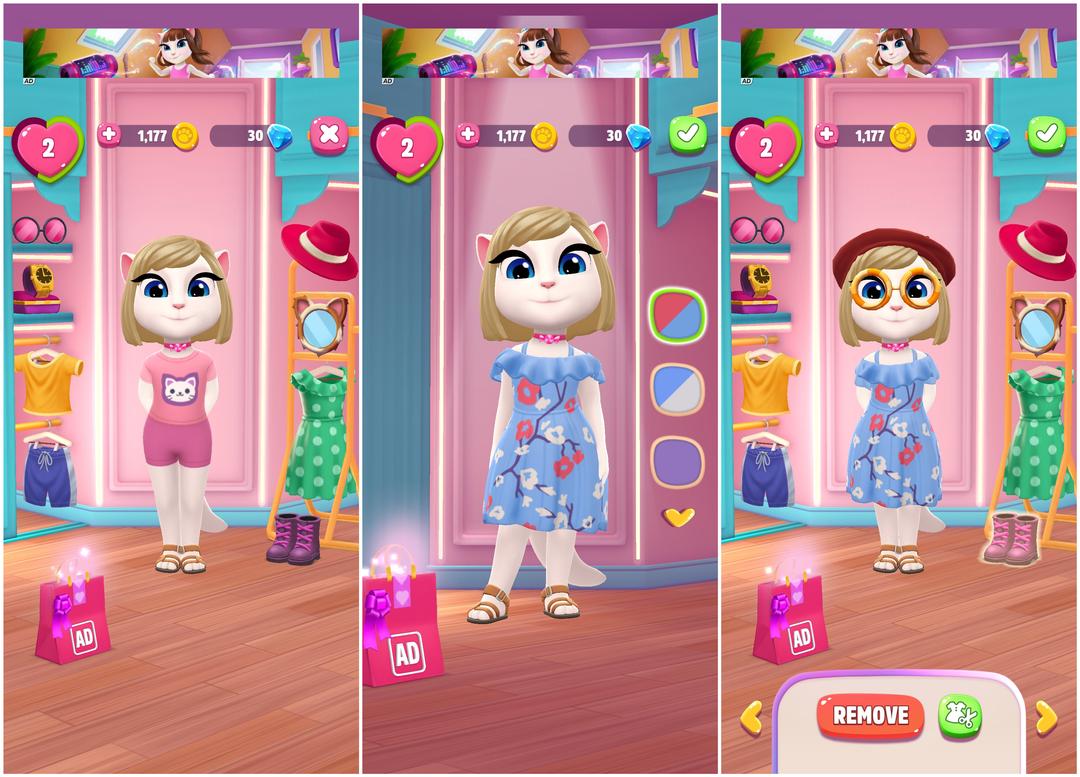 It's said that clothes have power -- what you wear in the morning affects your emotions and attitudes. So do not just put on a white T-shirt, a pair of jeans and sneakers for Angela. Try to dress her up as attractive as possible with a wide selection of clothing pieces from dresses to accessories, which come in various colors.
And don't forget to do makeup and a trendy hairstyle. As opposed to putting on makeup with one tap, in this Talking Tom & Friends title you have to apply cosmetics like eyeshadow and lipstick to Angela's eyelids and lips, which makes it immersive and adds fun. Each cosmetic comes in three colors that are free to use, with more colors for rent.
Baking is not that difficult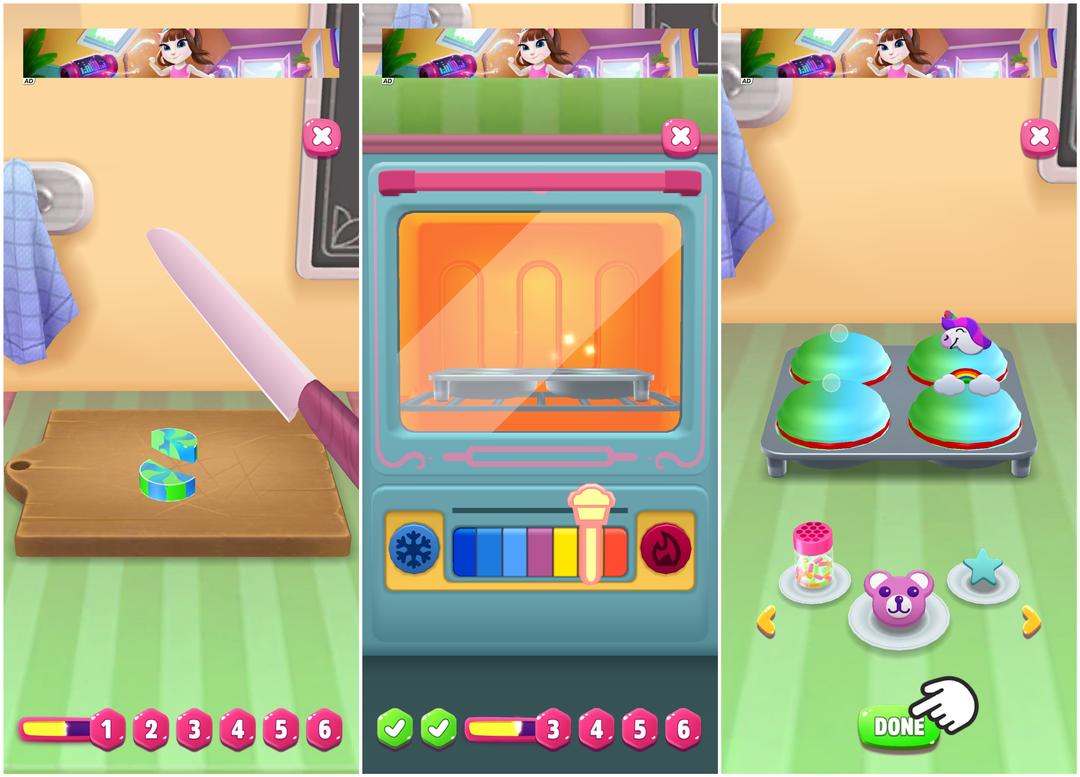 Angela has a sweet tooth. In addition to shopping for desserts, you can try cake baking, simple and fun. Just pick a fruit or flavor, cut it up, mix, put it into an oven, take it out, put some cream and baking accessories on it, and you'll see magic happens -- a perfect cake usually seen in a bakery has been made. As your baking ability levels up, you will unlock more desserts available for baking. Have fun making various sweets!
Enjoy music and dancing
Feel exhausted after a long day at work? Go to a pub and make your stress go away in music and dancing. Press highlighted keys to make a perfect song, or slide across the screen following arrows to be a dance queen! You simply have to move your finger, and Angela will deliver a perfect performance.
It's time to fly around
When you have collected certain number of plane tickets from baking, singing and dancing, it's time for Angela to travel to other places and go on a shopping spree. Bring home food, and more importantly, stylish clothing pieces. You never know what Angela will get in her trip, but surely that will surprise you. No wonder it takes a long time to get enough tickets.
Conclusion
To be honest, My Talking Angela 2 is the first Talking Tom & Friends title I've played, and I fell in love with it because it is so adorable and fun to play. It combines baking, fashion and simulation in a single app, with each part carefully designed. It is suitable to play for all ages, including adults. If there's something about My Talking Angela 2 that sounds interesting, you can download it now for free on APKFab.
A busy day is over. It's time to put Angela to bed.