Updated: June 4, 2021
MODERN WARSHIPS: Sea Battle Online Review
Get it Free
MODERN WARSHIPS: Sea Battle Online, published by Cube Software, is a marine PVP shooter with modern warships for mobile devices. As a brand-new action game, Modern Warships has both online PVP mode and offline mode. Gamers are also allowed to create their own game to play with their friends. It's worth mentioning that MODERN WARSHIPS: Sea Battle Online currently has over one million downloads and a 4.4/5 star rating on Google Play. If you are into marine battle games, then the game is definitely worth a try. Now let's take a closer look at this game.
What's MODERN WARSHIPS: Sea Battle Online?
MODERN WARSHIPS: Sea Battle Online is an action game where you control powerful battleships armed with cannons and rockets to fight against other players. Purchase and upgrade your customizable ships and weapons, team up to aim, shoot, and destroy all the enemies on the high seas. Once you win the game, you will receive loads of rewards.
After installing the game on your mobile device, you need to go through a tutorial to learn the basic rules about this game. Before joining intense sea battles, you need to use in-game currency to purchase fully armed ships. Each ship is equipped with 3+ cool weapons which can be upgraded using Upgrade Points you earned from battles. MODERN WARSHIPS has an Equipment Shop where you can customize your warships with over 200 weapons.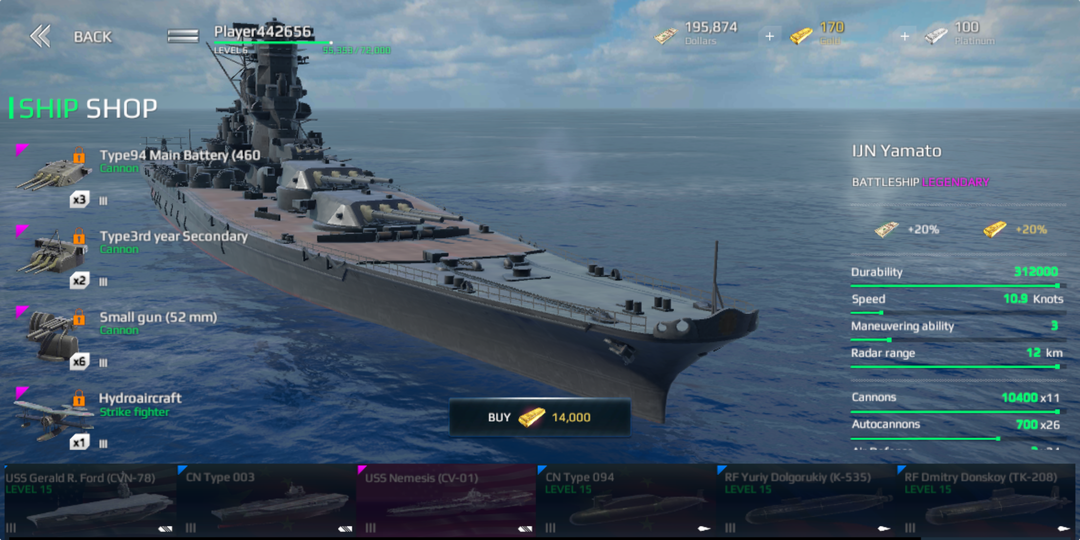 All of these ships and weapons are purchased with in-game currency, and the largest, rarest, most powerful battleships and weapons are extremely expensive. For example, USS Zumwalt (DDG-1000), equipped with Railgun Cannon and RUM-139 SWARMER Missile Battery, will cost you 10000 gold. Players can claim their gold reward and other types of in-game currencies by winning battles, watching ads, and other ways, but this is far from enough to unlock more rare and powerful battleships or to upgrade the weapons on the ship. The in-game purchases appear optional. In order to improve the gaming experience, players have no choice but to purchase items using real money.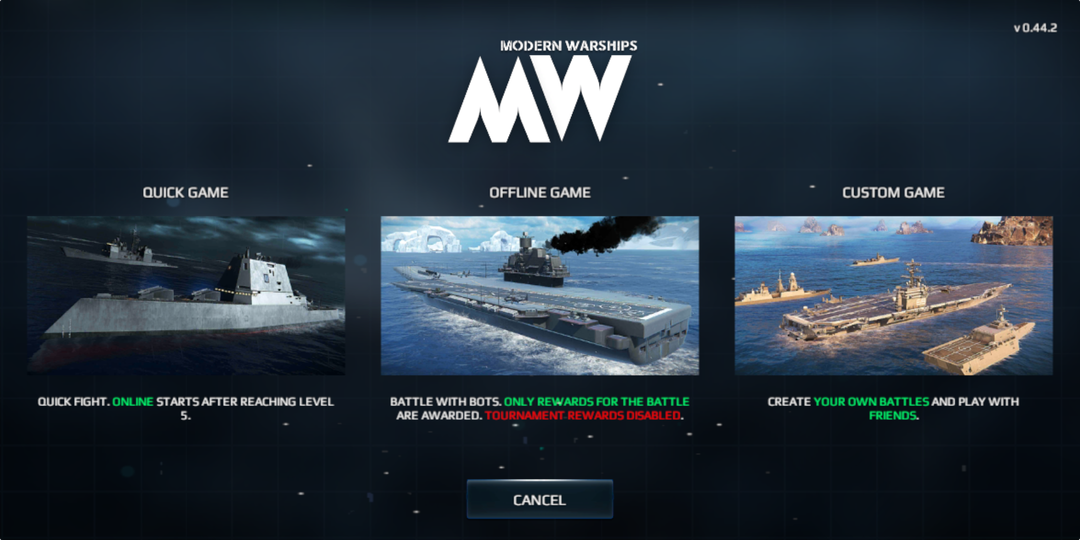 There are three battle modes: Online PVP mode, Offline mode, and Custom mode. Custom mode allows you to create your own battles and play with your friends, and players can choose their favorite mode before entering the battlefield. The most fascinating part is joining an online PVP battle, teaming up to fight against other real players from all over the world. When you are ready, hit the "To Battle" button, and the random matching process will start. Players join a random group of five with a green bar above the ship, and the main goal is to destroy the enemy team in the red to win the game.
The controls are pretty easy to learn and use. Once the enemy ships show up on the in-game map, you need to hit the attack buttons to launch missiles and a cannon to destroy them. The binocular button on the right side of the screen is used for zooming in/out. The Arrow buttons on the left side of the screen help players to move the battleship and change the ship's speed. If you lose life points because of the enemy attacks, try to use Knits in the middle to repair your ship.
Conclusion
MODERN WARSHIPS: Sea Battle Online is a great game for action lovers! The graphics are amazing and you can change the setting in the game to customize how your game plays out. There are no obvious bugs or crashes during my playing and I can play the game for hours and hours without getting bored. For players who love action games, especially marine PVP battles, should definitely try this one.
Pros:
Online PVP sea battles
Various mighty warships and over 200 weapons
Amazing graphics and simple controls