Updated: December 24, 2020
MARVEL Realm of Champions Review - A Team-Based Multiplayer Action Game to Play with Friends
Get it Free
Marvel Realm of Champions is a team-based multiplayer action game created by Kabam, the same developer who also made another popular game Marvel Contest of Champions. If you have played MCOC before, you may find some similar features in its successor, like characters, catalysts, and more. MROC, just released on December 16, 2020, has already received massive downloads and reviews on app distribution platforms in such a short time. Is the game worth playing? Now let's find out. If you are a Marvel Fan, don't forget to check our Best 10 Marvel Games on this list.
INDEX
Characters
Marvel Realm of Champions currently features 7 characters including Iron Legionnaire, Black Panther, Super Soldier, Sorcerer Supreme, Hulk, Web Warrior, Storm. After installing the game on your mobile device, you start with the champion Tony Stark aka Iron Man. Although Iron Man is almost one of the most powerful heroes in the Marvel Universe, he is not the best choice while playing MROC. Some of the heroes like Sorcerer Supreme and Hulk can be obtained by completing objectives while you can unlock other champions using in-game currency on the Store.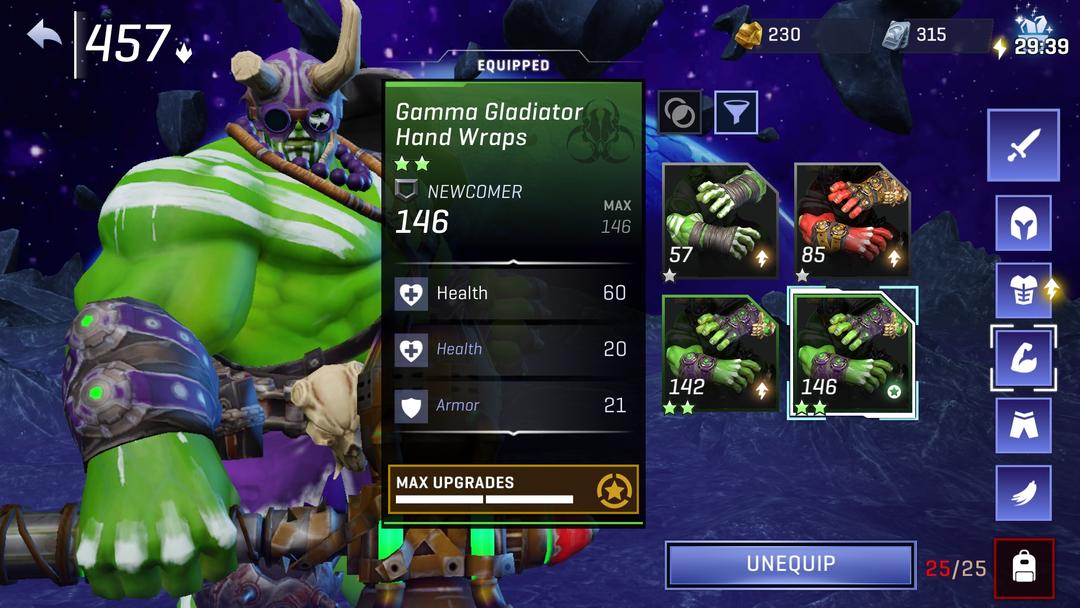 Each champion has their own unique weapons and special abilities. Hulk, for example, is equipped with his hammer to deal Crushing Damage by performing basic attacks and heavy attacks, as well as three special abilities. If you are a newbie to this game, you will find yourself at the Newcomer tier with no powerful gears and little customization options. Participate in different battles and collect gold coins, components, materials, and other rewards to upgrade your gears and also earn battle rating to tier up your champions.
Gameplay
Marvel Realm of Champions doesn't contain story-telling elements, which means players who are looking for captivating stories will be disappointed. The gameplay is kind of simple, all you need to do is to join battles, defeat your opponents, earn rewards, and in-game currency to power up your characters. There are some different game battle modes that Marvel fans can enjoy: Arena Conquests (coop PVP), Stronghold (PVE), and more. The below are some more details.
Arena Conquest: As the basic battle mode, Arena Conquest features intense 3V3 battles. Players are randomly teamed up with the other two players, they can be bots or real players from all around the world, to battle against the opponents. If you want to earn some battle points to tier up your champion, this is the game mode you should play.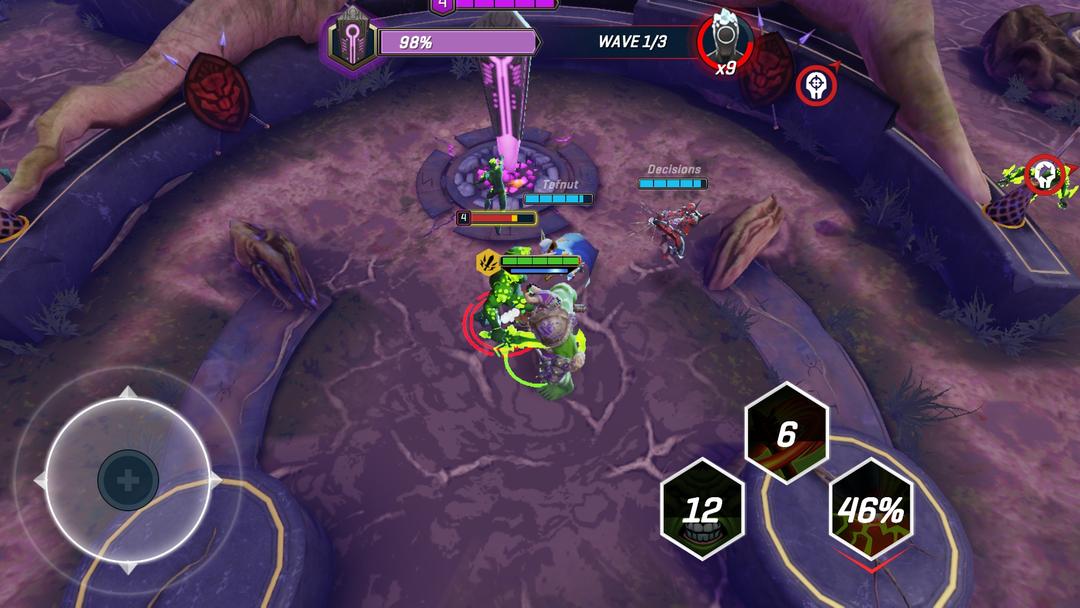 Stronghold: This game mode pairs you up with two other players in the same tires, and your job is to protect the ISO-Core from being destroyed and protect as much of your ISO spear's health as possible. Control your champions, kill waves of enemies, and earn components and gather materials to level up your characters. Be careful of the final boss in this game mode and cooperate with your teammates to knock him down.
Deathmatch: This game mode features 2v2v2 battles and will be unlocked after you reach a certain battle rating. This game mode is quite fun. You team up with another real player and fight against the other two teams. Your goal is to try to get the highest points in a limited time to win the game, and the winner can collect gold coins and gather materials to level up their gears.
Onslaught: Just like Stronghold, you must fight against waves of increasingly difficult enemies and try to last as long as possible.
Conclusion
It's free to download the game on both Google Play and App Store now but contains in-game purchases to enhance your gaming experience. The game file is about 1.04GB, which still makes it a quick download if you have a smooth internet connection. The graphics? Not so impressive, especially for a game released in 2020. However, if you are a Marvel fan and now haven't really had a new game to play, then this is a nice choice.
Pros:
Play with your favorite Marvel Champions
A variety of gears and rewards
Addicting gameplay
Create your team and play with friends
Cons:
Poor graphics
in-game purchases