Updated: December 14, 2020
Kawaii Mansion: Cute Hidden Object Game Review
Kawaii Mansion
Emerge in an adorable storyline with fun puzzles & design your dream mansion!
Get it Free
Kawaii Mansion: Cute Hidden Object Game is a home decoration puzzle game developed by Imba. As an exciting combination of Home Design Games and Hidden Object games, Kawaii Mansion features a high-quality cartoony graphic and allows you to decorate your dream house while enjoying the puzzle fun.
The file size of the game is about 151MB, making it a quick download. Kawaii Mansion works smoothly on my mobile device. After playing the game for hours, I haven't encountered any lags or crashes yet. However, the game does contain in-game purchases, which can really slow down your game process.
INDEX
What's Kawaii Mansion: Cute Hidden Object Game?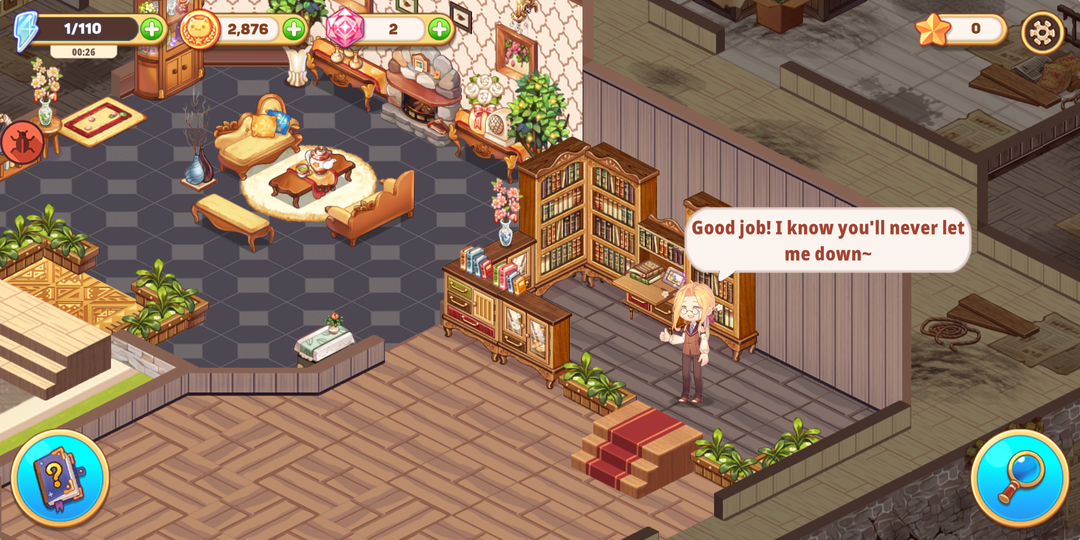 In the game, you play as a home designer who works for the landlord Noah to renovate his old mansion. You start with the living room and need to use stars earned from completing tasks to decorate your house. In addition to the house decoration, you can also enjoy the captivating and interactive stories and learn more about this building and its owner and guests during your quests.
As you progress, more types of rooms will be unlocked, like a study room, bar, kitchen, bedrooms, and more. In order to make rooms cozy and beautiful, there is a lot of work to do: change tiles, renew the wall, buy more furniture, add decors, and more. Kawaii Mansion offers several customization options for home décor fans to choose their favorite furniture colors and interior style, but sometimes requires players to use gold coins to unlock advanced designs.
Hidden Object Game Modes
Each new item typically consumes 1 star, sometimes 2 or more stars. Players have to complete tasks in the Hidden Objects Game section to earn stars, gold coins, and also in-game currency like energy and gems. In this part, Kawaii Mansion features several pretty scenes, and your job is to find all the required items from a list that are hidden in pictures.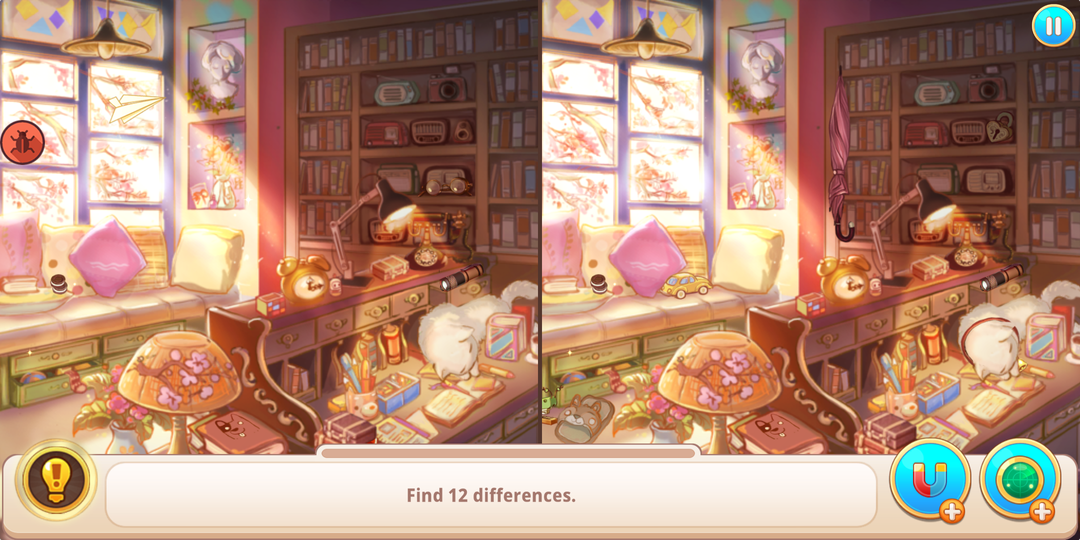 There are three buttons on the screen that can help you speed up your finding process and enhance your gaming experience. The one at the left bottom side is a light bulb and can give you a hint when you have no clues where the item exactly is. However, the Hint button has a cooldown time and you need to wait a few seconds before you can use this feature again. In addition to the Hint button, Kawaii Mansion also offers two other powerful boosters: Magnet and Smart Key, which can help locate or remove items from the list. These two boosters are all required in-game currency, the pink gems. There are some fascinating game-modes you can enjoy, and the following are some details.
Basic Keyword Mode: Find all the required items based on the given list on the bottom of the screen.
Silhouette Mode: See the silhouettes of the items from the list and clean the scene.
Comparison Mode: Scroll right and left to spot all the differences between the two pictures.
Clean Cobwebs Mode: Find and remove all the spider webs in this mode. The faster you finish the more rewards you earn.
Rewards and In-game Purchases
It's free to download Kawaii Mansion: Cute Hidden Object on Google Play now. However, the game contains in-game purchases which significantly affects your gaming process. Since it takes 15 Energy every time you start a new round of the hidden object game, and you will find yourself running out of energy quickly. Then you get insufficient stars and gold coins to continue the decoration part unless you purchase the in-game currency with real money. It's kind of a pay-to-play game. Although Energy can be generated automatically, it takes quite a long time for players to grow the amount of energy that can be consumed quickly within a few minutes.
Kawaii Mansion offers a variety of rewards for beginners, like watching videos for Energy, following social media for Energy. Every time you finish a chapter and decorating a room, you earn in-game currency like Energy and Pink Gems. Players are also allowed to purchase in-game currency with real money, and their price ranges from $0.99 - $59.99 per item.
Conclusions
If you like home decorating and puzzle games, and also don't mind spending some money on the in-game currency, then this game is for you.
Pros:
Design your dream home.
Enjoy hidden-object puzzle fun.
Various enjoyable game modes.
Captivating storyline
Cons: