Updated: May 25, 2021
Idle Cat Tycoon: Furniture Craft Shop Review
Get it Free
Are you a cat lover and also interested in furniture crafting? If you are, this game is what you are looking for! Idle Cat Tycoon: Furniture Craft Shop is an adorable crafting simulation developed by mafgames in which you will see various cute cats crafting, designing and delivering furniture in their craft shops. Download Idle Cat Tycoon: Furniture Craft Shop on APKFab now and indulge yourself in this relaxing simulation game for Android now!
Complete missions in every stage to level up
In Idle Cat Tycoon: Furniture Craft Shop you will go through different towns each containing certain missions to complete. Once you have completed the required missions, you can level up and move on to the next town.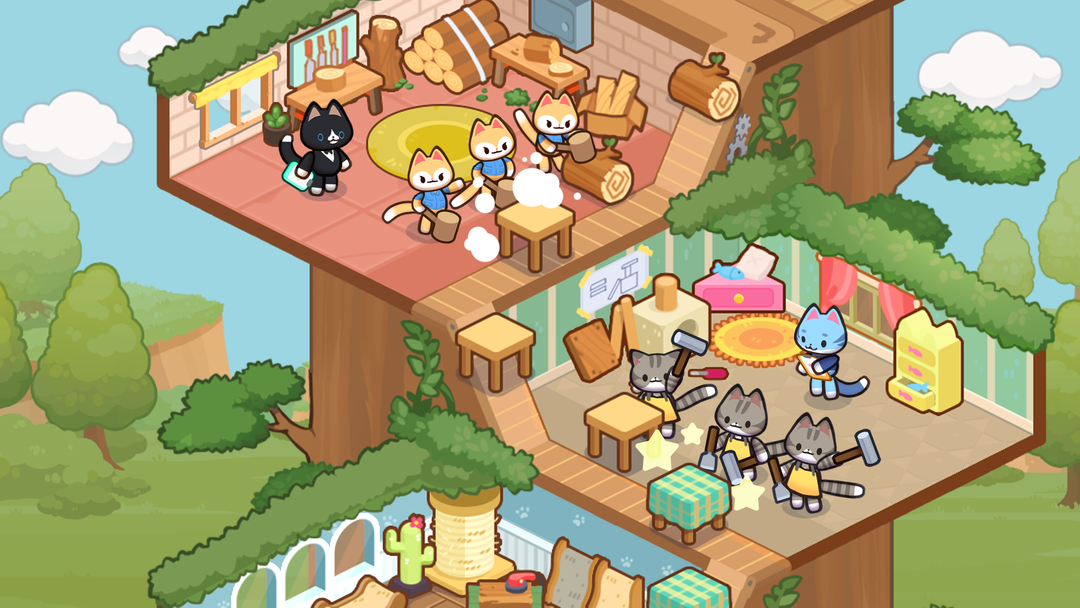 The missions in each stage are different. You are required to either earn enough Cat Coins or upgrade certain furniture room to certain levels. Once you complete a mission, you can claim rewards including Cat Manager Cards and in-game currency. As it is an idle game, you can still earn profit while you are away from your phone.
Collect and upgrade Cat Manager to increase income
Cat managers can help you increase the income and fasten crafting procedure. Each cat manager has its own type and special buff, so you need to assign the matched cat manager to each room accordingly. Up to three managers can be selected for deployment for each room.
Leveling up cat managers will increase their basic buff and help you earn more Cat Coins. If you have collected enough cards for a cat manager, you can spend fish to upgrade it to higher level. Some automation feature requires the cat manager to reach enough levels, so don't forget to upgrade them to speed up your crafting.
Open and upgrade new rooms for more smooth production
There are many secret rooms in Idle Cat Tycoon: Furniture Craft Shop and they can be unlocked by enough Cat Coins. Each room has its own special usage and will help players earn more income. The more rooms you open, the more exquisite furniture you can create to increase your profit.
The whole crafting procedure can be divided into several parts: purchase material, form the basic shape, design into the style that meets your client's requirement and deliver it to the truck to get money. Therefore, if you open and upgrade more rooms, the crafting procedures will go more smoothly.
In-game Purchase
The advertisements in the game are mandatory. If you want to get rid of them you need to pay around $30 USD for VIP, which is insanely expensive for such a simple game. And the Cat Coins required for unlocking each room are way too much comparing the speed of earning money. So it gets harder to complete missions and upgrade after the 4th town.
Conclusion
The graphic and cat design in Idle Cat Tycoon: Furniture Craft Shop are very adorable, and seeing these cute cats crafting and designing procedure is very relaxing. But there are still some drawback while playing. Other than the high paywall of the in-game purchase, the process during delivering is also imbalanced. The truck carries too little which makes the product piled up waiting to sell on the delivery belt. If the developer can make missions less difficult to complete and lower the costs in the in-game purchase, I would recommend it to more people especially cat lovers with no doubt.
Pros:
Cute graphic design
Relaxing gameplay
Cons:
Expensive in-game purchase
The truck carries too little product
Apps in this article
Kitty Cat Tycoon
Make cat tree with kitten
8.8 967 Reviews