Updated: February 3, 2021
Gate Of Mobius First Impressions!

GateOfMobius
The opportunity to break through destiny is in your hands!
Get it Free
Gate Of Mobius is an RPG action shooting game developed by Goblin Gamer Company Ltd. The game is now available on Google Play and has gained a number of downloads and reviews. Is the game worth playing? Now let's have a closer look at this action game.
What's Gate of Mobius?
Gate of Mobius is an action shooting game with a mix of RPG elements. The story only shows up at the very beginning of the game and developers seem to focus more on the intense battle part than telling a captivating storyline. The game allows gamers to choose their preferred character between male and female, and there are also other cool characters waiting to be unlocked after completing the chapters. Your goal in this game is to control your character, shoot waves of enemies, and complete required missions in each chapter. In order to knock down all those monsters, you need to use the gold coins and resources obtained from your battle to upgrade your characters, skills, and also equipment.
Gameplay
Gate of Mobius features addictive shooting gameplay. After downloading the game on your mobile devices, you can choose the Story Mode to start your adventure directly while Arena mode and Friends Mode can be unlocked as you progress. In the Story Mode, there are some chapters and special events waiting for you to challenge, and each part contains a series of small stages with unique missions, enemies, and environments. Currently, there is only Chapter 1 available in the game. In addition to Chapter 1, you also have a chance to attend special events like Material Farming or fighting against the Emperor of Shame.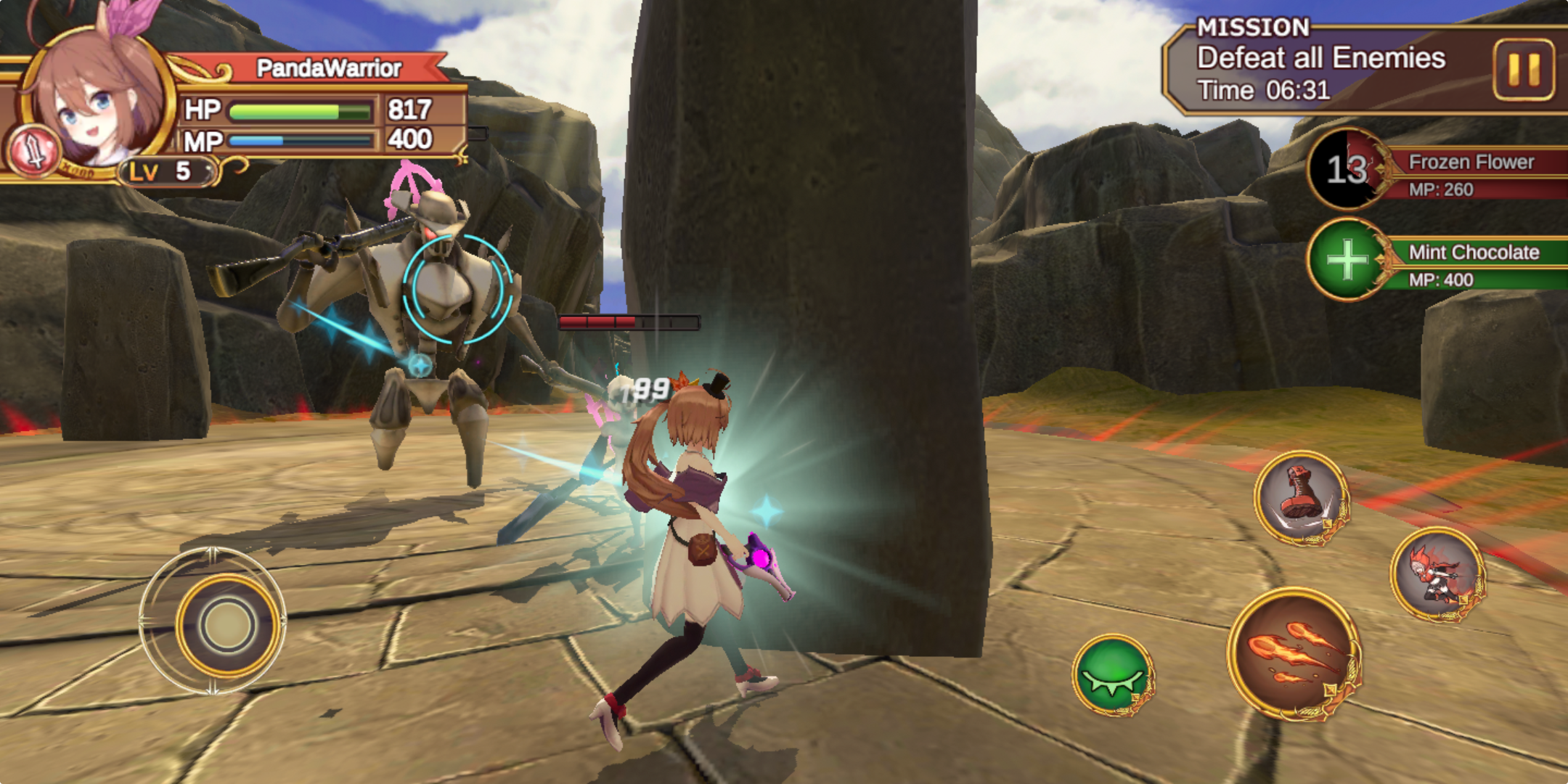 There are a variety of enemies in this game, and these goblins, robots, and other enemies will become more aggressive and powerful as you progress. Some low-rank enemies only can do melee attacks while other enemies have their own unique skills to deal huge damage or can perform long-range shooting simultaneously, and you soon will find yourself surrounded by enemies. The battles are quite intense, and sometimes you need to defeat all the enemies and clear the level in a limited time and you won't get the corresponding rewards until completing the required tasks. In order to defeat all those enemies and earn rewards, you need to use gold coins, diamonds, and other resources obtained from battle to upgrade your characters, skills, and also equipment.
You can also use the Summon feature to obtain essential items to upgrade equipment, add new skills, and customize your characters. Gate of Mobius offers 5 free ad-supported summons each day and you can also summon new items using in-game currency. One of the most fascinating things is that you can equip yourself with powerful skills to fight against hordes of enemies. Nature's Bloom, for example, can raise a buff that increases the damage of all nearby allies for about 30 seconds, and you can use materials like Wood Rune and gold coins to upgrade this skill for the extra damage boost.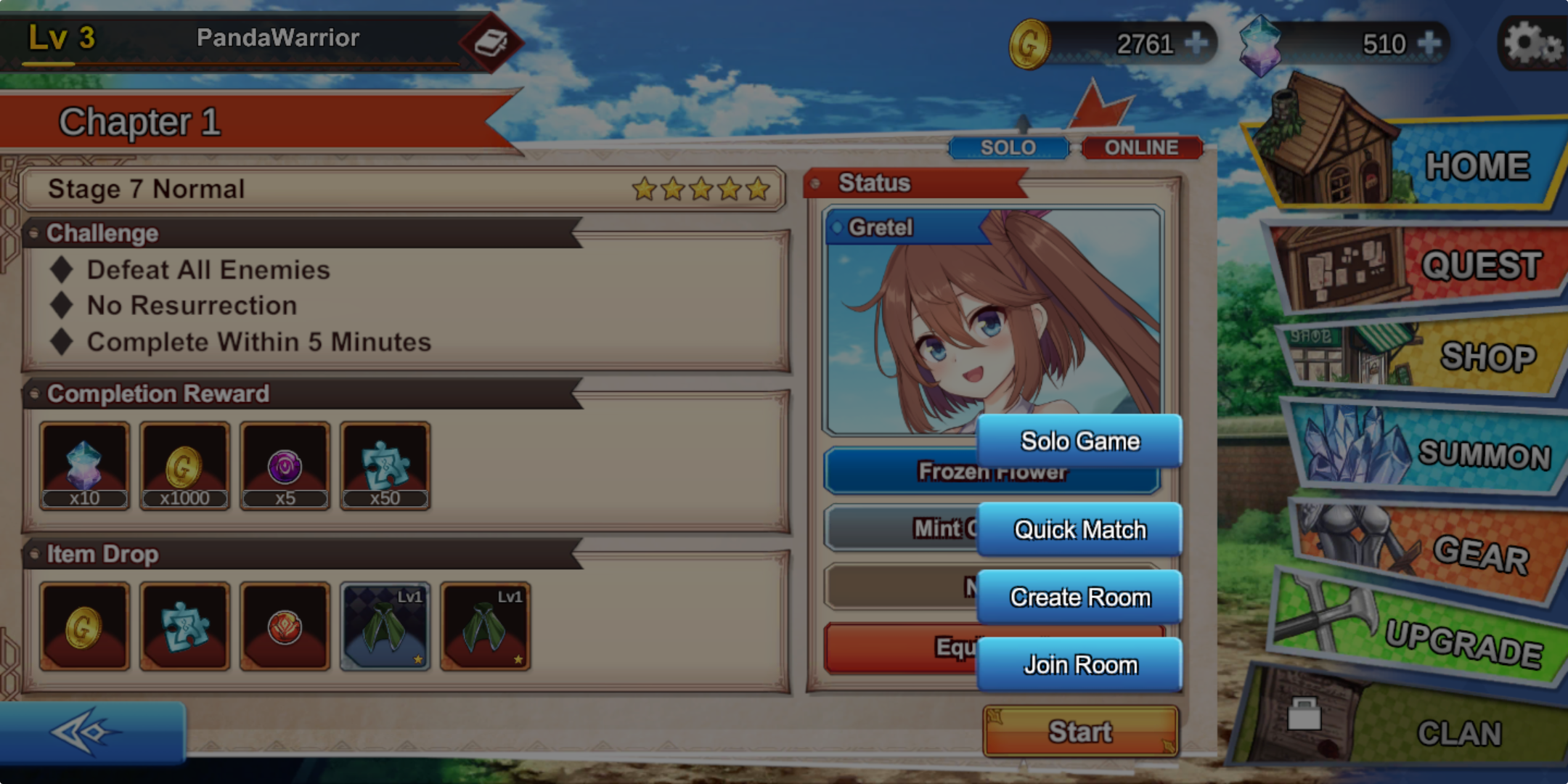 Gate of Mobius offers a multiplayer mode to allow gamers to create a room to play with their friends. Since Friends mode and Arena mode were locked during my playing, I only tried the Story Solo mode. I noticed that the game has a Quick Match button that is not working, and it would be much better if we could randomly be matched with other online players from all over the world to battle against enemies together.
Controls and graphics
The controls are simple to master and also sensitive enough for gamers to use. The movement button is not fixed in a specific spot, but you can drag your fingers on the left half of the screen to control your characters. The special skills you add to your characters will show up on the top right side of the screen, and you can equip your character with only two skills in the battle. Jump over enemies and dash to avoid attacks. You can perform basic attacks anytime you want but you need to wait a few seconds to activate special skills again. The graphics are terrific and Gate of Mobius allows you to customize your graphics settings and resolution settings so that you can reduce the lag in games and improve your gaming experience on your mobile devices.
Conclusion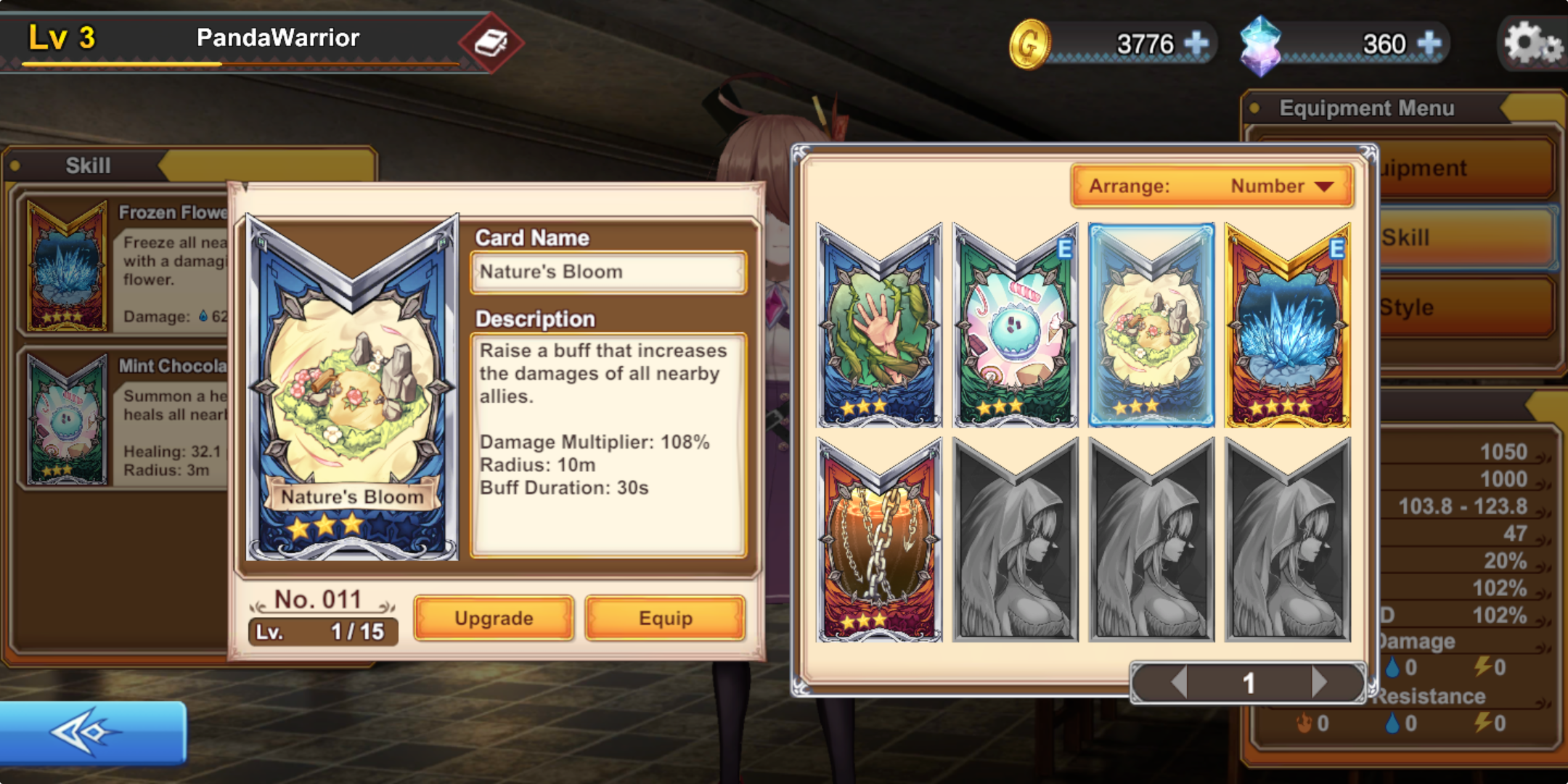 It's free to download the game on both Google Play and App Store but contains in-game purchases for essential items like diamonds, special packages, equipment, and costumes. There are many challenging levels in this game, and you don't have to use real money to progress in the game. Of course, there are many ads in this game, but they are neither distracting nor annoying, and most of them can help you gain extra rewards. Overall, Gate of Mobius is a decent RPG shooting game that you can play in your free time. If you are into RPG shooter, this is the game you should definitely try.
Pros:
RPG shooter with intense combat
Customize your favorite characters
Invite your friends to challenge different levels and fight boss enemies.