Updated: March 19, 2021
Friday Night Funkin Mobile Review

Get it Free
Friday Night Funkin', similar to Dance Dance Revolution and PaRappa the Rapper, is an addicting rhythm game developed by Cameron Taylor. The game is originally published on itch.io and Newgrounds and can be played both on PC and mobile devices. After its release, Friday Night Funkin rapidly gained huge popularity on giant video content platforms like Tiktok and Youtube due to the amazing animation art style and fun soundtracks. Now let's take a closer look at this rhythm-based battle rap game.
What's Friday Night Funkin Game?
Friday Night Funkin is a rhythm game that is quite similar to Dance Dance Revolution (DDR). In the game, you play as a dude named Boyfriend, and your goal is to defeat your significant other's family and acquaintances in several rounds of singing and rapping battles. There are a number of fun tracks and multiple challenging levels, and all you need to do is hitting arrow keys in time to the music! Every music track was made by the game's composer Kawai Sprite and features fresh high-pitched vocalizations like beep and boop rather than real words. Since Friday Night Funkin is a game with increasing difficulty levels, you'll have to be on your toes and really get into the beat to win.
You can either play the game online in your browsers on PC or download it on both mobile and computer. After installing the game on your mobile device, there are two game modes for you to play: Story Mode and Free Play mode. The Story Mode contains six weeks and a tutorial stage, and each week has three adjustable difficulty levels (Easy, Normal, and Hard). If you are a beginner, you'd better start the game in Easy mode. As you progress, the game becomes more difficult. The song's beats become faster and there is a continuous overwhelming flow of arrows that you can hardly handle. Friday Night Funkin also has a Free Play Mode, which allows players to select and play any track from Story Mode and battle against their favorite cartoon-style characters in the game.
During the music battles, the screen is split into two halves, and the left side belongs to the opponent, and players need to focus on the right side and press WASD or arrow keys along with the music. The more accurately you follow the beats, the higher score you get! There is a status bar on the bottom of the screen which can indicate how well you and your opponents perform. Successfully hitting buttons will help you earn more space on the bar. If you completely deplete your space of the bar, the game will end, and you need to start again.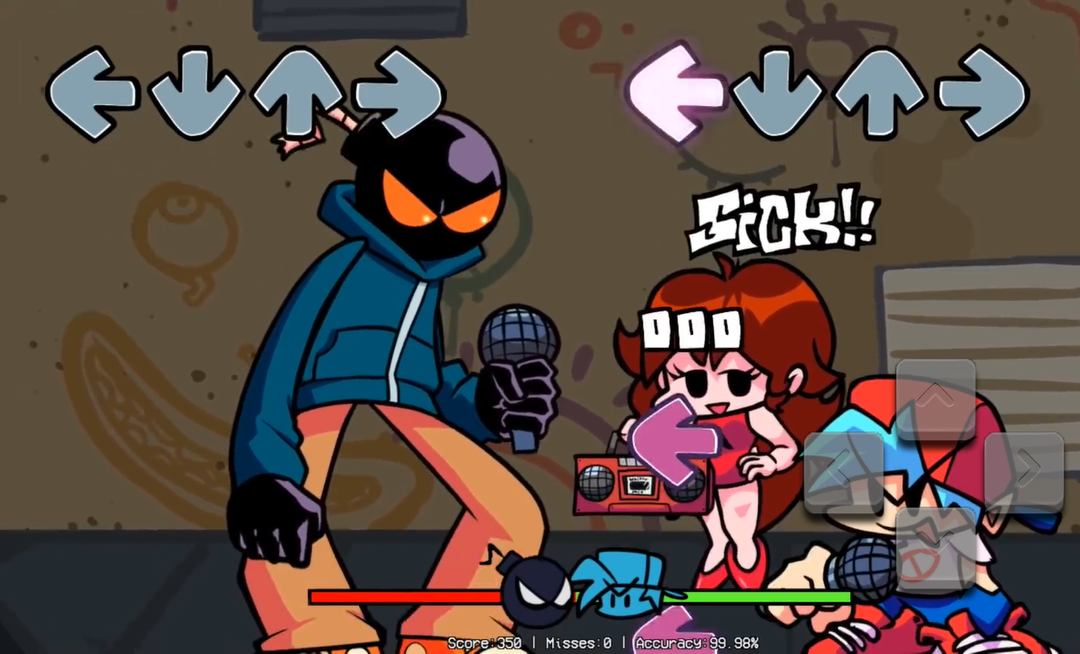 It's free to download and play the game on your mobile devices. However, I did encounter some crashes and issues during my playing on the mobile device, which was quite frustrating. Overall, Friday Night Funkin is a nice game for both kids and adults to have fun, especially for players who love music and rhythm-themed games. If you are one of them, you should definitely try this game.
Pro:
Multiple weeks with increasing difficulty levels
Battle against different cartoon-style characters
A variety of fresh and original songs
Cons: