Updated: January 22, 2021
Epic Conquest 2 Review
Get it Free
Epic Conquest 2, developed by Gaco Games, is an addicting action/adventure RPG with captivating stories and intense boss monster fights. Although the game is the sequel to the original title, it doesn't be too much related to the previous one and features a series of increasingly difficult challenges and better graphic design. The mobile version of the game is now available on Google Play, and it has received a number of downloads and decent reviews. Now let's take a closer look at this offline RPG.
Gameplay
After downloading the game on your Android device, you will embark on your thrilling adventure as the rookie Knight Claris. Currently Epic Conquest 2 offers only one playable character Claris with unique abilities, combat skills, and also customizable appearances. In the game, you need to defeat increasingly challenging monsters, and try to complete all these objectives assigned from Knight's Hall, and help your character become the best knight of all time.
Epic Conquest 2 has a fascinating storyline. The game sets in the dark times of a virtual world, where vicious monsters and evil people are rampant. In order to protect innocent villagers, the rookie knight Claris needs to grab her swords, and use her wise and combat skills to defeat all these evil forces. Playing this game makes me feel like I was on a real adventure myself, all I want to do is immersing myself in these excellent original plots and slash all these monsters in challenging battles.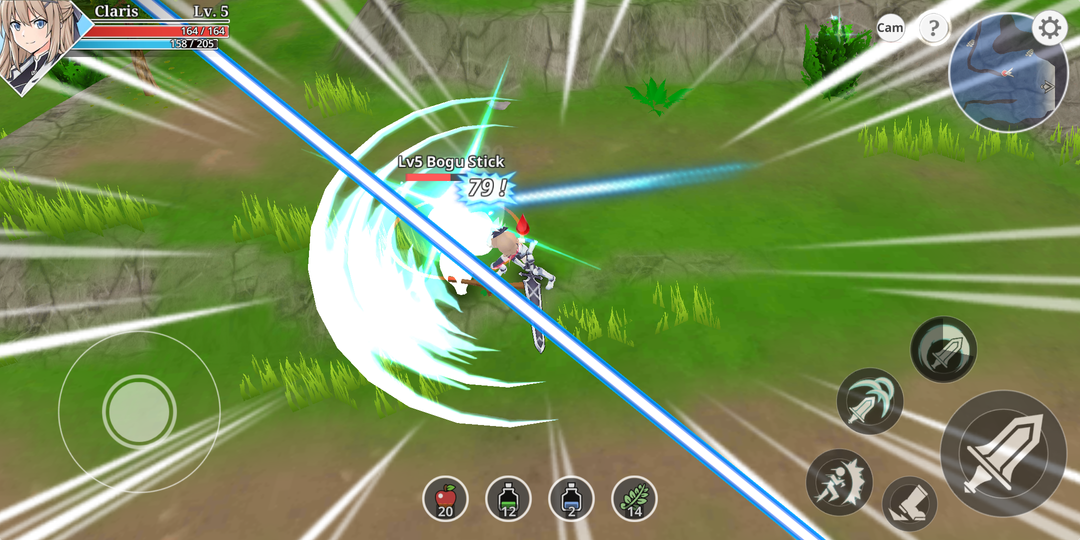 Of course, the most exciting part of the game is that you can battle with a variety of monsters. There is a world map on the top right side of the screen, and you can click on that map to view where you are and where you should head to find these monsters to complete your quests. At the very beginning of the game, you may find that these monsters are not challenging at all, even a little bit cute. As you progress, more locations will be unlocked, and more kinds of monsters will show up, such as aggressive bulls, dangerous slimes, and more. To defeat these monsters, it requires you to level up your character and upgrade her equipment to make her stronger.
In addition to the features that we mentioned above, Epic Conquest 2 also contains other addicting mini-games and activities. For example, you can explore the city to search for hidden rubies, iron, or other resources, or you can go to the market to purchase items like herbs and potions to help restore HP and MP of your character. Epic Conquest 2 design a gorgeous city for you and you can explore its cities, villages, and even you can stand by the river and enjoy fishing (fishes are also a kind of resource to help you restore character).
Graphics and controls
Epic Conquest 2 features great graphics and simple but functional controls. The move buttons on the left side of the screen can help you control the knight, and there are a series of attack buttons on the right side of the screen. As you progress, more advanced skills can be unlocked. You can use either basic attack to constantly strike monsters or advanced skills to knock down monsters quickly, but you have to wait for the cooldown to finish before you can use the advanced skills again.
Rewards and in-game purchases
It's free to download the game on Google Play now. The game is also free to play and doesn't contain any pop-up ads or any forced ads, but contains in-game purchases. Epic Conquest 2 offers ruby packs and other starter packs in the Shop that players can purchase with real money. Furthermore, you can receive generous rewards while you playing the game. Gold, Ruby, Ecnite, Consumables, and more can be obtained by attending the game every day or completing quests.
Conclusion
Epic Conquest 2 is an action RPG you can play offline, and if you are a fan of RPG and love great stories and intense combat, you should definitely check this game.
Pros:
An open-world with all kinds of treasures and resources
The customizable knight with unique abilities and combat skills
Upgrade your equipment to a higher level
Challenging boss monster fights