Updated: December 23, 2020
Elona Mobile Review - A Thrilling Dungeon Adventure Begins!
Get it Free
Elona Mobile is a Dungeon Crawler RPG developed by LTGAMES GLOBAL. The game is a perfect combination of smooth dungeon monster combat, captivating stories, cute pixel graphics, character customization, making it a decent dungeon adventure game. Now let's explore the game in more detail.
This game includes all the addictive elements of dungeon crawler RPG, and also adds some new features to keep you entertained for hours. In the game, you still need to explore various maps, dive deep into the dark, danger-filled dungeons, and battle against a variety of monsters and bosses. Gamers are able to recruit their own allies and upgrade their equipment and skills to become more powerful.
After installing the game on mobile devices, gamers can customize their own characters and choose their preferred personalities. Of course, you can pick up equipment, accessories, like hats, armor, and even some decorations to dress up your character. At the beginning of the game, gamers can choose the race and class of their character and rename him/her. Each race and class features a unique life point, attack ability, speed points, survival ability, and magic points. After your selection is done, you can enter the game.
If you are new to the game, Elona Mobile offers a very detailed Newcomer Guide and tutorial helping you to get started with the game quickly. Gamers can also experience different adventures which include New Journey, Farmer's Life, or Archer's life, and more. Each adventure has a number of missions, and for each mission completed players will get gold coins, diamonds, or other kinds of rewards. However, these missions seem to be randomly completed, as each mission doesn't contain a link redirecting players to the related maps where they can complete tasks and get the rewards directly. This is just so annoying, especially when I want to complete some tasks to get some in-game currency to recruit new teammates or resurrect my characters.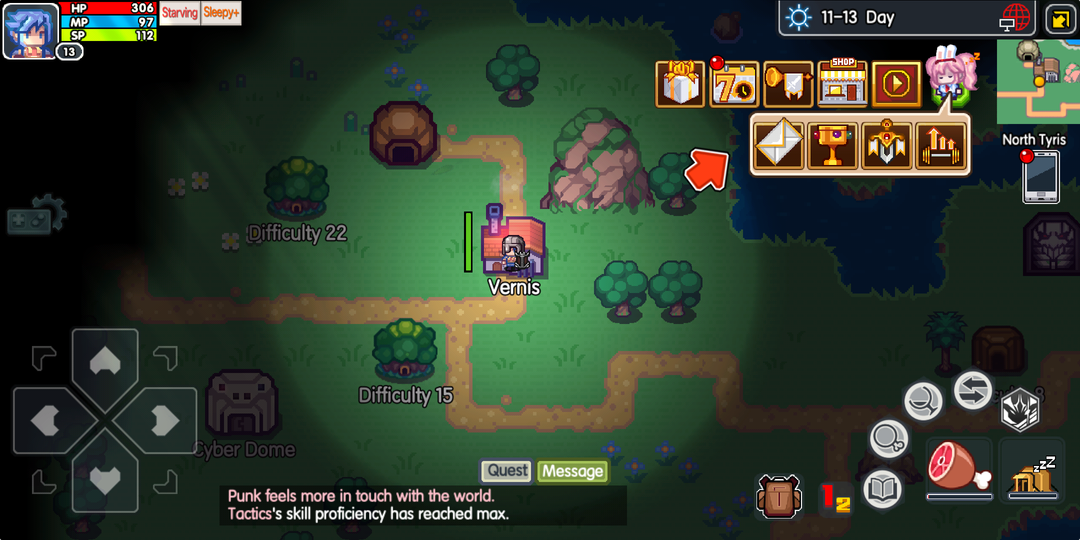 Explore the pixel world through the aperture, and follow the red arrow on the screen to complete your next task. Another feature of Elona Mobile is that it contains an engaging storyline intertwined with the dungeon battles and adventures. The stories are not just narrative, but quite interactive, and gamers have a chance to start conversations with other characters like King, Bartenders, Trainers, The Smith, and learn more about how the game works, get the food, equipment, resources, tasks by interacting with those people. Most of these stories are skippable, and I generally choose to skip them and complete quests and missions to get rewards.
The most interesting part is the process of exploring the dungeon and fighting against the monsters. Different dungeon maps you explore will have different missions, and the game becomes increasingly difficult as you process. The monsters are more ferocious and the circumstances become so harsh that you can barely endure and can get knocked down easily. So equip yourself with powerful weapons like swords, axes, guns, and more, and make sure yourself and your allies get enough sleep and food to level up your HP/MP/SP. Discard the rotten food and they only can make your characters vomit and decrease their battle power. Resources like weapons and food can be obtained by purchasing or collecting during your battling, and you can also collect other fun items like whisky, poison, potion, books, along your way to enhancing your gaming experience.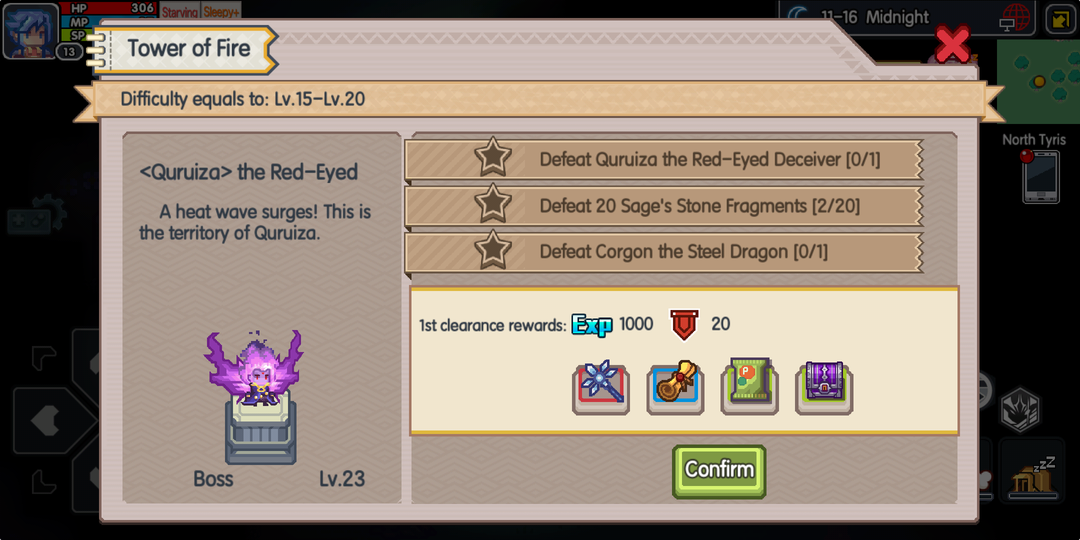 It's free to download the game on both Google Play and App Store but contains in-game purchases. When you get defeated in the missions or want to get a new ally from the incubator will require diamonds. If you don't get sufficient diamonds, you need to purchase them using real money. Luckily, you can also choose to watch video ads or turn a monster into your new ally using a monster ball. There are many more fun items in this game waiting for you to explore. If you are a dungeon fan, should definitely try this game.
Pros:
Pixel-art open-world RPG
Arm yourself for Dungeon Crawling
Create your dream life
Create your character and develop your own personality
Cons:
Game crashes sometimes
In-game purchases