Updated: January 8, 2021
Dynasty Scrolls Review – Experience Romance of the Three Kingdoms
Get it Free
Dynasty Scrolls was released on December, 24 for iOS and Android after hitting the milestone of 100 million pre-registered users. It is a turn-based RPG which sets the story in the Three Kingdoms era of Ancient China. You will meet the characters Liu Bei, Guan Yu, Cao Cao and many other famous historical figures from that time period.
Learn ancient Chinese history through the fascinating storyline
Dynasty Scrolls features vivid and colorful graphic design that is inspired by the history of ancient China. As Dynasty Scrolls takes place in the Three Kingdoms period, the storyline and characters are all related to this history. The heroes are from any of the three kingdoms among Wu, Wei, Shu, and you can even walk in the shoe of famous historical figures such as Liu Bei and Guan Yu and experience their lives in the side quests.
Recruit heroes and customize with different equipment and costumes
You can recruit new heroes through basic and premium recruit gacha and put on various equipment and costumes to enhance their stats. Different heroes have their own unique Quality and Faction, so you should consider their attributes and put them at the right position to bring out the most damage to the enemies. For example, some faction combination will activate additional combos which are essential in battle.
There are several ways to increase your heroes' power. You can put on equipment and enhance it for better performance and upgrading heroes' levels, or you can level up directly using EXP Tomes, or rank up heroes' star ratings once you collect enough hero shards, and train them to activate more Meridian to increase HP, ATK, DEF stats.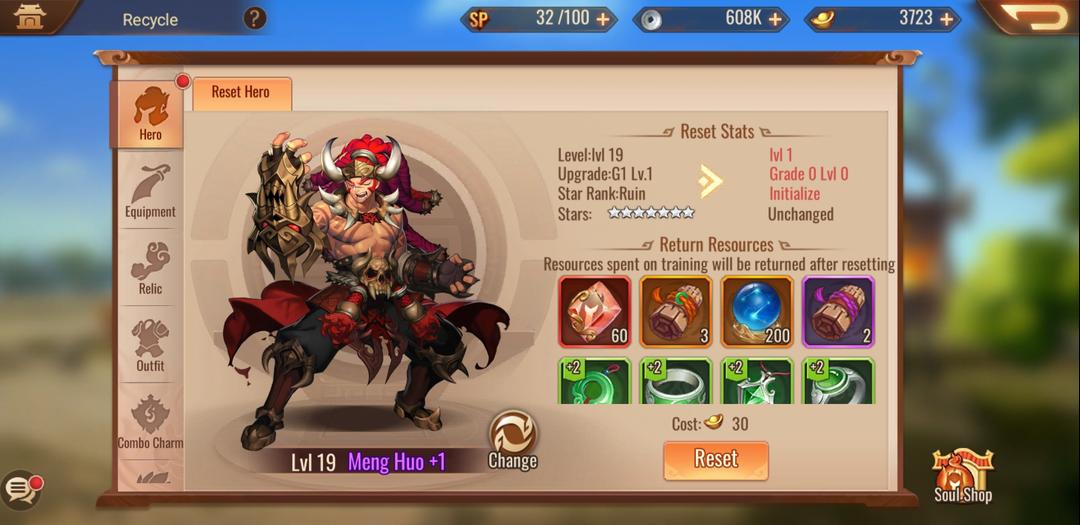 One thing that impresses me a lot in Dynasty Scrolls is the Recycle system where you can reset the heroes you owned and the resources you spent on training them will be returned. This is very useful when players recruit more heroes and hardly use the lower power heroes but already wasted some resources on them at the beginning of the game as lack of characters. By resetting the heroes you don't need any more, you will be able to regain the items and use them on the heroes you want to farm to higher levels.
Join a range of PvP and PvE battles
There is a range of PvP and PvE battles including Sieges, Raids, Arena, Warrior Trials, and Overlord Battles. You can use the auto-battle feature and *2 speed if you don't want to take too much time on the battles. Besides battles, you can also join side quests where you can live the life of famous historical figures in the Three Kingdoms period and know more stories happened during that time. For example, you will see the famous scene of Taoyuan Trio which is about the three heroes Liu Bei, Guan Yu, Zhang Fei who took an oath to be each other's brother and would die together for their friendship. For players who like Chinese history, you will definitely learn a lot while playing Dynasty Scrolls.
Plenty of free rewards in events and missions
Dynasty Scrolls offers lots of free rewards on daily login, quests and multiple events. But the balance between free players and p2w players is too far. As you proceed to higher levels, you can be stuck for lack of resources. If you don't want to pay in the store, you can just wait for the next round rewards to get additional items and resources.
Conclusion
Dynasty Scrolls has its own unique art design adopted from Ancient Chinese history. Although the battle is mostly automated, you can still enjoy different PvP and PvE modes with different rewards. And the story in side quests is very appealing to Three Kingdoms fans as you can go through the classic chapters with the famous figures. But it gets hard to upgrade to higher levels for free players as they can barely get enough resources and Legendary stuffs to proceed.
Pros:
Unique art design impressed by ancient Chinese history
Appealing storyline in side quests about Three Kingdoms
Lots of events to get free resources
Cons:
Hard to proceed unless pay in the store