Updated: April 29, 2021
Dear My Cat Game Review - A Virtual Simulation Game for Pet Lovers
Dear My Cat
Do you remember the days we spent together?
Get it Free
Dear My Cat is a pet simulation game created by the South Korean mobile game development and publishing company called FLERO games. Ahead of Dear My Cat, FLERO games has published a number of popular games, such as Tap Tap Fish - Abyssrium Pole, My Secret Bistro - Play cooking game with friends, and more. The game released recently and has already received a large number of downloads and a 4.7 out of 5 rating on Google Play. Is it worth playing? Here are my reviews after playing this game for a few days.
What's Dear My Cat Game?
Dear My Cat is a cat simulation game and shares some of the same features as other animal simulations on the market like exploring islands and playing with lovely cats. In addition to these features, the game also allows players to build fantastic islands with various landmarks for characters to explore. Technically, you don't have to collect resources like Minecraft to build the land, but need to earn enough gold coins and rubies to unlock these new locations.
After installing the game on your mobile device, you start the game with an isolated land and a cat. The island can produce gold coins and cats can give you hearts, and you can use these precious resources to make the island more prosperous by continuously inviting new travelers, upgrading the island, and unlock new locations. Every time you level up an island or invite a new friend, gold production will significantly increase. Your goal is to complete main quests and earn more gold coins and hearts to expand your island for your lovely cat friends to explore.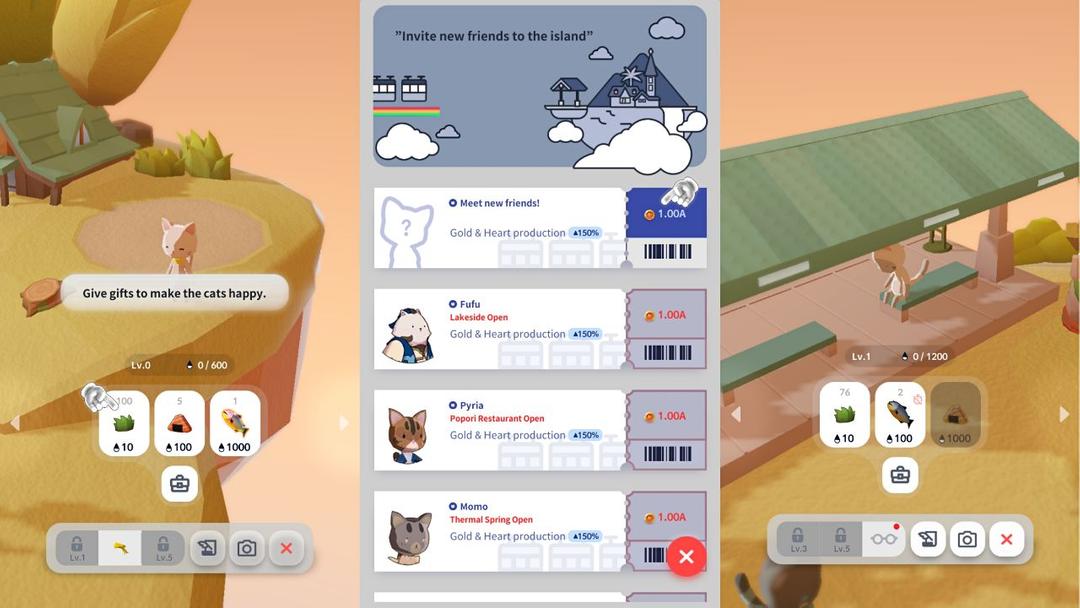 Play with your cat friends
Dear My Cat features a large number of lovely cats with unique appearances and personalities. Nana, for example, is a considerable kind cat and loves making friends and exploring attractive locations. Gamers are allowed to use gold coins to invite new travelers to visit their island. However, some characters like Fufu (the store owner) and Pyria (the waitress) only can be unlocked when new islands are built. Just like the real world, gamers can do a variety of activities with these lovely cats - dress up your cat with accessories, feed them with rice, read their diaries, give them catmint and cat toys to make them happy on the islands.
Graphics
This 3D cat simulation game has great graphics with smooth animation. The game design and color palettes just remind me of the movie The Little Prince. Both of these two artworks are beginning with an isolated planet/island and then travel around to meet new friends. One of the fascinating features is that you can zoom in to a cat character and explore the land with your cute friend. Gamers are also allowed to take pictures with filters to capture the beauty of the island you have built and little travelers. If you are a newbie and don't know where to start, Dear My Cat offers a detailed tutorial to help you quickly get familiar with the game and have the most fun.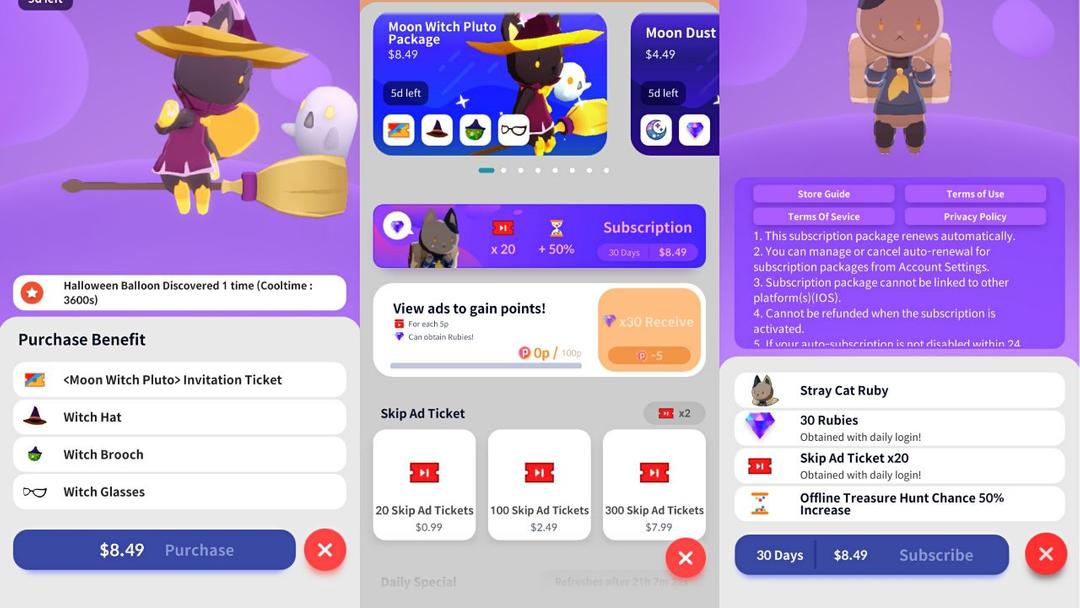 In-app purchases
It's free to download Dear My Cat on both Google Play Store and Appstore. The game also contains in-app purchases allowing gamers to speed their progress. Rubies, the in-game currency, are integral elements for unlocking new islands and purchasing gold coins and hearts and can be obtained through watching video ads, reading cats' diaries, completing main quests and achievement tasks, and also using real money. Dear My Cat is kind of a watch-ad-to-win or pay-to-win game. In order to level up, gamers are required to watch a large number of ads or pay to gain sufficient gold coins, hearts, and rubies to make some progress in the game.
Conclude
Dear My Cat is cute. If you are a cat lover or have a passion for pet simulation games, then Dear My Cat is definitely a great option for you. The game has great graphics and addicting gameplay, but the disappointing thing is that you need to watch tons of ads (or use money) to level up and progress. If this doesn't bother you, Dear My Cat is still a great game for both kids and adults to kill some time.
Pros:
Unlock new lands and upgrade various facilities
Plenty of adorable cats
3D graphics and addicting gameplay
Cons:
Too many ads
Shop button not working well