Updated: April 14, 2021
Cyberika Action Adventure Cyberpunk RPG First Impression
Get it Free
Cyberika is an action based MMORPG set in a cyberpunk universe. If you are a fan of Cyberpunk 2077, you may enjoy this one as well for the same graphic style. Cyberika has deep storyline which players need to read carefully in order to finish story missions one by one. These missions include finding important persons, fighting against freaky punks and searching for items to fix broken equipment , etc. Now let's explore this cyber world and start the exciting adventure!
INDEX
Graphics & Controls
Cyberika has great graphic design in both scenery and character designs. Each street is filled with neon signs and freaky strangers as people imagined in the cyberpunk world. The character can be customized with different faces and hairstyles, as well as various outfits as you proceed through the game.
The controls are smooth and easy to grasp. Players use the move pad at the left corner to move characters around, and use the attack button at the right corner to fight against gangs. But the game doesn't have multi-angle visual perspectives so players are limited to the surrounding areas ahead.
Complete missions to level up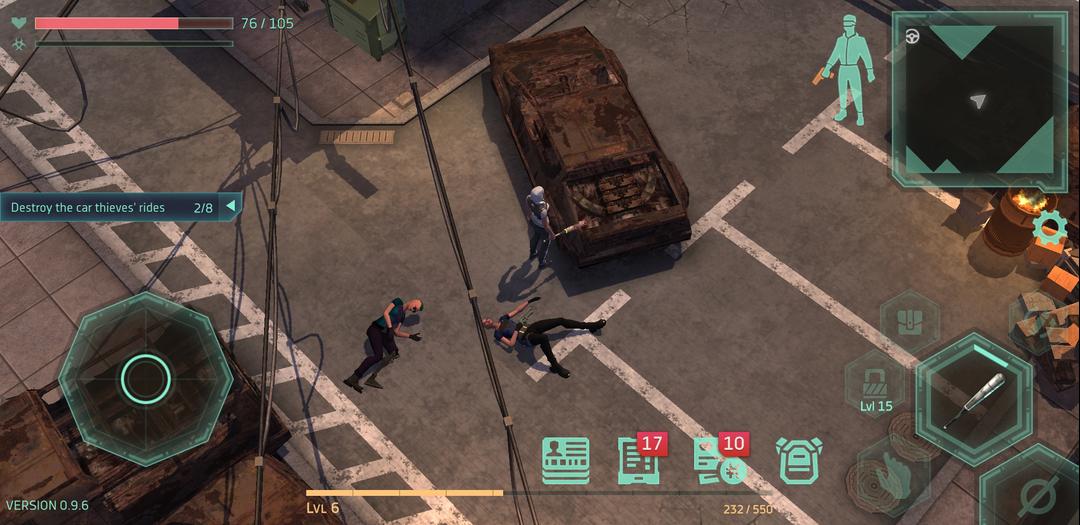 As soon as you arrive at the Cyberika, you will begin the adventure in a city called Bradbury Complex. After a couple of missions you will explore different areas around the city. Players can drive a car to move between two neighborhoods, and you can either use the autopilot feature or drive yourself to enjoy the speed excitement.
There are always new missions showing up in the mission board for you to earn in-game cash, resources and EXP to level up your character. To complete missions, you need to find someone in their own houses for help, fight against gangs in the street, and find some useful items and fix broken ones. If you are stuck in one mission, you can go out to the downtown to search for more resources to help you work it through.
Collect all kinds of resources to fix broken equipment
In the apartment players can get rest, take a shower, order food or fix their broken outfits or equipment as they want. But to do all these things, you need to assemble the machines with screws, cables, grids, metal plates and other components to make them run successfully.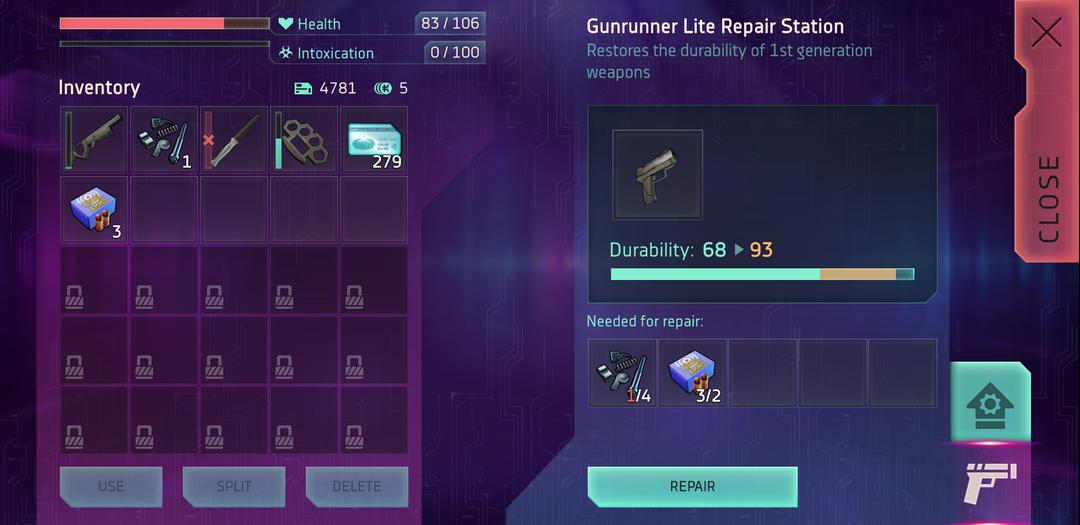 After assembling the machine, now you can use it to do its work. In the Repair Station players can repair broken equipment 25% each time, and each time you need to get enough requiring material to do so. This is really painful as the weapons and clothing frequently got broken after fights and these repairing materials are not that easy to be found in the city, which means you have to pay in the store to make sure you are able to fix the broken equipment for further use.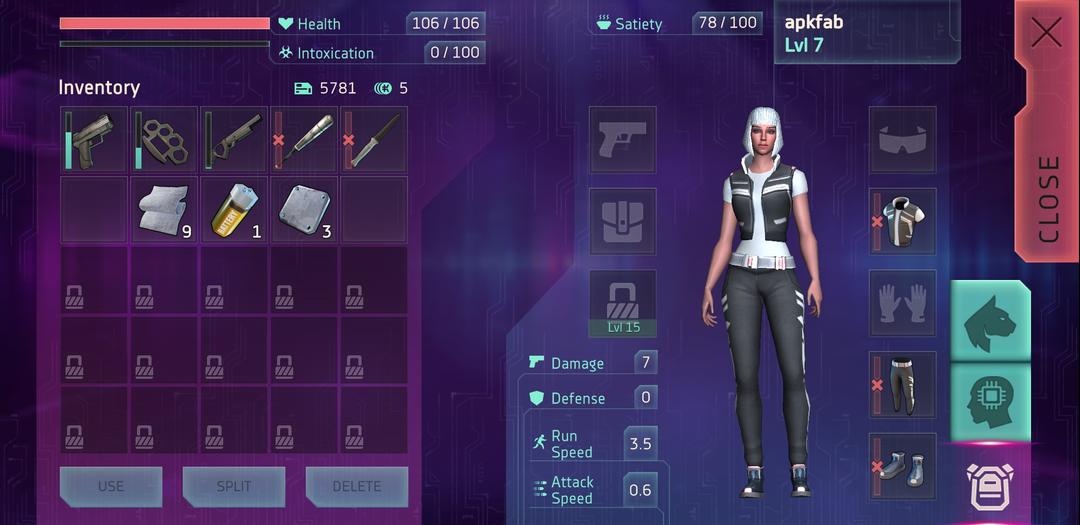 The space in storage is not enough as well, so it makes collecting resources even harder as you need to place the unneeded items in other storage boxes to leave space for the items you need. If the developers cannot decrease the materials which required for repairing, or enlarge the storage for more space, it will make this game totally pay-to-win.
Conclusion
All in all, Cyberika is an outstanding RPG featuring excellent Cyberpunk 2077 atmosphere for Android devices. The game has great visual effect and simple controls, and players can customize the appearance and outfits of their characters as they want. However, the materials are not easy to be found in the game for repairing broken items and recovering HP, and the storage space is not enough for collecting resources. Hopefully the developers can fix these shortcomings and make this game a better game experience.
Pros:
Great graphic design
Deep storyline
Customizable character design
Cons:
Not enough storage space
Resources are not easy to find