Updated: September 24, 2020
Crazy Car Traffic Racing Games 2020: New Car Games Review

Crazy Car Racing
Enjoy the most addictive offline games in our new car games 2020
Get it Free
Crazy Car Traffic Racing Games 2020 is an addicting car racing game developed by Gamexis, the same developer who also created the impressive offline FPS shooting game Real Commando Secret Mission - Free Shooting Games. If you are into the car driving game, this game covers all you like, such as endless racing, drag racing, and more. Now let's take a closer look at this car racing game.
Graphics and controls
The game has a great quality Ultra HD graphics. Even if you select a low-level graphic quality in the Settings, the game still looks impressive. Crazy Car Traffic Racing Games 2020 offers different options for players to choose the graphics qualities and difficulty levels that suit them most. Players can choose a low graphics settings to get the game running a bit smoother on their mobile devices, or increase the difficulty to start a more challenging racing adventure.
The control is simple, and highly responsive, but hard to master. The game is sensor-based, which means players can tilt the mobile devices to change the track and dodge traffic. In the Endless racing mode, for example, there is a brake button to control the speed of the racing car and avoid crashing. Players often have 3 opportunities to crash onto other cars, or the game will end. Of course, the game also allows players to use coins or watch ads to revive.
Customizable cars
Crazy Car Traffic Racing Games 2020 offers players many different accessories and options to customize and style their cars. In the garage, you can upgrade your engine, gears, pick a preferred color, or other exterior design and car parts. However, most of these features are locked, you need to gain more racing experience and collect enough coins to purchase these items. The thing I like most about this game is the huge selection of cars. From simple car models to cool sports cars, players have a chance to pick the car they like, so they can level up their racing experience.
Game modes and maps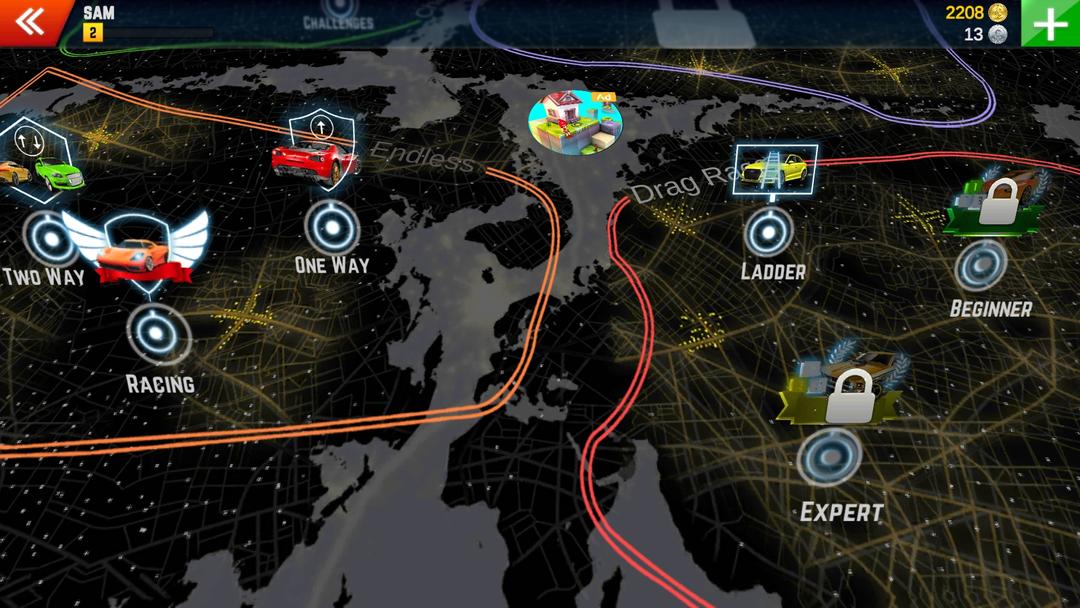 The game mode is another fascinating feature of Crazy Car Traffic Racing Games 2020. There 4 four main modes (drag racing mode, endless car racing mode, police chase mode, and challenge mode), and each main mode will divide into more specific modes with different gameplay, difficulty levels, and missions. In One Way Endless racing, for example, players have to dodge heavy traffic to avoid crashing while collecting coins, fuel cans, and other power-ups at the same time. Compared to the One Way game mode, Two Way endless racing mode levels up its difficulty and players need to deal with the heavy traffic coming from the front and back.
Conclusion
Crazy Car Traffic Racing Games 2020 is a fun car racing game. The game offers different racing types including drag racing, police chase, endless racing, and is great for both beginners and pro players. However, there are not too many creative power-ups and awards to collect during your racing. All in all, Crazy Car Traffic Racing Games 2020 is a good car racing game for you to kill time. The game supports both online and offline play, you can play the game when you are out without an internet connection.
Pros:
High-quality graphics and simple controls.
A huge selection of customizable cars.
Different game modes and maps.
Cons: