Updated: March 24, 2021
Cobra Kai Card Fighter Review – A Card-Based Fighter Available on Android

Get it Free
Cobra Kai Card Fighter is a strategic turn-based card game with deck building elements. This game is developed by Boss Team Games based on the popular Netflix TV show Cobra Kai. If you like this series, you can download Cobra Kai Card Fighter on APKFab to meet with characters within the shows.
First Impression
As soon as the game starts, players will go through a quite lengthy tutorial which cannot be skipped. The tutorial shows players how to use the two kinds of cards to win the combat. The Fight Cards with different attack moves, and Wildcards with special effects such as increasing energy or giving you a health boost. The combat adopts simple rock-paper-scissors mechanic as kicks beat punches, punches beat throws, and throws beat kicks.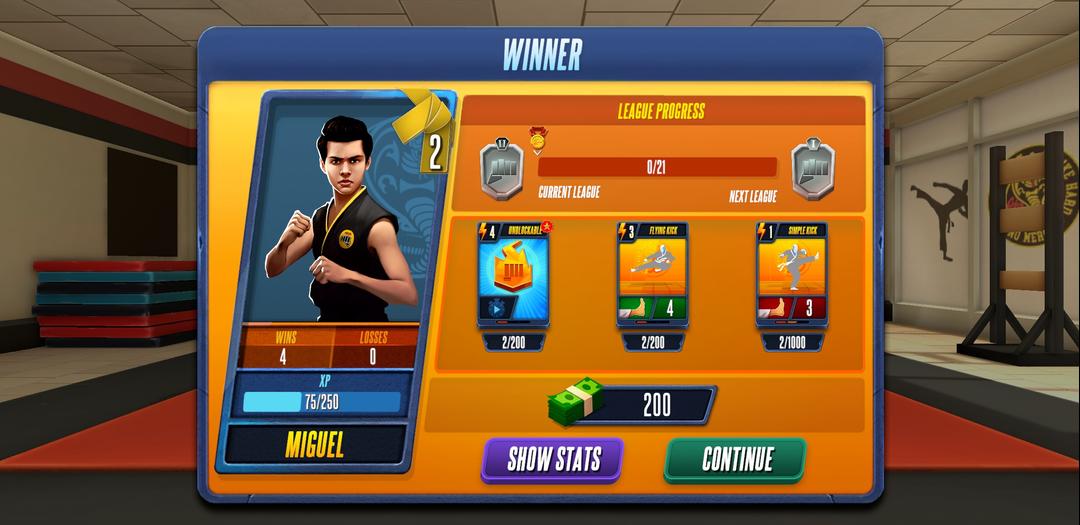 After the tutorial ends, players can continue to join in more combats to gain more XP to upgrade their belt level. The higher belt level has gets Health and Damage Bonus.
Besides gaining XP to level up, players will receive Card Duplicates as reward. Collect enough Card Duplicates can upgrade the cards to higher level with more damage points.
Gameplay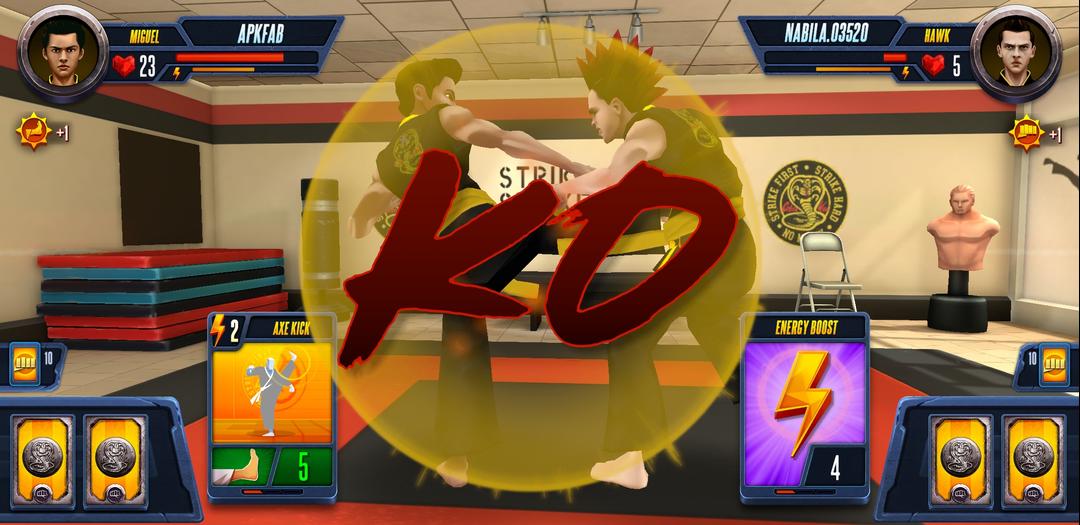 After playing for a couple of fights, you can find the key to win the game is choosing the best combination of cards at each turn. Energy and Health are two vital elements that determine who can be the winner. Each Card has an Energy cost. Five Energy can be recovered each round, also you can discard unwanted cards to get half of the Energy, or regain it by certain Wildcards faster. Health can be recovered as well via Health Boost Wildcard. Once the health reaches 0, the player loses the game.
Each fighter has their own Specialty Combo of three moves such as kick- punch -kick, which can grant the fighter a hit bonus. Playing three Fight Cards of the same color will receive a damage multiplier as well. At each turn the cards will be refreshed, and you can hold the cards to get detailed card information.
The combat rule is very simple. Just pick the card to let the fighter perform it against the opponents. But to be honest, the animation around every turn takes too long, and the art style and character design in Cobra Kai Card Fighter is anything but great. The camera angle is fixed, too. All these visual effects are not well enough to be enjoyable to play this game.
Deck Builder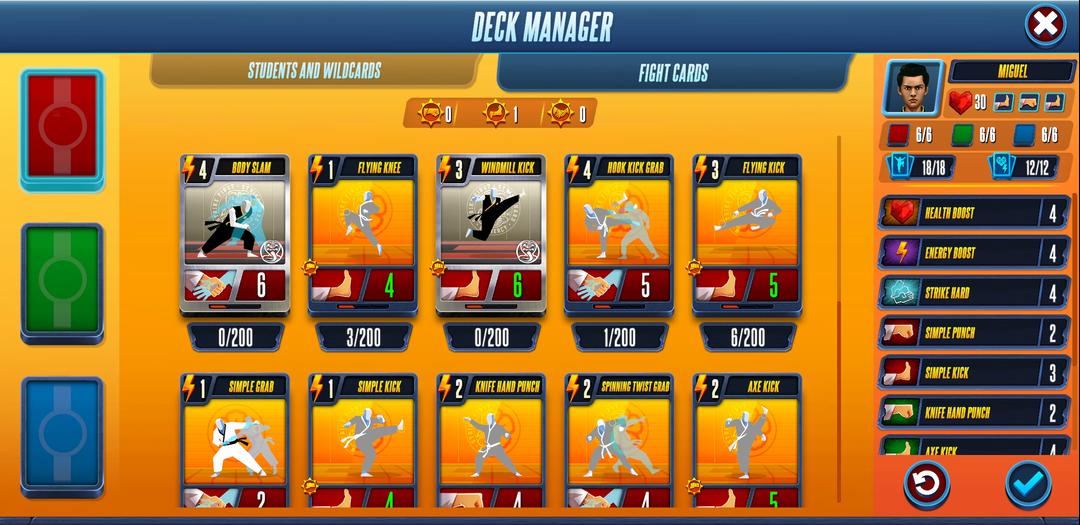 In order to make the character win more fights against powerful opponents, players need to upgrade the Deck. Each deck can hold a maximum of 12 Wildcards and 18 Fight Cards, with a maximum of 4 copies of each card. After players unlock new cards with higher damage, they can delete the weaker Fight Cards at the right list and switch them with better cards. When the Card Duplicates reach the limit, certain cards can be leveled up for more power.
In-game purchase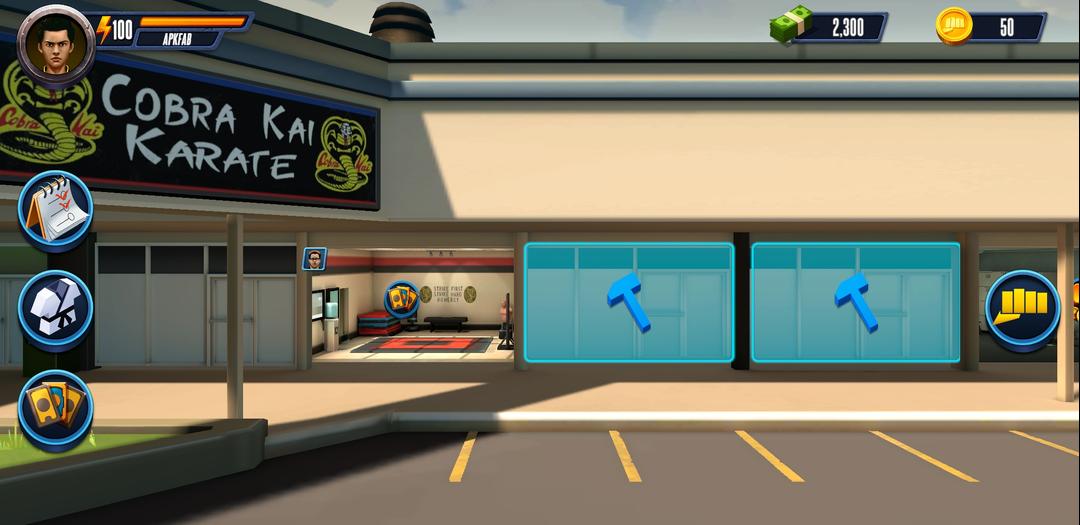 There are two kinds of in-game currency in Cobra Kai Card Fighter, the cash and the token, which can be obtained by winning fights or completing missions. And of course, players can buy them from the store directly. As mentioned above, card deck is quite essential to win the combats. Therefore, players who pay more for better cards will get higher chance to win the game. That said, this game is totally pay to win.
Conclusion
All in all, as a strategic card game under a well-known brand, Cobra Kai Card Fighter needs to be improved in many ways. For example, the wired art design, the lengthy but boring combat animations, and not enough ways to obtain in-game currency other than paying money. Hopefully this game can be updated in the future with better design and game mechanics to be worthy of its brand.
Pros:
Made under well-known brand
Cons:
Lengthy combat animation
Pay to win