Updated: December 15, 2020
Cats Life - Idle Kitty Collector Review – Similar to Animal Restaurant but More Fun!

Get it Free
Cats Life - Idle Kitty Collector is a super cute cat simulation game for Android published by Potato Play. In the game you can serve food to cat customers to earn golden fish as in-game currency, build various facilities to attract more kitty patrons and adopt cats and play with them in your beautiful home. The art design in Cats Life is so beautiful and adorable that any cat lovers cannot resist it.
Attract cute kitty patrons to earn golden fish
The main income you get from the Cats Life - Idle Kitty Collector is in your restaurant. Random cat customers will come by your restaurant and order food. You need to serve the food in time or they will be upset and leave the restaurant directly. After they finish the food, these cute cats will leave you golden fish as in-game currency. And you will be rewarded with extra stars that are useful in unlocking more recipes and facilities in your store.
You can research and unlock more complicated recipes while proceeding in the game. And the recipe can be upgraded for higher sale prices to get more golden fish from the customers.
Adding more facilities will help you attract cat customers coming by easily. Unlock and upgrading facilities requires certain amount of stars. So you need to keep serving these kitty patrons to get enough stars so you can upgrade the counter, dining cushions, scratching post, cat beds, cat towers and other decorations to get more income.
If there are few cats in your restaurant, you can tap the Promote button to attract more customers. Or you can use the Super Promote feature to enter x5 mode to get many cat customers at short time. This will increase the income you earn very efficiently.
Adopt cats and play with them in the home
When a new cat coming to your restaurant, you will get a notice and the portrait of the cat will be added into the Cats album. Click on the cat profile and you will know each cat's name and habits in Cats Life - Idle Kitty Collector. You can even adopt these cuties after they visit your store for many times. And you can play them in your beautiful house to increase the intimacy level and get more stars.
The cats you placed in your home will leave fish bones and other food waste, and pee all over the house like the real naughty cats in your house. If you do the chores to clean it up, you will get stars as rewards. If you pet the cats or play with them, the intimacy level of your pet will also increases. But I often get stuck when I play in this spot, not sure if it is because of my phone or a remaining bug from the developers.
Play mini-games to earn more rewards
Other than running your restaurant and playing with cats at the home, you can also enjoy fun mini-games in Cats Life - Idle Kitty Collector such as scissors, paper, rock and fishing. Winning these mini-games will provide you golden fish as reward.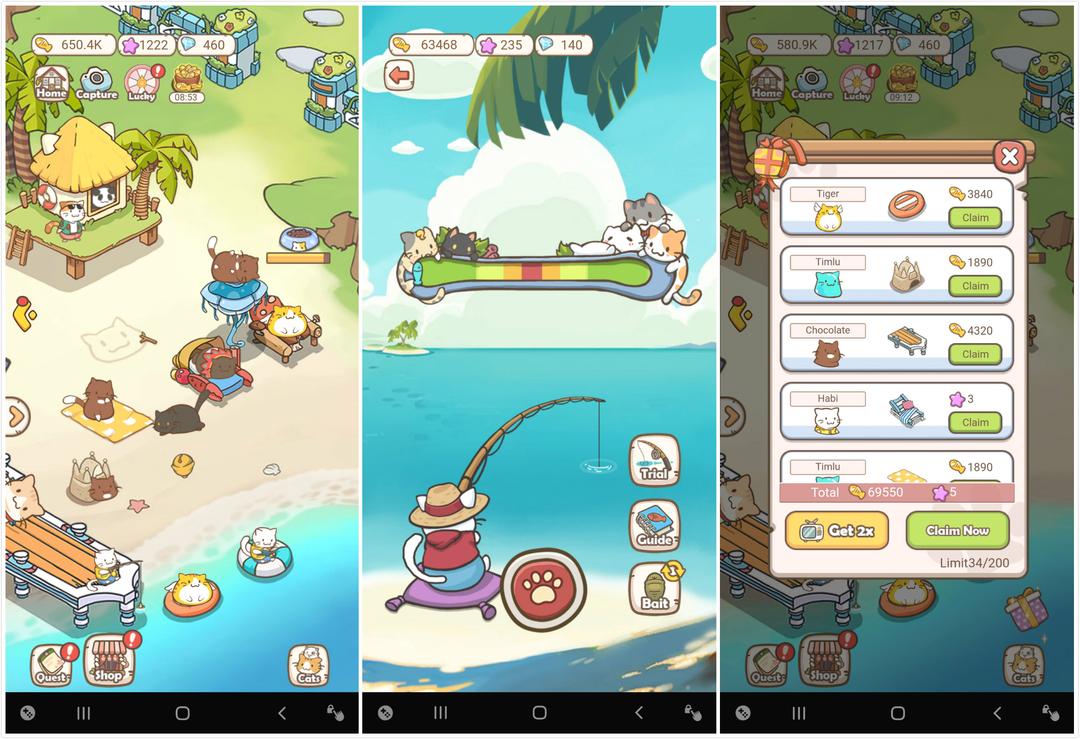 You can go fishing on the beach and catch rare species with different baits. There is a trial mode for you to practice and improve your fishing skill. Build the beach with sandcastles, beach mats, beach chairs and other decorations will attract more cats to the beach. But don't forget to place cat food on the beach or you will lose all cats.
Conclusion
There are so many things that you can do in Cats Life - Idle Kitty Collector, and watching cute kitties rolling around is quite relaxing and pleasant. You can either choose to watch ads for extra rewards or just go with the flow. But I get stuck sometimes and have to force quit the game to restart it. Other than that, this cat simulation is super addictive and enjoyable for cat lovers.
Pros:
Great art design and animations
Lots of elements to keep you busy
Play with various adorable cats
Cons:
Get stuck and have to force quit the game sometimes