Updated: December 29, 2020
Candy Manor - Home Design Review
Get it Free
Have you ever thought about designing your own dream house while enjoying playing match-3 games? If you answered yes, then there is a new house design game for you. Candy Manor, developed by Juicy Candy Studio, is an addicting casual game combining two popular game genres Match 3 and Home Decorating. It's the renovate-your-mansion feature that first aroused my attention, but after playing this game for hours, I find myself getting quite addicted to its creative match 3 gameplay.
It's free to download Candy Manor - Home Design on Google Store but contains in-game ads. These ads are either skippable or displayed down below the screen, making them less annoying and disturbing for gamers. Now let's take a closer look at this casual game.
The goal of the game is simple: You play match 3 puzzle games, and then earn stars to unlock tons of items to give your abandoned mansion a makeover. For me, I really enjoy the process of making a messy place turn clean and even grandiose again. There are different areas of the mansion you can decorate, like the living room, bedroom, home theater, and more. After installing the game, you will start from the bedroom, and then you can play match 3 games to earn stars. Furniture and decorations can be obtained by using these stars. So make sure to get sufficient stars to decorate rooms and get your way up to other areas in the house.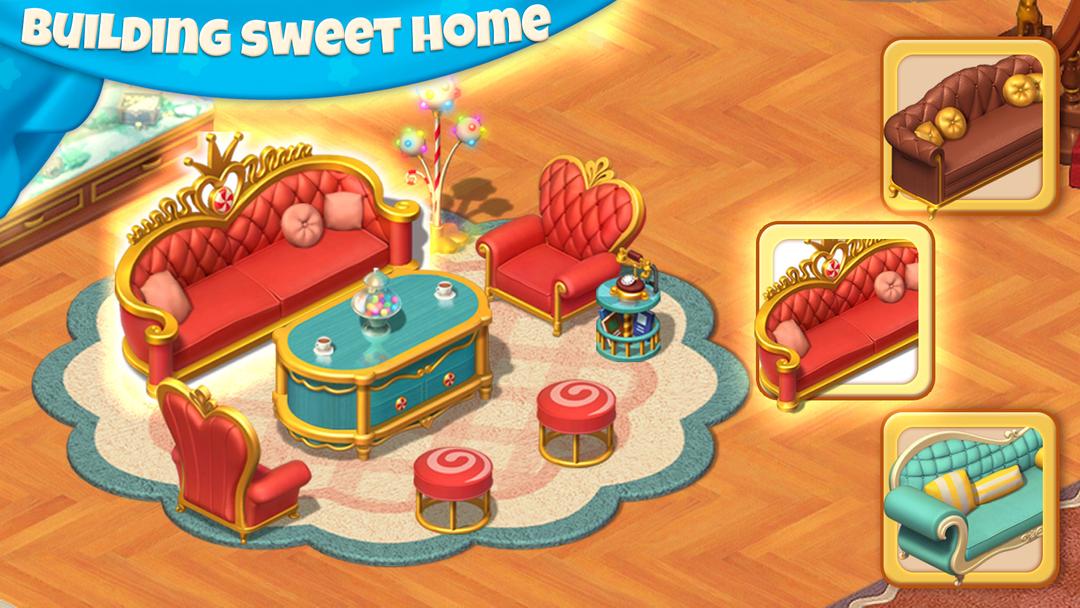 Clean the dust and remove the old furniture, and then you can choose your favorite floors, beds, wallpapers, carpets, and other items to refresh your mansion. Usually, there are 3 stylish options with different colors and styles for each item. You need to pick one that suits your taste most, and if you change your mind, Candy Manor also allows you to hold the item to reselect it without costing any stars.
Candy Manor - Home Design has a storyline that is kind of bland, so I just skipped them. Then it comes to my favorite part - the Match 3 game. In addition to the match candies element, the game also contains other intriguing features: Play-with-cute-animals, various challenging layouts, tricky obstacles, exciting boosts. Match three or more candies of the same color, and eliminate them from the board in order to complete the task displayed on the top of the screen. The moves in each level are limited. If you run out of moves before finishing the goal, you are required to watch video ads or start this level over again.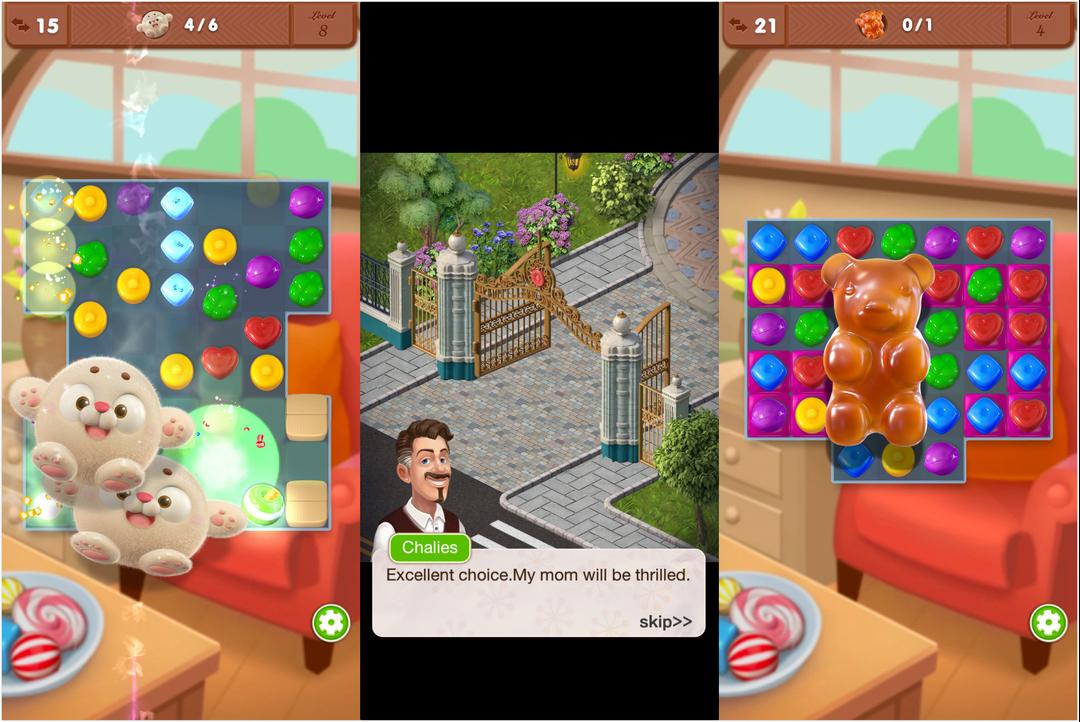 Candy Manor - Home Design is more than matching candies. The game includes many cute animals like dogs, bears, adorable cats, rabbits, and more. Collect Penguins, for example, you need to match candies of the same color, eliminate them, and then lead cute penguins down to the exit. There are various goals, like collecting pearls, stars, music notes, adorable kittens, and more. Sometimes you may have to complete two different goals simultaneously.
As you progress, the game becomes more challenging as different layouts and obstacles (like Frozen candies, unmovable blocks, boxes with pets, even drink coolers) are added. Candy Manor – Home Design also features amazing boosts with fantastic visual effects. Every time you combine four or more candies, it will reward you with a booster. Match two boosters or combine a booster with candies of the same color to speed up your process and reach your goal quickly.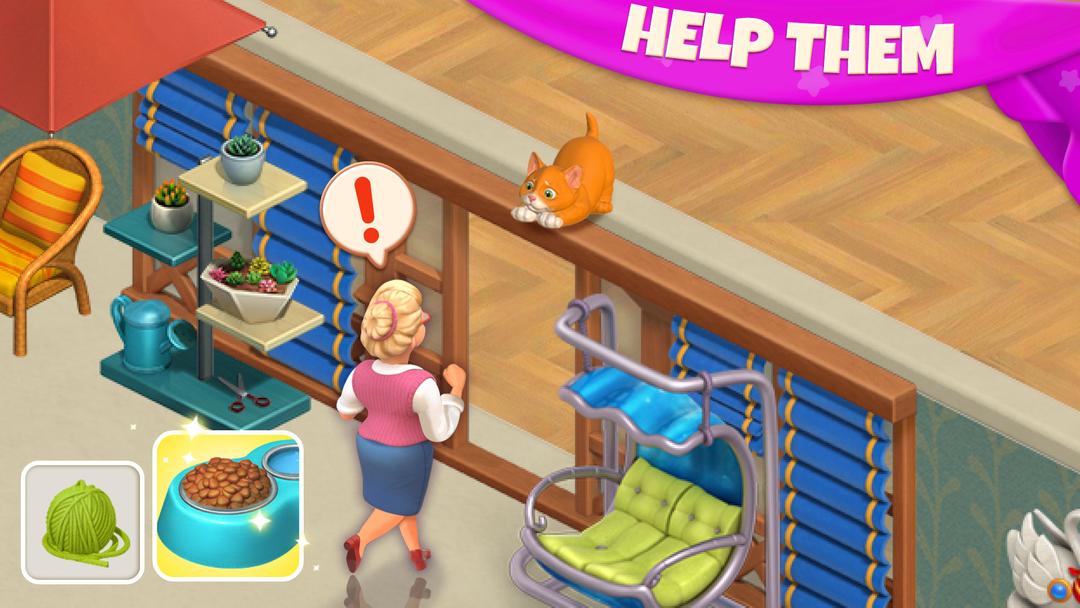 The controls are quite simple to use, and all you need to do is to tap the screen to do all the interactions. The cartoony graphics are nice too. It's free to download and play this game without extra in-game purchases. Since it doesn't contain any violent and brutal scenes, it is also a great option to kill time for both kids and adults. If you a fan of match 3 games or home decoration games, and need a game to help you get rid of the boredom, Candy Manor - Home Design is a decent game that is worth a try.
Pros:
Decorate your dream house
Addicting match 3 gameplay
Adorable pet companions
Tons of interesting levels waiting for you