Updated: July 9, 2021
Atelier Online: Alchemist of Bressisle Review
Atelier Online
The Atelier series comes to mobile, celebrating its 20th anniversary!
Get it Free
Atelier Online: Alchemist of Bressisle was finally out on mobile on July 8th in countries outside of Japan. This beautifully-designed JRPG contains the original elements and characters from the previous Atelier series with a rich storyline. Take a quick glance at the videos below.
Complete quests to get rewards
In the game you will be guided by Peppermint to start your adventure in the Atelier world and go through different chapters by completing the quests. Besides battling against monsters through your adventure, your main activity will be finding and collecting items, and combining them into different recipes to create better gear and supplies.
Other than the main quests, you can also take side quests, character quests, commissions or special quests to earn extra pocket rewards. So don't forget the check the quest board to see if you can take on multiple quests at the same time to save your time as well as earn more prizes.
Gather resources to create better gear and items
While you are exploring the map, there are plenty of wild animals and plants aside the roads which have useful alchemical materials waiting for you to gather. Some of the materials are only available in certain weather or time, so check carefully before you start searching for certain items from the quest board.
The purpose to gather resources is to use them to synthesize different recipes to get better items, gear and cuisine. If you have all the ingredient for recipe you will be able to create one and gain Alchemy points. These items will either help you increase you stats or allow you to attack enemies or heal your teammates during battles.
Battle against different monsters to gain EXP and level up
The combat in Atelier Online: Alchemist of Bressisle is automatic and the only manual thing you can do is to use items and unleash skill chains. You can speed up the combat or escape during battles at the right up corner.
Character EXP can be obtained by winning battles against various monsters or using EXP Potions directly. During battles, characters can use manual or auto combat items to turn the side by attacking monsters, healing or assisting your allies as you need. The higher level the monsters you fight, the better items they drop after you win the battle.
Draw more characters to build a strong party
Some of the NPCs will become your partners as the chapter goes on, and you can add them into your Party to fight monsters together. You can add up to four players into the party, and the characters are fully customizable so you can put on various gear and outfits on them to meet your style. The gear and outfits can be crafted in Synthesize or through Gacha, and also be enhanced with required enhance material for better stats.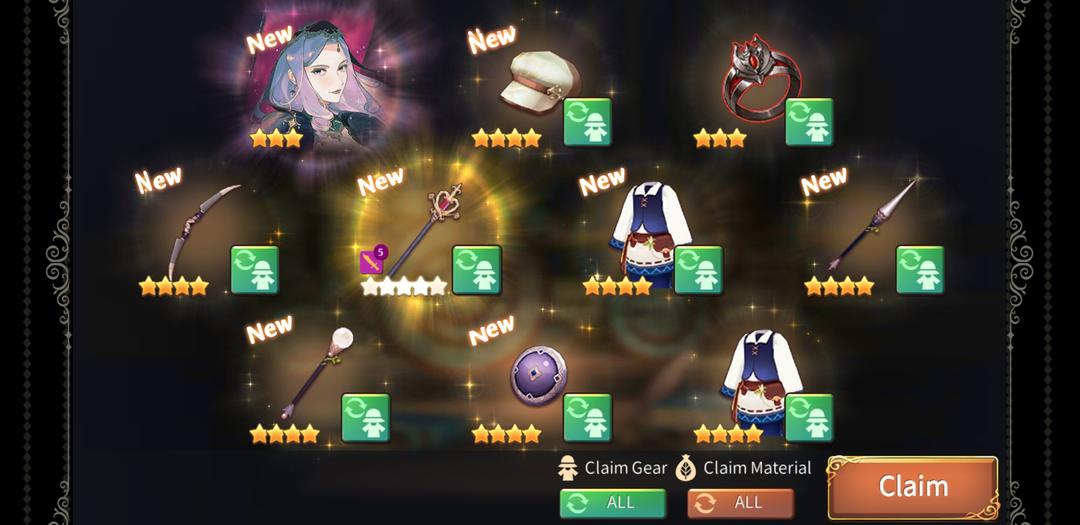 To be fair, the gacha rates for characters are poor and the cost for each gacha is quite expensive. You will need more characters so they can be dispatched in Treasure to help you earn more prizes. Each treasure hunt allows up to five characters that meet certain level requirement.
After your character reaches the level limit, you can rank it up for 10 more level capacity. Meanwhile, you can use several items to cultivate the characters to enhance their stats and skills.
Conclusion
All in all, Atelier Online: Alchemist of Bressisle adopts great graphic and art design with an interesting storyline. The game doesn't require stamina so you can play as long as you want. It doesn't have auto-path feature so you need to find every location and material by yourself, which makes me feel more involved actually. But the gacha rate is not fair and it costs too much gacha currency. Other than that, I will definitely recommend this game to the Atelier fans.
Pros:
Great art design
Rich storyline
No stamina
Cons: