SuperHeroes Infinity War Wallpaper
SuperHeroes Infinity War Wallpaperの詳細
Fleet Admiralからリリースされた『SuperHeroes Infinity War Wallpaper』はアート&デザインアプリだ。apkfab.com/jpから『SuperHeroes Infinity War Wallpaper』のファイルサイズ(APKサイズ):4.4 MB、スクリーンショット、詳細情報などを確認できる。apkfab.com/jpではFleet Admiralより配信したアプリを簡単に検索して見つけることができる。現在、SuperHeroes Infinity War Wallpaper appのダウンロードも基本プレイも無料だ。『SuperHeroes Infinity War Wallpaper』のAndroid要件はAndroid 4.0+なので、ご注意ください。APKFabあるいはGooglePlayから『SuperHeroes Infinity War Wallpaper apk』の最新バージョンを高速、安全にダウンロードできる。APKFab.com/jpでは全てのAPK/XAPKファイルがオリジナルなものなので、高速、安全にダウンロードできる。
Amazing collection of SuperHeroes Infinity War Wallpaper, Home Screen and Backgrounds to set the picture as wallpaper on your phone in good quality.
SuperHeroes Infinity War Wallpapers has many interesting collection that you can use as wallpaper. For those of you who love Marvel Avengers Infinity War you must have this app. More than 100 pictures that you can make the choice to make your wallpaper, SuperHeroes Infinity War, Captain America Wallpaper, Hulk Wallpaper, Iron Man Wallpaper, Thor Wallpaper, Black Order Wallpaper, Thanos Wallpaper, Avengers Wallpaper, Spider Man Wallpaper.
HOW TO USE:
1. Open the Avengers Infinity War Wallpaper
2. Choose your favorite image
3. Tap the "Plus" button
4. Tap the "Set as wallpaper" button to apply
5. Your wallpaper has been changed
FEATURES:
1. +100 SuperHeroes Infinity War Wallpapers HD
2. Monthly updates
3. Compatible with any device
4. Share on social networks the best wallpaper of Avengers Infinity War
FEATURES CATEGORY:
Iron Man Wallpaper
Thanos Wallpaper
Hulk Wallpaper
Loki Wallpaper
Thor Wallpaper
Steve Rogers Wallpaper
Hawkeye Wallpaper
Star Lord Wallpaper
Scarlet Witch Wallpaper
Winter Soldier Wallpaper
Stephen Strange Wallpaper
Vision Wallpaper
Nick Fury Wallpaper
Maria Hill Wallpaper
Wong Wallpaper
Gamora Wallpaper
Nebula Wallpaper
Groot Wallpaper
Drax the Destroyer Wallpaper
Mantis Wallpaper
Black Widow Wallpaper
The Collector Wallpaper
Spider Man Wallpaper
Falcon Wallpaper
DISCLAIMER:
This app is made by Avengers SuperHeroes Infinity War Wallpaper, and it is unofficial. The content in this app is not affiliated with, endorsed, sponsored, or specifically approved by any company. All copyright and trademarks are owned by their respective owners. The images in this application are collected from around the web, if we are in breach of copyright, please let us know and it will be removed as soon as possible.
SuperHeroes Infinity War Wallpaper 1.0 アップデート
- Update New Wallpaper HD
SuperHeroes Infinity War Wallpaper 特徴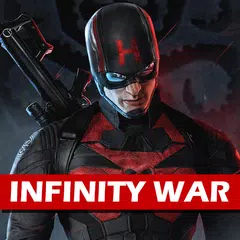 SuperHeroes Infinity War Wallpaper
1.0
APK
Requires Android: Android 4.0+
Screen DPI: 120-640dpi
SHA1: ead72689ea33aedac3983741b5f4a96360390092
Size: 4.4 MB
What's New:
- Update New Wallpaper HD