Super Waves Survivor
Su Super Waves
Experience reflex action game-play on unique water physics as castaway Johnny Calm.
FIGHT
• Battle for survival with your trusty boat and paddle
• Classic platformer game controls (left/right & jump/attack)
• Randomly generated enemy attack patterns
• Procedurally generated rogue waves
• Satisfying beat 'em up action
COLLECT
• Bonus rounds - Smash and grab coins!
• Collect/sell gold and treasures
• Recruit the help of mermaids
UPGRADE
• Upgrade health and super moves
• Premium upgrades available (optional)
COMPETE
• Earn achievements on Game Center
• Climb the leaderboards on Game Center
• A perfect challenge for old-school console gamers
Can you survive against the hungry shark and vicious sea creatures?
Get Super Waves Survivor now and test your skill!
* Requires: Dual-core CPU | OpenGL ES 2.0+ | 800 x 480 minimum resolution
** This is the full version of the game and it can be played in it's entirety for free without making any IAPs
______________________________

HOW TO PLAY
• Help Johnny Calm survive by defeating sea creatures and staying ahead of the hungry shark!
• Each heart indicates +1 Hit-Point (to a maximum of seven)
• Collect coins and spend them on upgrades (Alicia will show you how with tutorials when your game is over)
CONTROLS
• Paddle left or right by pressing the left or right arrow buttons
• Speed paddle by rapidly pressing the left or right arrow buttons
• Jump by pressing the up arrow
• Attack by pressing the attack button (star-burst) when creatures are near
• You can land on creatures to defeat them
• The Super button will appear when you have earned a Super Move and Ammo
SHARK METER
• The shark meter at the top-middle of the screen shows the distance between the shark and Johnny
• When the shark is close, a red arrow will indicate that you need to move right to escape
• When the shark is dangerously close, you will see flashing shark teeth and should paddle rapidly to the right to escape
BONUS ROUNDS
• Break open a chest by attacking it during Bonus Rounds to earn extra coins
• The shark won't chase your during Bonus Rounds
TIPS
• Available in the Info menu
Aggiornamento Super Waves 1.6.0
As always, please backup your data as a precautionary measure before updating
v1.6.0
• Bug Fixes
v1.4.1
• Support for Samsung Galaxy Note 4 added
Caratteristiche Super Waves
Versioni Precedenti
Altro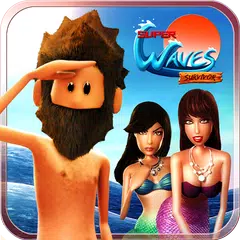 Super Waves Survivor
1.6.0
APK
September 20, 2016
19.25 MB
Requires Android: Android 2.3.2+
Architecture: armeabi-v7a, x86
Screen DPI: 120-640dpi
SHA1: db4349c4822fceea02e4efedb3e8e458eea99544
Size: 19.25 MB
What's New:
As always, please backup your data as a precautionary measure before updating
v1.6.0
• Bug Fixes
v1.4.1
• Support for Samsung Galaxy Note 4 added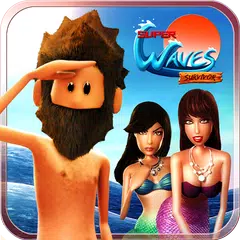 Super Waves Survivor
1.6.0
XAPK
OBB
September 20, 2016
51.53 MB
Requires Android: Android 2.3.2+
Architecture: armeabi-v7a, x86
Screen DPI: 120-640dpi
SHA1: 1fe938fed6e5cb51459af957d32e9bcf2906e944
Size: 51.53 MB
What's New:
As always, please backup your data as a precautionary measure before updating
v1.6.0
• Bug Fixes
v1.4.1
• Support for Samsung Galaxy Note 4 added
Maggiori Informazioni
Data Aggiornamento:
2016-09-19
Aggiornamento Necessario:
Requisiti:
Android 2.3.2+