Mufti Menk Lectures
關於 Mufti Menk Lectures
Mufti Menk Lectures(包名:lecture.mufti.app.muftimenk)開發者是abdullah99,Mufti Menk Lectures的最新版本2.0.1更新時間為2019年03月28日。Mufti Menk Lectures的分類是教育。您可以查看Mufti Menk Lectures的開發者下的所有應用並找到Mufti Menk Lectures在安卓上的66個相似應用。目前這個應用免費。該應用可以從APKFab或Google Play下載到Android 4.0+。APKFab.com的所有APK/XAPK文檔都是原始文檔並且100%安全下載的資源。
Learning Islam is easier today. Even, you can learn it by using android by installing specific app. One of the recommended apps you need to download is Mufti Menk Lectures. Let's learn more about what Mufti Menk is and what you get from this app.
What Mufti Menk Is
Mufti Menk Lectures is an app and it is designed to educate Muslims around the world. To make it more comfortable, the app is served in the form of MP3 along with several topics. The users can choose one of their favorite topics and listening to the lecture directly from their beloved android through earphone. So, who is Mufti Menk? He is the best religious scholar or lecture who preaches about Islam to everyone who want to learn more about Islam and its daily life. He is not only a lecturer but also the director of the Daar Ul Ilm which is an Islamic Education Center. This Islamic Center is located in Zimbabwe. He also spreads Islam to the Muslims in eastern Africa. To wider the effect of his knowledge, he is also preaching internationally. Mufti Menk Lectures app is only one of the ways to make Muslims easier to get his preaches and especially knowledge about Islam. It is not only preaches about Islam but he also motivates Muslims around the world to have better religious life than before. The next explanation is about what you get from this app and the reason why Muslims should download Mufti Menk Lectures.
Various Lectures
The most interesting part of downloading this app as well as opening it regularly is that you will get knowledge related to Islam. For example, as a Muslim you should remember about death. It is also important to prepare it. To get knowledge about death and what you should prepare, lecture about death is ready there. Those are including lecture about forgiveness, guidance, companion, and last day, and many more. You can choose the topic you want to learn and you can choose different topic everyday.
High Quality Image of Mufti Menk
If you want to know who is the lecturer, Mufti Menk Lectures app will show it to you. The app is including high quality or resolution image of Mufti Menk. By seeing the lecturer, it triggers your spirit to learn everything about Islam to increase your believed and religious feeling.
High Quality Sound
This app supports you with the audio of Mufti Menk lectures. Definitely, it supports high quality sound so you can learn the topic well. The most important thing is that you can do anywhere and anytime you want because you bring it on your beloved android device. Just put on the headphone to the android and you are ready listening to the lecture from your beloved teacher.
Free Download
Yes, you don't need to spend your money at all only listening to the lecture from Mufti Menk. You just need to download the app and you are ready. It is your luck if you can see him face to face someday but if it is not you can still learn from him by listening to his preaches. In fact, it is the easiest and fastest way to learn about Islam today. As long as you have a 4.0 version android or more you are able to download this app. This is your luck because you are the users of first version. Specifically, this app has been launched on October 28th 2017.
To meet your need and passion about Islam, this app will be updated regularly. This is also the solution if you have specific problem in your life. You may choose the best topic or category and listening to the topic carefully. Even, it is necessary to hear it more and more to understand the meaning. Try to pervading the meaning each of the topic and try to apply it in your daily life. So, you don't need to worry and start to download Mufti Menk Lectures app right now. Don't waste your time to do something useless. Anytime you have time, you may open the app and listening to his preaches. Hopefully, this app changes you into a better religious life than before. It will be great if you also give positive impacts to the others after listening preaches from Mufti Menk Lectures.
Mufti Menk Lectures 2.0.1 更新
bug fix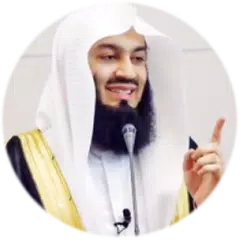 Mufti Menk Lectures
2.0.1
APK
Requires Android: Android 4.0+
Screen DPI: 120-480dpi
SHA1: 41dc837866f41c3a1c2b05bbeb0749fcb0f15bff
Size: 2.06 MB
What's New:
bug fix