Incredible Spider Hero: Superhero City Battle Game
Incredible Spider Heroの詳細
Era Fun Studio - Games for Boys and Girlsからリリースされた『Incredible Spider Hero』は天気アプリだ。apkfab.com/jpから『Incredible Spider Hero』のファイルサイズ(APKサイズ):86.47 MB、スクリーンショット、詳細情報などを確認できる。apkfab.com/jpではEra Fun Studio - Games for Boys and Girlsより配信したアプリを簡単に検索して見つけることができる。『Incredible Spider Hero』に似ているアプリや類似アプリは103個を見つける。コミックというのタッグは『Incredible Spider Hero: Superhero City Battle Game』を含む。現在、Incredible Spider Hero: Superhero City Battle Game appのダウンロードも基本プレイも無料だ。『Incredible Spider Hero』のAndroid要件はAndroid 5.1+なので、ご注意ください。APKFabあるいはGooglePlayから『Incredible Spider Hero: Superhero City Battle Game apk』の最新バージョンを高速、安全にダウンロードできる。APKFab.com/jpでは全てのAPK/XAPKファイルがオリジナルなものなので、高速、安全にダウンロードできる。
Monster super villains and mafia gangsters are on rampage and creating havoc in crime city of Vegas and Miami. In this Incredible Spider Hero: Superhero City Battle Game the amazing and real spider superhero will rise from the dark sky in fateful night as rescue hero and will save the town from crime city gangsters. Spider hero city battle has monster hero villains for strange war. Play mutant spider hero super crime city war and be a rope hero man of fighting games. Face head to head Vegas crime fight robot war against super villain gangs and enhance the run and chase speed of flying spider superhero fighting. In this open world crime battle we tried to include the street crimes of Vegas crime city gangsters who are violently involved in auto cars theft crimes and grand city robbery.
This incredible rope spider superhero fighting and spider superhero fighter will start the rescue and spider hero city survival missions. Spider rope hero man is ready to defend the survival city in monster hero city crime battle with spider superhero super crime city battle. The thrilling part of fighter spider superhero rope crime simulator is hybrid monster hero super crime city battle powers which will flying spider hero use to win the crime city wars in real gangster games enclosing spider hero crime city battle mode. Let's hook up with role playing heroic adventure which is best in the category of superhero action games.
Fight for survival as super spider hero Vegas crime city and show enemies your superhuman powers and superhero games skills to defeat the crime lord of Miami city of crimes with this super spider hero crime simulator. Snatch cars chase gangster and robbers as amazing super spider hero Vegas gangster crime for monster hero fighting. In 3D spider action game player have to win grand crime city battle against mafia gangster of Vegas city to complete the spider hero man crime battle mission.
Many auto theft missions of spider superhero games & monster hero city survival battle mission games get the additional flavor of amazing rope hero games added the tangs of open world games. Incredible monster spider hero will join superhero fighting against the grand city robbers of spider hero man games in Vegas crime city and after deadly strange war will claim victory in crime city battle. Open world spider superhero fighter will take over the crime world and Vegas crime lords in the amazing super spider rope hero games. Spider hero introducing the realistic and upto the mark open world crime game and you will be the spider hero rescue mission in charge like true future hero crime simulator.
More Features in Incredible Spider Hero: Superhero City Battle Game
- Spider superhero city rescue mission for citizen's survival.
- Lots of spider hero stealth, fighting & gangsters brawl scenarios.
- Spider hero fighting for justice & supremacy in action game.
- City battle spider fighter rope hero having super warrior powers.
- 3D fantastic graphics & vibrant action gameplay.
- Splendid open world environment for spider hero games.
This spider hero man game is all about spider superhero crime simulator of mafia gangsters world which will entertain you with spider rope superhero city rescue and spider hero city battle missions. Fictional superhero warrior is ready for fight as absolute champion with deadly weapons in spider heroes fighting games. Download Incredible Spider Hero: Superhero City Battle Game and enjoy melee attack & futuristic weapons war now.
Incredible Spider Hero 1.8 アップデート
-New Environment added.
-New Players added.
-New Enemies Added.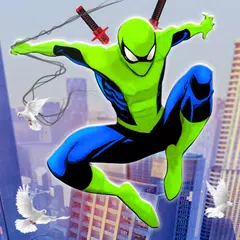 Incredible Spider Hero: Superhero City Battle Game
1.8
APK
arm64-v8a
Android 5.1+
120-640dpi
armeabi-v7a
Android 5.1+
120-640dpi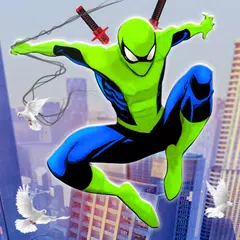 Incredible Spider Hero: Superhero City Battle Game
1.0
APK