Sleep Sounds - Relaxing Sounds, White Noise
Sleep Soundsの詳細
Real Vision Ltdからリリースされた『Sleep Sounds』は健康&フィットネスアプリだ。apkfab.com/jpから『Sleep Sounds』のファイルサイズ(APKサイズ):50.99 MB、スクリーンショット、詳細情報などを確認できる。apkfab.com/jpではReal Vision Ltdより配信したアプリを簡単に検索して見つけることができる。『Sleep Sounds』に似ているアプリや類似アプリは193個を見つける。現在、Sleep Sounds - Relaxing Sounds, White Noise appのダウンロードも基本プレイも無料だ。『Sleep Sounds』のAndroid要件はAndroid 5.0+なので、ご注意ください。APKFabあるいはGooglePlayから『Sleep Sounds - Relaxing Sounds, White Noise apk』の最新バージョンを高速、安全にダウンロードできる。APKFab.com/jpでは全てのAPK/XAPKファイルがオリジナルなものなので、高速、安全にダウンロードできる。
You can relax and sleep with sleeping sounds, nature sounds, rain sounds, meditation sounds and white noise and much more. Relax and sleep with 50+ sleep sounds scientifically proven to help take control of your sleep and relieve stress, insomnia, tinnitus. Use nature sounds, white noise, relax melodies and soothing sounds to create your own mixes.
The soothing sound of rain can block external noises and soothe your soul. It's perfect for relaxing and sleeping and also benefits your concentration and meditation.
You can customize your own mixes by combining rain sounds, sleep sounds, nature sounds, relax music, rain and thunder sounds etc. Adjust the volume of each sound in the mix as you like. Set a timer, fall asleep in the soothing & relaxing sounds for sleeping, the app will auto close itself.
The music for meditation and sleep is very powerful: capable to calm anxiety and stress, remove headache or performing yoga or taichi, thanks to the soothing sounds with ocean sounds sleep to go to sleep that creates the perfect atmosphere.
Do you want to stop suffer insomnia, improve your mental health or stop snoring? Relax your mind and enjoy the sounds to sleep free that we have for you. Don't you know how to improve your ambient sound to practice reiki, kabbalah or mindfulness? You have the answer in front of you: the relaxing music free of this application.
This is apps sleep sounds Lite free, Works online and offline. High quality sounds for sleep. Sleep sounds free with timer.
Best way to sleep at night. Sleep better with over 200 sleep sounds, white noise, deep sleep and relax with calm music & meditation
Sleep sounds app free. Sleep, relax and meditate with relaxing sounds of nature, rain or white noise, ocean sounds for sleep
Improve sleep, ways to help you sleep better. Help you relax and meditate with sleep sounds Lite, white noise, nature sounds and rain sounds, thunderstorm sleep sounds
White Noise and Deep Sleep Sounds helps adults sleep by:
- Blocking out unwanted noises
- Forming a sleep association that cues you to fall asleep
- Helping you feel calm, relaxed and soothed.
White Noise and Deep Sleep Sounds helps babies sleep by:
- Providing "whooshy" noises that simulate the environment of the womb
- Forming a sleep association that cues your baby to fall asleep
- Engaging your baby's calming reflex allowing baby to sleep longer
- Blocking outside noises that may wake your baby
- Creating a familiar routine that will help baby feel safe even in new surroundings.
Features:
- Customize bedtime reminder to remind you to go to bed
- Schedule sleep timer to automatically stop the sound
- Play the sound in the background
- Adjust the volume for each sound when creating your own mix
- High quality and clear relaxing sound for sleeping
- Create your own mixes to relax and sleep
- It's perfect for meditation
- No network required
- Relax and sleep
- Sleep Sounds Free
For a better experience, we recommend you the use of headphones or earphones to listen the relaxing sounds.
Sleep Sounds 1.0 アップデート
First release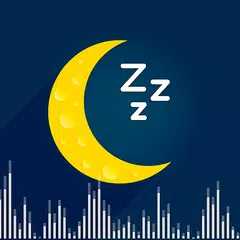 Sleep Sounds - Relaxing Sounds, White Noise
1.0
APK
Requires Android: Android 5.0+
Architecture: arm64-v8a armeabi-v7a x86 x86_64
Screen DPI: nodpi
SHA1: 359aebc7a0048817c563b8a2f482bb67ac412c55
Size: 50.99 MB
What's New:
First release