RainbowPad: Color Note Notepad
RainbowPadの詳細
Evansirからリリースされた『RainbowPad』は仕事効率化アプリだ。apkfab.com/jpから『RainbowPad』のファイルサイズ(APKサイズ):10.76 MB、スクリーンショット、詳細情報などを確認できる。apkfab.com/jpではEvansirより配信したアプリを簡単に検索して見つけることができる。『RainbowPad』に似ているアプリや類似アプリは200個を見つける。現在、RainbowPad: Color Note Notepad appのダウンロードも基本プレイも無料だ。『RainbowPad』のAndroid要件はAndroid 5.0+なので、ご注意ください。APKFabあるいはGooglePlayから『RainbowPad: Color Note Notepad apk』の最新バージョンを高速、安全にダウンロードできる。APKFab.com/jpでは全てのAPK/XAPKファイルがオリジナルなものなので、高速、安全にダウンロードできる。
Create safe notes in a personal secure notepad with password. Adapt every note to current emotions or just choose the color that comforts the eyes. Secure notes already contain a palette for all occasions, and moreover, you can create your own unique style. But in any way, every typed text, added image, or chosen location will be encrypted with the AES method.
🔒 Encrypted notes with password
We designed intuitive and powerful password protection and fingerprint lock. It appears always in time and blocks even the most dangerous intruders. In addition, you can choose a password screen to appear delayed, for the moments when you need to come back to the app urgently. And if someone puts a wrong password, Secure notes will take a photo of that person.
🔒 Extended secure notepad
You are not limited to saving only text data. Notes can contain images, locations, and voice records. Also, you can draw or compose a list. And everything of this will be saved in notes with password.
🔒 Synchronization
We invented a fast and free synchronization mechanism for silent delivery content of your safe notes with password between any amount of Android devices with the same Google account. All data is saved in private and unique for your account Google Drive directory where nobody has access.
🔒 Express yourself
Who said that encrypted notes must be boring? Fill the canvas with the color and make it unique on the main screen. Add emotion with your current mood, just like in a diary app, or use a rich text editor to highlight your emotions. Yet Secure notes are your private space and nobody other.
🔒 Search everywhere
If you have a huge amount of text but forget where is necessary part is, it's not a problem - use the search everywhere mechanism inside the secure notepad. Just input part of the text and every note that contains this part will appear in search results. All is for your comfort.
🔒 Hide the app
Protection of notes with password still not enough? Enabled calculator app icon simulation in the settings. Who will even search for encrypted notes in a calculator?
🔒 Diary style in secure notes with password
Love colors but prefer diary-style? It's not a problem, just enable diary titles in settings, and every empty title will be replaced with the current date and time.
🔒 Secure notes with notifications
Every text note has a feature to set reminders. Choose a date, pick the time and the app will send you a notification with a note title. A small organizer for important data.
🔒 Share it
Share your secure notes with friends. Convert it to pdf or even write it to a TXT file. All necessary features to make life easier.
🔒 Note it fast
You can create notes with the fast shortcut on the launcher screen. Make a long tap on the app icon and choose what type of note you want to create. Even this screen is password protected and will be open only for you.
🔒 Your protected island
Secure notes with password will create a protected place on a family tablet. Just disable fingerprint in the settings and all data inside the app will be accessible only to the person with the password. Just imagine how siblings will be surprised!
Sensitive in-app permissions:
READ_EXTERNAL_STORAGE - to add images from storage to the note
ACCESS_FINE_LOCATION and ACCESS_COARSE_LOCATION - an optional feature that helps to add the current location to a note
CAMERA - to make a photo of the intruder
RECORD_AUDIO - to record voice notes
Secure notes - is an all-in-one tool, that combines everything, that is necessary for a personal notebook: secure notepad and encrypted notes with password. A safe notes where your thoughts, ideas, and passwords are secure and accessible only to you.
RainbowPad 4.0 アップデート
Thank you for using RainbowPad - Color note notepad & secure notes with password!
What's new:
App rethink and reworked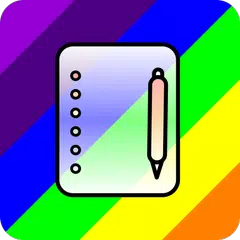 RainbowPad: Color Note Notepad
4.0
APK
Requires Android: Android 5.0+
Screen DPI: 120-640dpi
SHA1: f56205e76911fedb62a7065a7c7b1b97fe7d3b34
Size: 10.76 MB
What's New:
Thank you for using RainbowPad - Color note notepad & secure notes with password!
What's new:
App rethink and reworked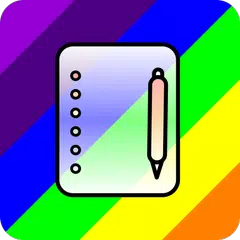 RainbowPad: Color Note Notepad
3.6
APK
Requires Android: Android 5.0+
Screen DPI: 120-640dpi
SHA1: c5c5f53c568d099b3e2eeff22c092bce93ada7de
Size: 10.5 MB
What's New:
Thank you for using Secure Notes - Safe & Color notes with password!
What's new:
Improved password screen
Added secret question (reset current password to set it)
Added grid style to the main list
Added locations screen
Bug fixes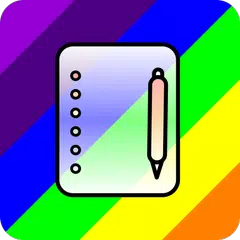 RainbowPad: Color Note Notepad
3.5
XAPK
APKs
Requires Android: Android 5.0+
Screen DPI: 160-640dpi
SHA1: 808ae7a60f15560a713ec2c36cc0e5e78f502049
Size: 9.49 MB
What's New:
Thank you for using Secure Notes - Safe & Color notes with password!
What's new:
Moved to the proprietary text editor
Added more types of text highlighting
Added emotions
Added patterns
Fixed bug with search
Fixed crash when trying to drag n drop row
Bug fixes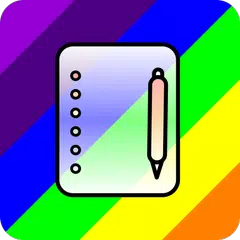 RainbowPad: Color Note Notepad
3.4
XAPK
APKs
Requires Android: Android 5.0+
Screen DPI: 160-640dpi
SHA1: f508de107cc63ccc83dc11fa64309ce36164ada1
Size: 9.39 MB
What's New:
Thank you for using Secure Notes - Safe & Color notes with password!
What's new:
Fixed bug with blank draw note image on share
Fixed bug with locations
Fixed a lot of small bugs