Left to Survive: survival game
編集部のレビュー
1. 照準を合わせて銃撃するだけ。シンプルな操作性のゾンビTPS
2. ゾンビの数が多く、ズリズリと近寄ってくるスリルがクセになる
3. 都市開発ゲーム的な要素も。キャンプを作って生活基盤を整える
Left to Surviveの詳細
My.com B.V.からリリースされた『Left to Survive』はアクションゲームだ。apkfab.com/jpから『Left to Survive』のファイルサイズ(APKサイズ):103.79 MB、関連ムービー、pv、スクリーンショット、詳細情報などを確認できる。apkfab.com/jpではMy.com B.V.より配信したアプリを簡単に検索して見つけることができる。『Left to Survive』に似ているアプリや類似アプリは194個を見つける。STG や サバイバルというのタッグは『Left to Survive: survival game』を含む。現在、Left to Survive: survival game appのダウンロードも基本プレイも無料だ。『Left to Survive』のAndroid要件はAndroid 5.0+なので、ご注意ください。APKFabあるいはGooglePlayから『Left to Survive: survival game apk』の最新バージョンを高速、安全にダウンロードできる。APKFab.com/jpでは全てのAPK/XAPKファイルがオリジナルなものなので、高速、安全にダウンロードできる。
Left To Survive is a TPS Action Zombie Shooter game in a world after apocalypse where zombies have enslaved the Earth and taken control. Survival war has begun!
Life is no longer what it used to be: humans are fighting for survival, and the Earth belongs to the undead from now on. Save the human race from zombie apocalypse! Start expeditions to meet the heroes of this post-apocalyptic reality, challenge other players in PvP matches and helicopter raids, and show your shooting skills. Zombie shooting game begins… now!
Fight against HORDES OF ZOMBIES in the survival game!
The world is teeming with the undead. No place to run or to hide. Become a hero of this zombie apocalypse reality and shoot up all the zombies. Start the Survival Campaign, follow the story, and rid the Earth of the undead hordes! Help humanity to rise up like a phoenix from the ashes.
Wide variety of ARMOR at your service during the apocalypse!
On your mission to save the world from zombies, a huge range of weapons and gear will be at your service. Make a choice and pick the right one from assault weapons and sniper rifles to machine guns and shotguns that will help you to shoot up all the zombies in no time in the shooting game. Equip your hero with gear to enhance his skills and powers. Upgrade and evolve weapons and gear and make heroes more powerful.
Unite them ALL in the shooting game!
Meet all the heroes of the zombie apocalypse world. Back in the day, they were totally different people, just ordinary humans. Now, it's their duty to protect the world from zombies. Each of them has unique survival skills and abilities. Upgrade and evolve them to level up their skills. Last, but not least, gather all the survivors to give them new hope and new home. These specialists can improve your base and make life easier.
Engines checked, ready to RAID BASES in apocalypse
Raid enemy bases in the action shooting game. Zombie apocalypse has come and only the strongest will survive. Raid other bases with your helicopter and collect resources. Be prepared for a "warm" welcome, you can get into a serious skirmish: your opponents' bases are protected by towers and local troops. It won't be that easy to take resources out from under their noses. Equip the helicopter with a powerful weapon and upgrade it to have a successful raid. Fight for survival!
Challenge other players in PvP MATCHES
Test your skills in PvP matches and become the best shooter among players. It's the perfect opportunity to challenge other players, to gain more shooting experience, to find out who is the best shooter among you, and to train before you face zombies as well. Play in 2x2 survival matches or solo in the action game. Team up with your clanmates and challenge other players together during the apocalypse.
Build your BASE to ensure survival!
To survive and make the future bright, build a new home for yourself and other survivors – your base. Turn it into a place where everyone can find shelter and feel safe: produce food and resources, arm your heroes with unique abilities, modify weapons, etc. Fortify it to protect it from raids and looting.
Follow us on Facebook https://www.facebook.com/LeftToSurvive
Left to Survive 4.14.1 アップデート
Server functionality improvements, bug fixes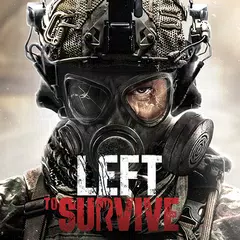 Left to Survive: survival game
4.14.1
APK
Requires Android: Android 5.0+
Architecture: arm64-v8a, armeabi-v7a
Screen DPI: nodpi
SHA1: f5f8515ddd9c66caa628fbc095df63a4256b88aa
Size: 103.79 MB
What's New:
Server functionality improvements, bug fixes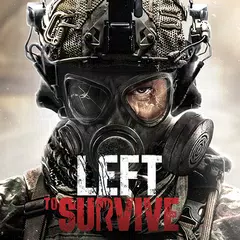 Left to Survive: survival game
4.13.1
APK
Requires Android: Android 5.0+
Architecture: arm64-v8a, armeabi-v7a
Screen DPI: nodpi
SHA1: 5bd63d016bee3b12907778eb62f328439a65ba8c
Size: 103.22 MB
What's New:
UPDATE 4.13.0
What could be worse than zombies?
Aliens who have decided that the apocalypse on Earth is the perfect time to enslave it.
But this time, along with a new threat came a new hope.
Meet a new LEGENDARY HERO—the alien warrior Syn'axar Tanaach, who has an amazing history and incredible abilities.
Good luck with the event!
COMING SOON:
New season, new base levels and weapons!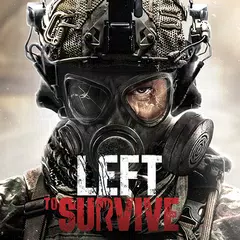 Left to Survive: survival game
4.12.2
APK
Requires Android: Android 5.0+
Architecture: arm64-v8a, armeabi-v7a
Screen DPI: nodpi
SHA1: 138f330d2e6d0db2d6d61e68b1edf9b3baaadd65
Size: 100.89 MB
What's New:
UPDATE 4.12.0
A futuristic city. Unbelievable technology. Welcome to the future!
But the Hattori Syndicate wants to enslave the world.
Find scientists to open the portal.
SAVE THE FUTURE!
NEW:
- A NEW FURRY FRIEND – lovely HUSKY and it brings EVOLUTION PARTS once per day
- German Shepherd brings goodies once per day now but tripled
- PvP Season PASS
Game optimization
COMING SOON - ALIEN FACTION
A strange signal has reached Earth
Aliens are trying to conquer the planet!
With a NEW HERO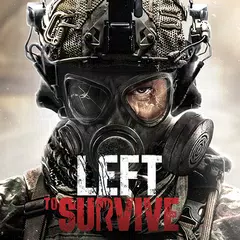 Left to Survive: survival game
4.12.0
APK
Requires Android: Android 5.0+
Architecture: arm64-v8a, armeabi-v7a
Screen DPI: nodpi
SHA1: 3b455abd71d12c2de37be961baf4b9e8de09503e
Size: 100.86 MB
What's New:
UPDATE 4.12.0
A futuristic city. Unbelievable technology. Welcome to the future!
But the Hattori Syndicate wants to enslave the world.
Find scientists to open the portal.
SAVE THE FUTURE!
NEW:
- A NEW FURRY FRIEND – lovely HUSKY and it brings EVOLUTION PARTS once per day
- German Shepherd brings goodies once per day now but tripled
- PvP Season PASS
Game optimization
COMING SOON - ALIEN FACTION
A strange signal has reached Earth
Aliens are trying to conquer the planet!
With a NEW HERO