Homeless Cat : take care this virtual petの詳細
PolloSoft & AkraSoftからリリースされた『Homeless Cat : take care this virtual pet』はミニゲームゲームだ。apkfab.com/jpから『Homeless Cat : take care this virtual pet』のファイルサイズ(APKサイズ):45.98 MB、関連ムービー、pv、スクリーンショット、詳細情報などを確認できる。apkfab.com/jpではPolloSoft & AkraSoftより配信したアプリを簡単に検索して見つけることができる。現在、Homeless Cat : take care this virtual pet appのダウンロードも基本プレイも無料だ。『Homeless Cat : take care this virtual pet』のAndroid要件はAndroid 2.3.4+なので、ご注意ください。APKFabあるいはGooglePlayから『Homeless Cat : take care this virtual pet apk』の最新バージョンを高速、安全にダウンロードできる。APKFab.com/jpでは全てのAPK/XAPKファイルがオリジナルなものなので、高速、安全にダウンロードできる。救助や猫、ケア、フィードを採用し、新しい仮想子猫と遊びます
Rescue and adopt your virtual pet and give it a name, you will see it grow and play in the rooms of their new home. It is the most adorable and affectionate cat you'll ever see.
Homeless Cat Care is a free game that gives you your own most complete and realistic virtual cat around the store, no app has so many activities such as: augmented reality 3D, simulator, varied and fun mini-games, washing foam. Now with daily rewards : every day a reward from 100px to a new kitten!
Among the games virtual pets, this is the most complete and fun.
The cat is waiting for you adopt it, take care, caress, clean it and feed it.
Care of your adorable kitten while enjoy many games with which you can earn coins to buy accessories for your kawaii cat.
You can carry to real life thanks to augmented reality environment included! You also have a level of fireworks to enjoy with your virtual pet more realistic.
Enjoy watching the cat plays with the laser pointer!
To your virtual pet loves to play with balls, make the chase all (click on the button touches the ball and the balls fall to the chase) and see how he enjoys and also win coins px!
All this game is FREE!
CHARACTERISTICS
* It is a cat to look as if it were real.
* Adopt your cute kitten, give it a name and have the most realistic virtual pet around the market.
* Purchase accessories to customize your kitten.
* You can buy very curious accessories like a drone, and unlock his brothers kittens!
* You can buy a magic potion that makes your kitten pink.
* You can buy more kittens to keep him company to your Kitty
* Purchase food to feed your kitten every day.
* Caress your kitten pet to be happy You'll see as purrs!
* Wash your kitten with incredible bubble bath!
* Change the decor of the room, you can even decorate as Christmas style (free) or haloween.
* You can unlock new rooms, some need real money.
* Play with your kitty outdoors thanks to its included and free simulator, where there is also more animals and big surprises, like riding!
* Enjoy watching FREE your aquarium!
* How many virtual pets app´s have these benefits?
Mini-games and activities included:
* Augmented Reality: take your kitten to real life: you see your pet on the floor of your house him, walk him down the street as if it were real!
* Game Platform, platform game you have to cover in the shortest possible time.
* Game Balls Out, which is to drive as fast as possible balls from the playing field.
* Game Match (couples). Streamlines your mind with this fun couples themed kittens.
* Cat Simulator, to take your pet kitten street and play in the third person.
* Aquarium Simulator: A full tropical aquarium fish realistic virtual hand that follow you.
* Fireworks: countless launches fireworks with your virtual pet.
* In the rooms of the house, make your pet cat chase balls by clicking on them. You earn coins and your kitten will fit, losing weight.
NOTE: In order to enter certain levels is necessary to see a promotional video and have internet connection.
Let expanding continuously, do not miss the new updates!
It is the ideal game for adults and kids, get and adopt your pet kitten now take care of him forever!
This game is free and almost everything you can get with virtual money or px, who earns playing, but there are some features that need real money. You can also buy px game with real money to get faster accessories.
Homeless Cat : take care this virtual pet 0.0.3 アップデート
Homeless cat, virtual pet
First version
Homeless Cat : take care this virtual pet 特徴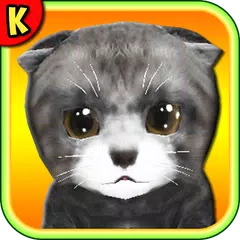 Homeless Cat : take care this virtual pet
0.0.3
APK
Requires Android: Android 2.3.4+
Architecture: armeabi-v7a
Screen DPI: 120-640dpi
SHA1: a0490a7df46aa687a2ae3a2eec2274dec9831383
Size: 45.98 MB
What's New:
Homeless cat, virtual pet
First version
追加情報
Android要件:
Android 2.3.4+