Cute Corky Gorky Keyboard
Cute Corky Gorky Keyboardの詳細
Cheetah Keyboardからリリースされた『Cute Corky Gorky Keyboard』はカスタマイズアプリだ。apkfab.com/jpから『Cute Corky Gorky Keyboard』のファイルサイズ(APKサイズ):3.03 MB、スクリーンショット、詳細情報などを確認できる。apkfab.com/jpではCheetah Keyboardより配信したアプリを簡単に検索して見つけることができる。『Cute Corky Gorky Keyboard』に似ているアプリや類似アプリは115個を見つける。現在、Cute Corky Gorky Keyboard appのダウンロードも基本プレイも無料だ。『Cute Corky Gorky Keyboard』のAndroid要件はAndroid 4.0.3+なので、ご注意ください。APKFabあるいはGooglePlayから『Cute Corky Gorky Keyboard apk』の最新バージョンを高速、安全にダウンロードできる。APKFab.com/jpでは全てのAPK/XAPKファイルがオリジナルなものなので、高速、安全にダウンロードできる。
Cute Corky Gorky will make your device look amazing! Download the sound of Cute Corky Gorky and Cute Corky Gorky skin, Cute Corky Gorky background, Cute Corky Gorky font and Cute Corky Gorky with lovely animal effect. Cute Corky Gorky only works with our keyboard installed on your phone!
Cute Corky Gorky is a fantastic keyboard (typewriter) theme with Cute Corky Gorky wallpapers and Cute Corky Gorky key backgrounds. This beautiful keyboard or typewriter is designed for people who like Cute Corky Gorky. Download for free and apply this keyboard theme called Cute Corky Gorky, and Android stylized. lovely animal Cute Corky Gorky is designed to give you a faster and smoother mobile keyboard experience. Also you can now express your emotions via messaging apps using varieties of emojis and even send a unicorn face by this keyboard! Download this Cute Corky Gorky keyboard and type faster than ever.
Your keyboard looks totally luxurious with Cute Corky Gorky. Download Cute Corky Gorky theme and check it out! lovely animal Cute Corky Gorky will make a plain keyboard a beautiful and unique one. lovely animal Cute Corky Gorky can be used for different IM applications such as Instagram, Messenger, BeeTalk, Facebook Lite, ES File Explorer File Manager, Facebook Lite and so on, and Cute Corky Gorky make your phone smarter and type faster.
Cute Corky Gorky gives you smooth interactive effects on mobile screens. A significant feature is the unique particle effect and finger gestures on each keyboard, and each keyboard is packed with HD wallpapers.
An awesome way to turn a plain keyboard into a beautiful keyboard and unique keyboard.
It is totally free and only for our Keyboard!
How do I apply for Cute Corky Gorky input method?
Note: You need to download our keyboard first.
1) Download Cute Corky Gorky and click the INSTALL button.
2) Download our Keyboard from the Google Play Store. If you have already installed our keyboard, please click the APPLY button.
3) With our keyboard (typewriter) installed and applied, Cute Corky Gorky will automatically install on the phone.
lovely animal Cute Corky Gorky's main features and functions:
Automatic Correction:
Cute Corky Gorky Keyboard provides you suggestions for word completion and next-word prediction based on the words you have typed. Cute Corky Gorky Keyboard is smart enough to recognize mistyping and provide suggestions for correction.
Theme center of our keyboard: If you are looking for a variety of themes or keyboard categories, this is the perfect keyboard. You can get anime, black, 3d, skull, dragon, gold, cartoon, panda, green, cat, lion, clown, sport, pink, red, purple, love, girl, soccer, wolf, graffiti Life, car, neon, white, blue, music, etc. and find all your favorite topics in the keyboard theme center.
Smart Prediction:
This Keyboard can automatically learn your way of writing, including the words you type, the phrases and expressions you love to use and your other input preferences. Based on those data, Cute Corky Gorky Keyboard helps us predict the words you want to input in advance.
Cloud prediction: Next word/emoji prediction by cloud prediction computing.
Gesture/Swype input: A new typing experience! Write messages simply by swiping, sliding or gliding your screen!
Customizable Fonts: Each keyboard theme has a matching font style for you to enjoy a complete experience of the topics you choose.
More functions such as Clipboard, Adjustable Keyboard and Gesture Typing are available for Cute Corky Gorky Keyboard.
Cute Corky Gorky Keyboard 特徴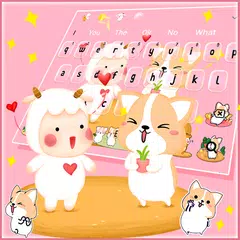 Cute Corky Gorky Keyboard
10001002
APK
Requires Android: Android 4.0.3+
Architecture: arm64-v8a, armeabi, armeabi-v7a, x86
Screen DPI: 160-640dpi
SHA1: 63cc12d3e6c66201c021a0218d287976047a3663
Size: 3.03 MB
What's New:
追加情報
Android要件:
Android 4.0.3+