Companion for Fortnite (Stats, Map, Shop, Weapons)
Companion for Fortniteの詳細
GD Games & Appsからリリースされた『Companion for Fortnite』はエンタメアプリだ。apkfab.com/jpから『Companion for Fortnite』のファイルサイズ(APKサイズ):37.98 MB、関連ムービー、pv、スクリーンショット、詳細情報などを確認できる。apkfab.com/jpではGD Games & Appsより配信したアプリを簡単に検索して見つけることができる。『Companion for Fortnite』に似ているアプリや類似アプリは200個を見つける。現在、Companion for Fortnite (Stats, Map, Shop, Weapons) appのダウンロードも基本プレイも無料だ。『Companion for Fortnite』のAndroid要件はAndroid 4.4+なので、ご注意ください。APKFabあるいはGooglePlayから『Companion for Fortnite (Stats, Map, Shop, Weapons) apk』の最新バージョンを高速、安全にダウンロードできる。APKFab.com/jpでは全てのAPK/XAPKファイルがオリジナルなものなので、高速、安全にダウンロードできる。
🔥Updated for Chapter 2 and regularly updated🔥
This Unofficial App is full of useful tools for Fortnite Battle Royale and Save the World players!
This App works as a Companion / Assistant / Guide / Stats Tracker for Fortnite.
Having this Companion App for Fortnite on your phone will improve your experience with the real game!
The App updates itself and we make sure to have everything up to date with the current state of the game.
Features
★Features - Fortnite Battle Royale (BR, PvP)★
★Stats Tracker : View Battle Royale Player Stats grouped by squad typ. Favorite Players for even quicker lookups. You can also compare that stats of any two Battle Royale players, perfect for tracking how you are doing compared to your friends.
★Store: Shows all the items currently for sale in the BR Store, with images and vbucks prices.
★Leaderboards: Supports all squad types and input methods/platforms.
★Battle Royale Map: It includes an overlay of possible interesting items, such as chest spawns.
★Battle Pass Challenges Tracker and Guides: Tracker feature that lets you track your progress with all the weekly challenges, also has a visual guides with maps.
★Summarize tool for Battle Royale Challenges, showing only remaining challenges.
★Weapon Comparison: The stats for all the weapons in Battle Royale
★Items: Descriptions of all Battle Royale items.
★Tips and Info: Important information and useful tips for Battle Royale players.
★News: From several sources, including the Fortnite Site, Forums and Youtube, as well as Battle Royal specific news from Fortnite Insider.
★Tools - Fortnite Save the World (StW, PvE)★
★Daily Llama and Mission Alerts: Get up to date information about current Mission Alerts and Daily Llamas on your device. The mission tracker shows Alert, Storm and Group missions, including type and rewards.
★You may subscribe to receive Push Notifications for important Llamas and Rewards.
★Research Reminder: Schedule a notification when it's time to collect your Research Points!
★Player Profile: Get up to date information and stats for any Fortnite Save the World Player Profile.
★Collection Book: Keep track of the Heroes, Traps, People and Weapons that you own or have booked making it easier for you to choose Rewards.
★Weapons Database: View info and compare stats between all Fortnite weapons.
★XP Upgrade and Retire/Reclaim Calculator, see how much XP is needed to reach a target level or how much you will gain by Reclaiming/Retiring the current level one
★Ability and Perks List is linked to applicable Heroes so you can quickly find Heroes matching your desired traits
★Data - Fortnite Save the World (StW, PvE)★
★Information on all the Heroes, along with all Abilities and Perks
★Information on all Traps(per rarity) including stats and material requirements.
★List of Resources and their uses in crafting
★Information about important features and Collection Book Rewards
★The latest tips from your fellow players in the community
★Information about Survivors and the Survivor Squad system and how to optimize your Squad setup
★A Monster information bank of all the monsters in the Fortnite World.
Thanks in advance from your fellow Fortnite Save the World and Battle Royale players!
Many thanks to the community for all the support!
This is an Unofficial Community Driven Fortnite App and has NO affiliation with Epic Games™
(Henceforth shortened E or EG)
This App does NOT offer any purchases of any kind, as demanded by the E Legal Team.
This App aims to be fully compliant with the policies,, if there is any concern regarding the compliance, please contact us with the details.
Legal Notice
EG, Inc. E, EG, the EG logo, Fortnite and the Fortnite logo are trademarks or registered trademarks of EG, Inc. in the United States of America and elsewhere. All rights reserved.
(This legal notice has been edited from it's original form to comply with policy requirements).
Companion for Fortnite 14.0 アップデート
Shop history is now shown when viewing items that are from the shop, showing occurrences and days since it was last in the shop.
Challenges now show stages and time-limited as icons instead of text.
Data structure changed to greatly reduce the amount of data needed to be downloaded during startup when there's new data available.
You may now subscribe to a Notification when the item shop changes.
Bundled data and images updated.
Companion for Fortnite 特徴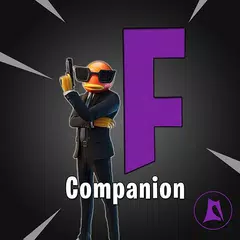 Companion for Fortnite (Stats, Map, Shop, Weapons)
12.4
APK
Requires Android: Android 4.2+
Architecture: armeabi-v7a
Screen DPI: 120-640dpi
SHA1: 5763d3c3bb2e31df4b5d1e0282be4d1648543dc9
Size: 33.63 MB
What's New:
StW: Profile search is back and now shows all your resources (XPs, manuals, evolution mats etc)
StW: All weapons updated and are now data mined straight from the game files. This also includes some new stats like durability consumption etc.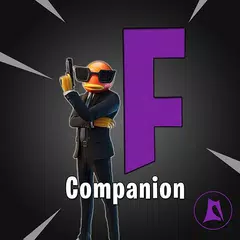 Companion for Fortnite (Stats, Map, Shop, Weapons)
12.3
APK
Requires Android: Android 4.2+
Architecture: armeabi-v7a
Screen DPI: 120-640dpi
SHA1: 5c7687b5ac2a47f0c2c58d430cff55d824229292
Size: 33.64 MB
What's New:
StW: Mission rewards now have a primary sorting showing vBucks and legendary items first, then sorted by plvl. Mythic rewards now have a color to make them easier to see.
StW: Mission data now has a backup server in case of local/regional network issues to the primary server.
BR: Fix for the cosmetics listing.
Added and improved rarity images.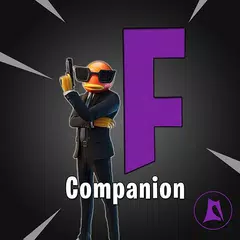 Companion for Fortnite (Stats, Map, Shop, Weapons)
12.2
APK
Requires Android: Android 4.2+
Architecture: armeabi-v7a
Screen DPI: 120-640dpi
SHA1: 8dd61f058c8690cade553d8169104689e498c00b
Size: 33.62 MB
What's New:
BR Leaderboard replaced.
Item shop items now has support for banner texts, e.g. "New!" etc.
Improved character support for BR player searches.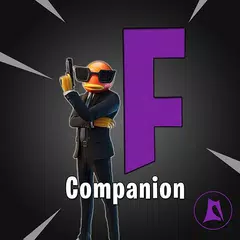 Companion for Fortnite (Stats, Map, Shop, Weapons)
12.1
APK
Requires Android: Android 4.2+
Architecture: armeabi-v7a
Screen DPI: 120-640dpi
SHA1: 3ae6343c81c33773b60365551a7b67994c2b1fcf
Size: 33.44 MB
What's New:
BR Stats now use our own servers that pull data directly from Epic. If you have issues or that your stats are slightly off, send us an e-mail so we can iron out any minor issues! :)
Chest markers on the map are now even smaller when zoomed in.
StW research alarm feature is re-activated.