Cartoon Yellow Cute Duck Theme
Cartoon Yellow Cute Duck Themeの詳細
Fantastic Theme Worldからリリースされた『Cartoon Yellow Cute Duck Theme』はカスタマイズアプリだ。apkfab.com/jpから『Cartoon Yellow Cute Duck Theme』のファイルサイズ(APKサイズ):2.82 MB、スクリーンショット、詳細情報などを確認できる。apkfab.com/jpではFantastic Theme Worldより配信したアプリを簡単に検索して見つけることができる。『Cartoon Yellow Cute Duck Theme』に似ているアプリや類似アプリは95個を見つける。ウォッチフェイス自作というのタッグは『Cartoon Yellow Cute Duck Theme』を含む。現在、Cartoon Yellow Cute Duck Theme appのダウンロードも基本プレイも無料だ。『Cartoon Yellow Cute Duck Theme』のAndroid要件はAndroid 4.0.3+なので、ご注意ください。APKFabあるいはGooglePlayから『Cartoon Yellow Cute Duck Theme apk』の最新バージョンを高速、安全にダウンロードできる。APKFab.com/jpでは全てのAPK/XAPKファイルがオリジナルなものなので、高速、安全にダウンロードできる。
Do you want a new phone? No need to buy one now! Just get Yellow Duck theme and you will have a brand new Android phone with Yellow Duck for free.
No matter you love cartoon, business, or luxury themes, you will love this lovely cartoon theme for your Android phone.
❤ Hi, I am Yellow baby duck ! Would you be my master? Take me home!
Take Yellow baby duck theme to DIY Android themes for FREE!
Do you love Yellow baby duck ? Yellow Duck are so cute animals we like. Now you can get 3D Yellow Duck theme to decorate your phone all over with Yellow baby duck for free.
Cute giant Yellow Duck theme has Yellow Duck bear wallpaper with Yellow Duck icon packs for free. Yellow Duck theme has a whole pack of Yellow baby duck theme app for Android phones, including Yellow Duck wallpaper and cartoon icon changer for 100+ popular apps.
❤ HD Wallpaper for Yellow Duck Theme
3D Yellow baby duck theme is free for whoever loves giant Yellow Duck wallpaper app. We love the baby cartoon design with lovely Yellow Duck wallpaper.
With Yellow baby duck playing on screen, you enjoy a happy mood every day.
Kawaii Yellow Duck wallpaper with cartoon decoration melts your heart. Cheer up daily. Get Yellow baby duck custom wallpaper for your Android phone.
❤ Yellow Duck Icon Pack for Android Theme App
Yellow Duck icon pack is for popular apps for free, baby Yellow Duck icon changer for Apps and cartoon icon changer for messengers and more. Every cartoon is so cute for changing icons. Feeling tired of system theme app? Get this cartoon Yellow Duck icon pack for Android phones for free.
❤ Highlights of Yellow Duck Launcher Theme
✻ Yellow baby duck live wallpapers
✻ lovely Yellow Duck phone dialer skin and SMS wallpapers
✻ cartoon icon pack for 100+ popular apps
✻ 3D launcher with dynamic touch effects
✻ cartoon weather widgets & clock widgets
✻ DIY live wallpapers and DIY icon packs for DIY launcher themes
Yellow Duck launcher theme supports DIY live wallpapers in cartoon theme center. Yellow baby duck theme works well for Samsung S8, Huawei P10, Xiaomi phones as well as other brands. We also design themes for Yellow baby duck keyboard. There are more holiday themes for 2018 coming soon for free for you.
More features waiting for you to find out for your DIY launcher:
✔ Yellow baby duck live wallpaper that customizes Yellow Duck 4K wallpaper
✔ Yellow Duck and pink Yellow Duck giving new life to Android wallpapers
✔ Yellow baby duck icon pack for Android icon changer
✔ DIY themes and DIY live wallpapers in theme center anytime you want
✔ more cartoon, girlish and cool themes like ring spinner are on the way
Note:
Yellow Duck theme can only work with CM Launcher. It does not support any other launcher. CM Launcher will be continuously updated with new features for you.
✻If you like giant Yellow Duck theme, please leave us a 5 star feedback. We will keep up with good work and keep presenting new marvelous free themes for you.
Cartoon Yellow Cute Duck Theme 特徴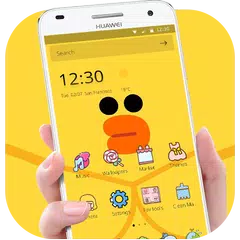 Cartoon Yellow Cute Duck Theme
1.1.7
APK
Requires Android: Android 4.0.3+
Screen DPI: nodpi
SHA1: 1507fffafef963e8cb0b5c32573d608a48d02913
Size: 2.82 MB
What's New: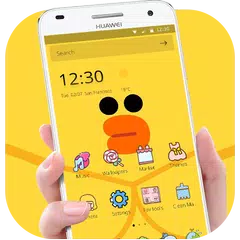 Cartoon Yellow Cute Duck Theme
1.1.6
APK
Requires Android: Android 4.0.3+
Screen DPI: nodpi
SHA1: c1fbe108d09491b8303cb0c8a38c9a5088848454
Size: 2.72 MB
What's New: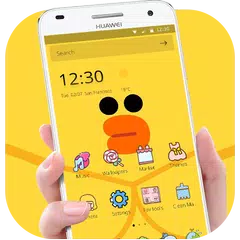 Cartoon Yellow Cute Duck Theme
1.1.5
APK
Requires Android: Android 4.0.3+
Screen DPI: nodpi
SHA1: 4ba9e914464cdccb601634825cf6772d5ce65ede
Size: 2.76 MB
What's New: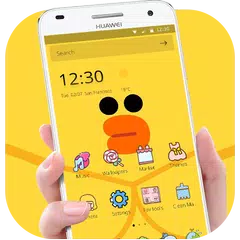 Cartoon Yellow Cute Duck Theme
1.1.4
APK
Requires Android: Android 4.0.3+
Screen DPI: nodpi
SHA1: 233c6fa36ade0cd800738687882ac38641edb8dc
Size: 2.71 MB
What's New:
追加情報
Android要件:
Android 4.0.3+