Caller Name Announcer - Speaker - Ringtone maker
Caller Name Announcerの詳細
AppTrendsからリリースされた『Caller Name Announcer』はツールアプリだ。apkfab.com/jpから『Caller Name Announcer』のファイルサイズ(APKサイズ):2.74 MB、スクリーンショット、詳細情報などを確認できる。apkfab.com/jpではAppTrendsより配信したアプリを簡単に検索して見つけることができる。現在、Caller Name Announcer - Speaker - Ringtone maker appのダウンロードも基本プレイも無料だ。『Caller Name Announcer』のAndroid要件はAndroid 4.0+なので、ご注意ください。APKFabあるいはGooglePlayから『Caller Name Announcer - Speaker - Ringtone maker apk』の最新バージョンを高速、安全にダウンロードできる。APKFab.com/jpでは全てのAPK/XAPKファイルがオリジナルなものなので、高速、安全にダウンロードできる。
Caller Name Announcer
This app automatically announces incoming caller names, message sender's name and reads message content. so, we can easily judge whether to attempt the call when you are in driving, bathing, exercising, meeting or sleeping etc
Smart Caller Name Announcer announces
★ Caller Names
★ Message senders names.
★ Reads Message body or sms content.
★ Announces "Unknown calling" for the callers not in contact list.
This Free app has various amazing features:
★ Enable/ Disable Caller name announcer
★ Enable / Disable SMS announcer
★ Select Count to repeat the caller name
★ Choose time delay in between the announcements
★ Announce call received from person not in contact list
★ Customize your own voice message during incoming calls and sms
★ Enable/Disable Answer call by shaking mobile
★ Turn on/off Announcements for unknown calls and sms
★ Customize Audio Settings
★ Customize Profile Settings
★ Customize Volume Settings
★ Customize Voice Settings
★ Customize Speaking languages like English_UK, Canada, China, France, German, Japan etc,.
Uses of Caller Name Speaker
★ Identify who's calling when you were in driving.
★ know who is calling or listen message content when you are busy
★ Know who's calling or listen message content when you were bathing, exercising or sleeping.
★ Know who's calling while mobile charging
How to use:
★ Simply install this app, it automatically announces caller names and messages.
★ You can start / stop service any time in the app settings
★ To read message content: Go to Sms settings > Enable Message Content.
And this has many more amazing and useful features.
Use this app like Caller Name Speaker, Caller name ringtone maker.
So, Download the Best "Caller name Announcer" on your Android mobile for Free!
Wish you happy new year 2017!
Caller Name Announcer 1.0.13 アップデート
Version 13:
Now App alerts for Jio calls and Jio Sms
Now apps announces caller name for Jio calls and sms's.
Version 10:
* Fixed minor bugs, now app works perfect.
* Tested in most of the mobile models like galaxy J2, J5, J7, S7 etc,.
Previous Versions:
* Fixed Crashes
Optimized code and fixed minor bugs
* Added more Languages
* Added more Features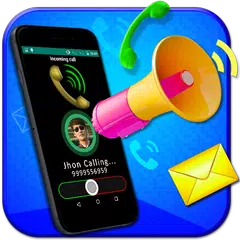 Caller Name Announcer - Speaker - Ringtone maker
1.0.13
APK
Requires Android: Android 4.0+
Architecture:
Screen DPI: 120-640dpi
SHA1: 32c7da783a98a986f9136621483225c279abb2f0
Size: 2.74 MB
What's New:
Version 13:
Now App alerts for Jio calls and Jio Sms
Now apps announces caller name for Jio calls and sms's.
Version 10:
* Fixed minor bugs, now app works perfect.
* Tested in most of the mobile models like galaxy J2, J5, J7, S7 etc,.
Previous Versions:
* Fixed Crashes
Optimized code and fixed minor bugs
* Added more Languages
* Added more Features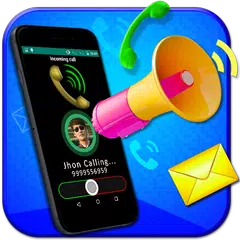 Caller Name Announcer - Speaker - Ringtone maker
1.0.12
APK
Requires Android: Android 2.3.2+
Architecture:
Screen DPI: 120-640dpi
SHA1: 633fa513dabb1fcb24964a7efb9a6fb4c00c6ff1
Size: 2.23 MB
What's New:
Version 12:
Now App alerts for Jio calls and Jio Sms
Now apps announces caller name for Jio calls and sms's.
Version 10:
* Fixed minor bugs, now app works perfect.
* Tested in most of the mobile models like galaxy J2, J5, J7, S7 etc,.
Previous Versions:
* Wish you happy new year 2017
* Fixed Crashes
Optimized code and fixed minor bugs
* Added more Languages
* Added more Features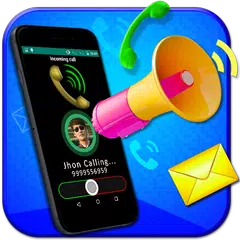 Caller Name Announcer - Speaker - Ringtone maker
1.0.11
APK
Requires Android: Android 2.3.2+
Architecture:
Screen DPI: 120-640dpi
SHA1: 34c4e308ae5623934383cbe42264155a21617289
Size: 2.22 MB
What's New:
Version 10:
* Fixed minor bugs, now app works perfect.
* Tested in most of the mobile models like galaxy J2, J5, J7, S7 etc,.
Previous Versions:
* Wish you happy new year 2017
* Fixed Crashes
Optimized code and fixed minor bugs
* Added more Languages
* Added more Features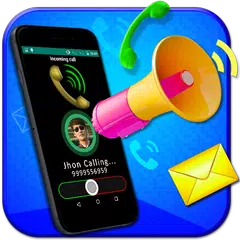 Caller Name Announcer - Speaker - Ringtone maker
1.0.10
APK
Requires Android: Android 2.3.2+
Architecture:
Screen DPI: 120-640dpi
SHA1: 7547e5a22fa5f4ff113db3a18f5fc8563f1745db
Size: 2.09 MB
What's New:
Version 10:
* Fixed minor bugs, now app works perfect.
* Tested in most of the mobile models like galaxy J2, J5, J7, S7 etc,.
Previous Versions:
* Wish you happy new year 2017
* Fixed Crashes
Optimized code and fixed minor bugs
* Added more Languages
* Added more Features