關於 Wild Animal Hunter 2021
Wild Animal Hunter 2021(包名:com.gamestr.wild.animal.hunter.dino)開發者是AI Game Studio,Wild Animal Hunter 2021的最新版本1.0更新時間為2021年06月29日。Dinosaur Games 2021: Animal Shooting Games Offline的分類是運動。您可以查看Dinosaur Games 2021: Animal Shooting Games Offline的開發者下的所有應用並找到Dinosaur Games 2021: Animal Shooting Games Offline在安卓上的96個相似應用。目前這個應用免費。該應用可以從APKFab或Google Play下載到Android 5.1+。APKFab.com的所有APK/XAPK文檔都是原始文檔並且100%安全下載的資源。
Dinosaur Gun Shooter Game 2021: Dinosaur Games 3D Offline
Get ready to lead as predator for the call of the wild animal real dinosaur hunting games 2021 in an open world adventurous jungle, where you can walk around for hunting of monster dinosaur and other wild animal hunting i.e lion, deer and dragon for survival of your wild family in this real wild dinosaur hunting wala games 2021 : wild animal hunting games offline as it's low mb and no internet game equally entertaining for boys and girls.
Real Dinosaur survival games 2021 and jurassic dinosaurs 3d is a new thrilling adventure of real dinosaur simulator games – dino attack 3D and dinosaur attack game, but it is a real dinosaur simulator 2021. Keep in the mind your dinosaurs attack on free jurassic animals in animal attack simulator games. Experience the thrill of being an actual Tyrannosaurus - the king of all Dinosaurs as he rules the land in the prehistoric Jurassic period and hunts for prey!
This real dinosaur hunting game offline is one of our addictive animal hunting approaches for the fans of animal shooting games offering low mb and no internet game to polish your shooting skills where you'll be enjoying being a dinosaur and dragon hunter in real wild animal shooting games on predator 3D hunting ground. You'll be mesmerized by exploring stunning deer, dinosaur, lion and dragon animals hunting locations and realistic wild animal dinosaur shooting in a safari jungle adventure in this dinosaur shooting games 2021 - wild animal hunter mission game. This one of our fun episode of wild animals hunting games offline with low mb is highly suggested to you if you feel good spending some quality time around adventurous natural sites and animals which will be presented in this fps real dinosaur hunting games 2021 - animal hunter games, So fasten your belt and get ready to dive in the spellbinding call of the wild animals hunting games 2021 - dinosaur games offline for boys and girls.
Features in Real Wild Dinosaur Hunting Games 2021: Animal Hunting Games Offline
✅ Real time FPS 3D wild shooting & dinosaur hunting game experience.
✅ Multiple wild animal hunter modes like arctic, safari forest & more.
✅ Tutorial/Rewards & lot of quests.
- Cool dino sounds & gameplay music
🦖 Enormous collection of modern rifles, guns & ammunition.
🦖 Intuitive hunting mission games without WiFi
🦖 Daily bonus missions for animal shooting campaigns.
✅ Realistic wild animals hunt with dino shooting skills in wild adventure games.
✅Leading the deer, dragon, dinosaur and lion game sikar 2021 campaign
✅Thrilling and eye-catching adventurer safari deer hunter gameplay
This real hunting dinosaur game offers you a jungle predator lion game in this ever changing world of forest fps shooter and animal predator legends of animal game. This dino RPG animal adventure is a pure FPS shooting challenge in african dino shooter 2021 and dino trex. Animal hunting challenge has t-rex 3D games with hunting adventures of angry animals in this real hunting paradigm.
In this real dinosaur hunting games offline, be brave and tactful enough to hunt down as many wild animals as you can to fill your animal bag with hunted animals of the hunting game 2021. This deer shooter 3d game will give you a chance to explore an animal jungle where you can walk around to enjoy your time seeing the realistic moving wild animals i.e deer, dinosaur and lion in real dinosaur hunter games : wild animal hunter games in low mb and with no internet for boys and girls.
Good luck enjoying the Real Dinosaur hunting Games 2021 : Dinosaur Games Offline 2021.
Wild Animal Hunter 2021 1.0 更新
Environment Improved
New Levels Added
Game-play Improved
New Guns Added
Wild Animal Hunter 2021 資訊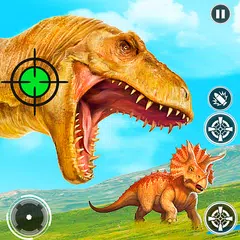 Dinosaur Games 2021: Animal Shooting Games Offline
1.0
APK